Stay.
Just one little word. But so much of everything in her world was wrapped up behind it. I could see it in her big brown eyes… her skin pale, making each freckle stand out, a constellation marking the times I have kissed her nose, her cheeks.
Stay.  A small smile.
She squeezed my hand, pushing her nearly 9-year-old leg up against mine for additional connection.
She wasn't asking me to give up a work trip out of town. She wasn't asking me to sacrifice a night out.
She simply didn't want me to get off the bed to even put my pajamas on. She didn't want me out of her sight.
She truly wanted me to STAY.
And in that moment, I got it.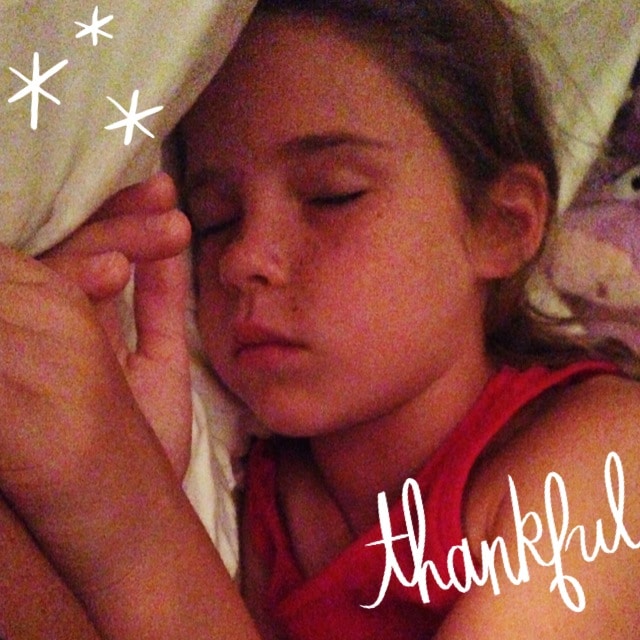 For nearly two weeks, her little body had been wracked with a brutal cough – first thought to be allergies, then diagnosed as strep and a sinus infection. With a sprained wrist as a bonus, she definitely hadn't been feeling her best. Even WITH the antibiotic, the cough JUST. WON'T. GO. AWAY. And she's exhausted.
And she wants her Mommy.
That's me.
I typed that last line with a smile.
I haven't slept more than 3 hours a night since I came home from book tour a week ago.  I was POSITIVE this week was going to be my most productive yet. My to-do list was 17 miles long, but I was R-E-A-D-Y to tackle it. I could do DO THIS. Be mom to a sick one, battle my own sickness and get stuff done.
Until that moment.
STAY.
She didn't cry as she said it.  She didn't whine or beg. In fact, she said it with a half smile…those same sweet eyes hooded with exhaustion and the confidence that once uttered, I wouldn't be going anywhere.  She was right.
I sat right there. Facing her on my bed. Our legs touching, fingers entwined. In between her bursts of coughing, we talked, smiled and snuggled.
I STAYED. With my body, my heart, my soul.