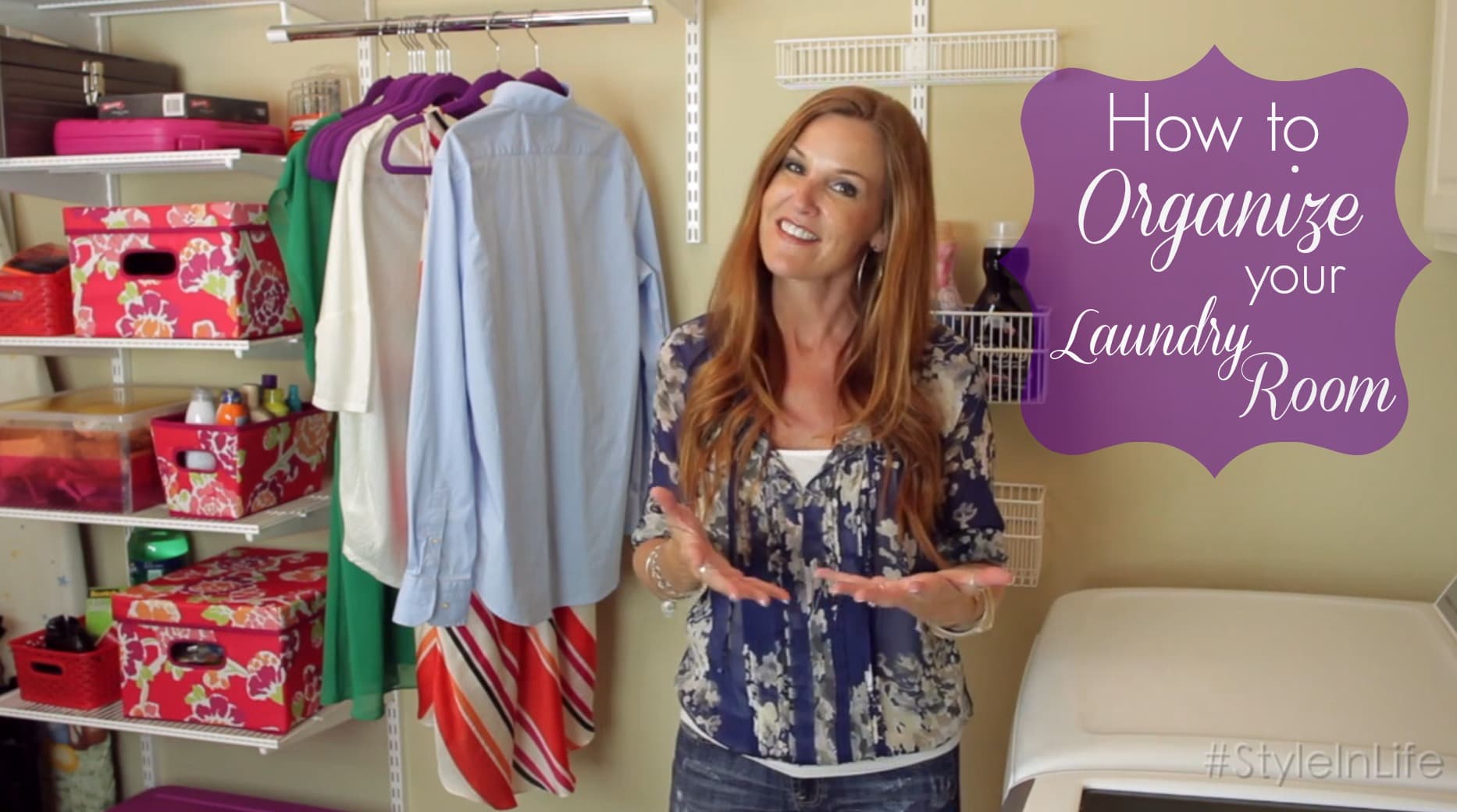 A few weeks ago I was sitting in my family room working on my computer when I heard this horrible noise.  Unfortunately, my brain registered that I had heard this exact sound before…running water. Running water INSIDE your home is never a good thing and in this case that was especially true.  As I jumped from the couch fearing the worst – that is exactly what I saw… water flowing towards me throughout my entire kitchen.  The source?  My laundry room.
For the third time (YES, the THIRD TIME in two years) my washing machine had overflowed, pouring water throughout two rooms.
As I mopped, soaked, and vacuumed up the gallons of water, I decided to use this six hour cleaning expedition as inspiration for re-organizing our entire laundry room.
Naturally, that started with a new washing machine and dryer. (finally!)
In this week's Keeping Style in Your Life – my Top Tips for Organizing Your Laundry Room With Style.

I do wish I had the benefit of natural light in our laundry room, and am confident some day I'll tackle painting the space, but for now, these are my favorite tips. What do you do in your laundry room to keep your space organized and useful?
This video is part of my weekly 'Keeping Style in Your Life' Series… a new one comes out every Monday.  For past videos focusing on everything from fashion to hairstyles, from home organization to recipes and wine, from time with your kids to making guests feel comfortable  – everything that keeps STYLE in our LIVES – see below!
Hair Tutorial: Create Quick, Easy Beach Waves
5 Must Have Fashion Items for Your Winter Wardrobe
Hair Tutorial: Quick & Easy Double Braid and Fishtail Braid
Wine Tasting: 6 Amazing Red & White Wines for $15 or Under
How to Organize Your Home Office in 10 Steps
5 New Spring Fashion Trends for 2013
Make Guests Feel Comfortable In Your Home – 5 Tips
How to Make Perfect French Toast
Make it a 'Yes Day' With Your Kids!
5 Cheap and Easy Ways to Redecorate a Room in Your Home
How to Do a Fancy Ponytail Twist
How to Make To-Die-For Nutella Rice Krispie Treats
Travel Tips: Making Packing Easy
How to Plant a Vegetable Garden (for Beginners)
Favorite Summer Salad Recipe: Strawberry Walnut Feta Salad