My small girl's report card was ready and available today.  As a Mom that sees actual grades for the first time for her small girl, I am fascinated to see what clicks for her, what could clearly use a little more attention and what will be the subjects that require extra time.
My second grader is a natural at Math and Spelling….  the Math portion delights her daddy to no end.  English is going to take a little more effort.  But that's ok.  We can work more at home.  There isn't anything keeping her from focusing.  She has the time.  And the help and attention from us.
And the nutrition her brain needs to help her concentrate.
Unlike many, many other children.  Like the 1 in 5 children nationwide who are hungry.  And by 'hungry', I don't mean, they are homeless…. I mean they don't know where their next meal is coming from.  And if they aren't getting the food they need, it is impossible for them to concentrate in the classroom or at home when they should be studying to understand their school subjects.

Enter Schools Fight Hunger.
Schools Fight Hunger decided to tackle the hunger epidemic in one of the areas our children were suffering the most – our classrooms.  By enlisting the schools, the parents, the children in the fight – the collective community can raise its voice to make sure children have what they need.  Once a school is registered with Schools Fight Hunger, both small and large efforts can be organized in an effort to combat the problem.  A food drive, a bake sale, donations to a local food pantry – they all make a difference.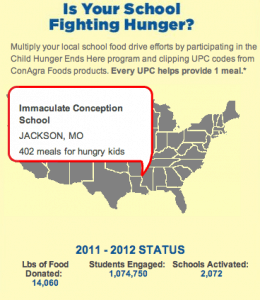 To date there are more than 2,000 schools registered nationwide – that is more than ONE MILLION kids helping kids to fight hunger.  And?  More than 14-thousand pounds of food has been donated.
In addition, the Con Agra Foods Foundation and Child Hunger Ends Here have partnered with Schools Fight Hunger – for every UPC label collected from a participating Con Agra Brand, one meal will be donated to Feeding America.  This portion of the program runs through December.
How easy is this?
But you and I both know we can do more. In Missouri, where I live…. there are only 46 schools registered. There are an estimated 5-thousand schools in this state.  If more than 14-thousand pounds of food have been donated from just 2-thousand schools nationwide… imagine if just ONE QUARTER of the schools in Missouri registered. That could mean   about 7-thousand pounds of food just from Missouri!
You know you want to do it.
To register your school, visit Child Hunger Ends Here.
I am passionate about Childhood Hunger and am now working for the 3rd time, with Con Agra Foods on the Child Hunger Ends Here Campaign. All thoughts and opinions shared are mine and mine alone.