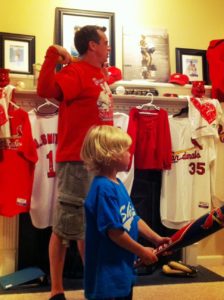 Within the past few hours, I've fielded multiple texts and calls from friends and family posing the same question:  So, what are you going to do Friday Night if there's a Game 7?
Quick explanation.  Friday Night is "Trunk or Treat," the Annual Halloween Party at my children's school.  Due to Game 6 being delayed one night thanks to inclement weather, Friday Night is also now in play as the night of a potential Game 7 of the World Series between the Texas Rangers and the hometown St Louis Cardinals.
So, here's my delicate answer to the question.
Do you understand the rarity of a World Series Game 7?  It's been 9 years since the last Game 7 which coincidentally was the night after my Wedding Night.  I was able to see only the final inning, and I watched that 15 rows deep at an Airport Bar during a layover in route to our Honeymoon Destination.  Since that Game 7, there have been a pair of World Cup Finals, 4 Olympic Games, 2 Presidential Elections, the invention of BlueTooth, all 5 generations of iPhone have launched, the creation of YouTube and my wonderful wife and I were blessed with 2 right handed hitting, right handed throwing children.
Let's take it a "slide step" further.  My team, the St Louis Cardinals, haven't hosted a Game 7 since 1982.  I was 7.  That's the current age of my daughter.  It's been 29 years since my city hosted a Game 7.  Tony Larussa wasn't even managing way back then.  Oh, yes he was, but maybe land phone lines worked.  (I can't let that go yet, it's still hurts too much)
This brings me to my biggest fear in life.  Many fear of drowning, public speaking, getting punched in the face by a 350-pounder named "Darling," or any number of "makes sense to me" fears.  Not me.  I'd rather Darling wack me across the melon, land in a pool of alligators in front of 100-thousand on-lookers while I give the Gettysburg Address than not see my team clinch a World Series in person, and to do so in a Game 7 would be my ultimate sports moment.
I almost had the chance in 2006 to see a clincher (not a Game 7, but … ) until rain washed out Game 4, then Game 4 Tickets became Game 5 Tickets, and 5 became 4, thus I saw the Cardinals go up 3 games to 1 in a Game 4 instead of clinching the series in 5 which I had tickets.  I cannot discuss this much longer.  It makes no sense now.  It made no sense then.  My blood pressure is soaring.  I need some relief.  Someone give me Lynn, I mean Motte, just send a big right hander out here to get me out of this jam.  Whew, no "Darling."
Okay, I'm back.
You see, Game 7 is the ultimate for a freak-show baseball fan like me.  Like most baseball crazies, I count the days to Pitchers and Catchers reporting once the last out of the World Series is in the books, I stand in line for Opening Day Tickets, I go to Spring Training, I wear jerseys to bed in the winter to keep the Birds on the Bat logo close to my heart, I wear Red Cardinal Tube Socks under my work pants during the playoffs, I set up a Cardinal shrine in my living room with Rally Towels, Jerseys, Hats, Bats, Gloves, Replica World Series Trophies, I wear eye black on the weekends, I shine my cleats 11 minutes before game time in honor of the Cardinals quest for their 11th Championship, I wake up at 4:29 every morning in honor of the best battery in the game, Yadi (#4) and Carp (#29), I only carry 5 dollar bills and Nickels for #5 Albert Pujols (I used to carry only 1's and pennies for Ozzie Smith, but this inflation thing is for real),  I drink out of a Cardinal Mug the day "we" clinch a trip to the post-season, I play the lotto with 26, 31, 34, 42, 44, and 46, the Cardinals first 6 Championship years, all of my security codes revolve around the Cardinals in some way (I won't go much past that), I bought a live squirrel in honor of that rodent that started a rally for us in the LDS versus the Phillies, we named him Skip, my kids wear #6 for Stan the Man, and #12 because Cooper is going to be standing on the mound when the Cardinals win their 12th World Championship which brings me to my answer.
Cooper is 5.  A potential Game 7 takes place this Friday which would give my team their 11th World Championship.  Coop cannot get drafted until he graduates from High School, unless we move to another country (hmmmm…interesting idea, he could be taken in the International Draft as early as 16 years of age, okay, I'm off topic now).  Point is…This might be the last time I can see a Game 7 Win by MY TEAM, in MY TOWN for at least another 20 years or so…This is a no brainer.  This is as easy of a decision as leaving your closer in a World Series game during the 9th inning with a 1-run lead.
I love my kids more than anything in the world … and, I'll miss them on Friday Night.  I hope they have all kinds of fun with their friends.  But, my answer to the question of "So, what are you going to do Friday Night?"
It's Game 7.  My team needs me at the ballpark.
Sincerely,
A Casual Cardinal Baseball Fan
PS…Anyone know any good realtors in the Dominican Rep