There is a phrase I've said so many times about the intent behind how I raise my small people, it is almost a family motto: I firmly believe it is my responsibility to raise children to be good citizens of the world.
What does this mean exactly?
Right. It sounds, I mean…a little high-brow, but honestly – I just want to raise kind-hearted, good-intentioned, givers.
I want to raise children who recognize the beauty in our main family motto: give good, get good. When you are giving to others, you are getting good in your world. It shouldn't be a challenge, but in a world that, for them, means that food, shelter, and education are givens – never mind the gift of easy friendships, regular sports teams and more 'things' than they need – it isn't always easy to understand how these should never be taken for granted.
I work hard to make gratitude and proactive giving a daily practice.
I regularly introduce them to organizations who have a life mission of making a positive impact on the world.
Heifer International is one living this incredible impact every day in more than 125 countries around the world. For 70 years now, they have been working to combat poverty in some of the areas that need it the most – but not simply by  – if you will allow the adage – giving men and women fish, but actually teaching them how to fish. Their goal has long been to provide farmers with the opportunity to learn skills and change their circumstances rather than strictly benefitting from gifts from others.
This happens when people like you and I and our children, head to the Heifer International Gift Catalog and choose a gift that will help a family for a lifetime.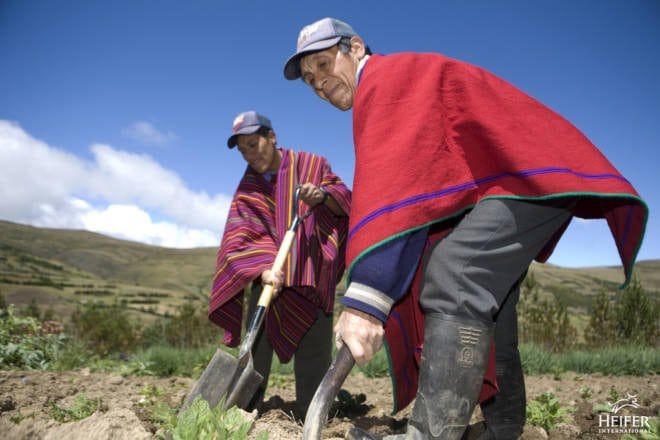 A goat can be purchased for $120 and once given to a family, not only will it be a source of food for them – milk, cheese and yogurt, but these products can be packaged and sold at market, helping the family to earn an income they so desperately need. Other animal gift options include a heifer (naturally) for $500, an alpaca for $150, a pig for $120, rabbits for $60, honeybees for $30, a flock of chicks for $20 and so many more. If the amount you would like to give is less, you can also gift a portion of any of these animals.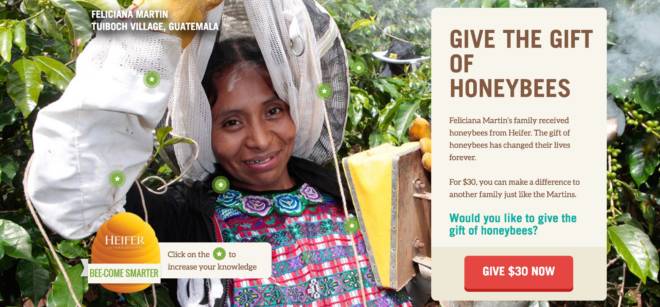 As part of their core mission, Heifer supports Passing on the Gift – this means the families who are gifted don't allow that gift to stop with them. They share the training they receive and pass on the first female offspring of their livestock to another family.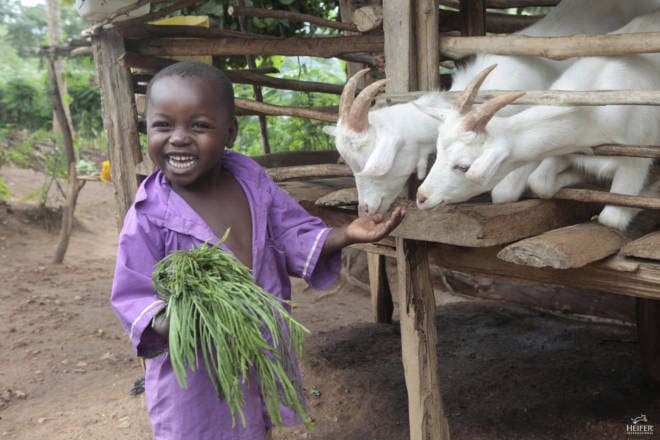 When this happens, the beauty and impact of the original gift is extended and the community continues to flourish, allowing others to continue to pass on both what they know and the dignity that comes with pulling themselves from poverty.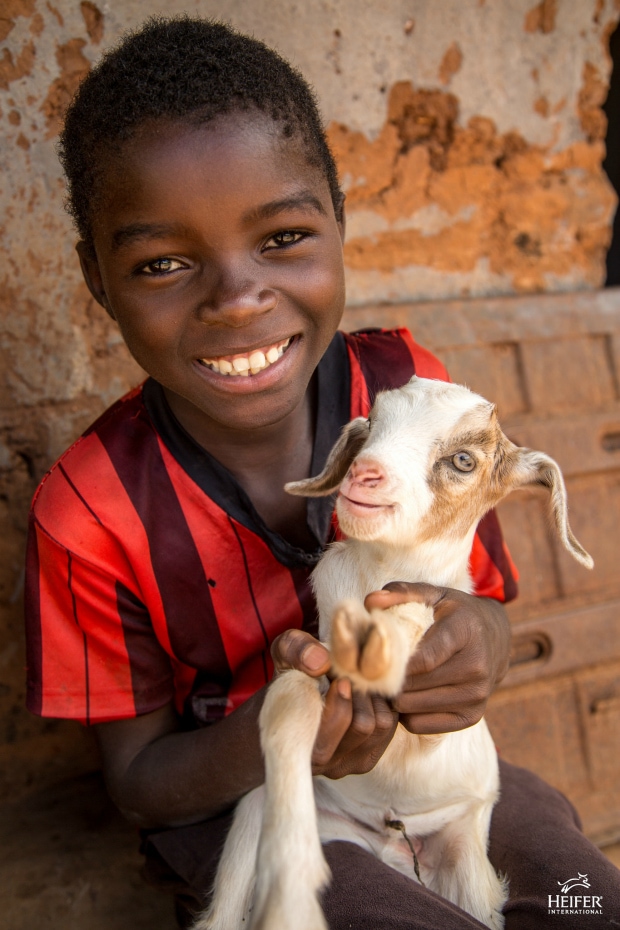 For other sustainable alternatives, you can also gift a Family Farm Care Package ($72) that will provide training for a family and helps to boost the productivity of their farm, conserves soil and teaches them to sell their goods for income or you might choose to support their women's empowerment programs – from sending a girl to school to helping to start a small business.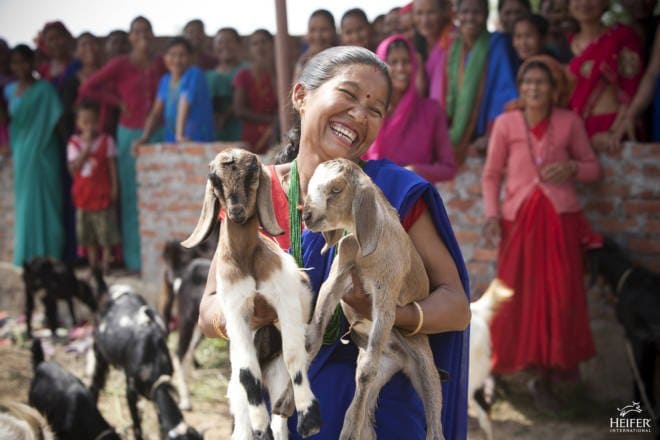 Not only does Heifer International make it easy for families like mine to give, but they help us to understand the impact we have. The Heifer International website and catalog offer such an incredible variety of gift-giving options – all that impact families around the world in the most beautiful and dignified way. Our biggest challenge was deciding which gifts we felt would make the biggest difference  – we chose both to gift a goat and a Family Farm Care Package – knowing these will go to different areas of the world.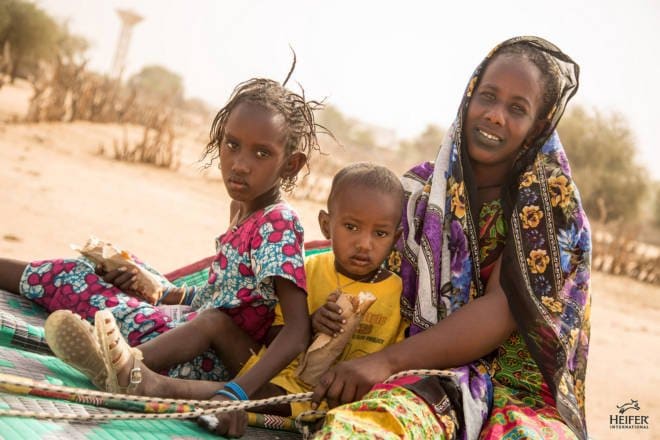 Heifer International has already done amazing things in it's 70 years – having helped to lift nearly 25 million people out of hunger and poverty. Think about that – nearly 25 million. But there are still great strides to be made as nearly ONE BILLION people still live in extreme poverty. By 2020 Heifer would love to help an additional 4 million families achieve self reliance. This means feeding themselves, sending their kids to school and creating a source of income.
Will you consider helping? Heifer International is a beautiful place to give good, get good.
Disclosure: I'm proud to have partnered with Heifer International to share this with you. As always, all thoughts and opinions are mine and mine alone.