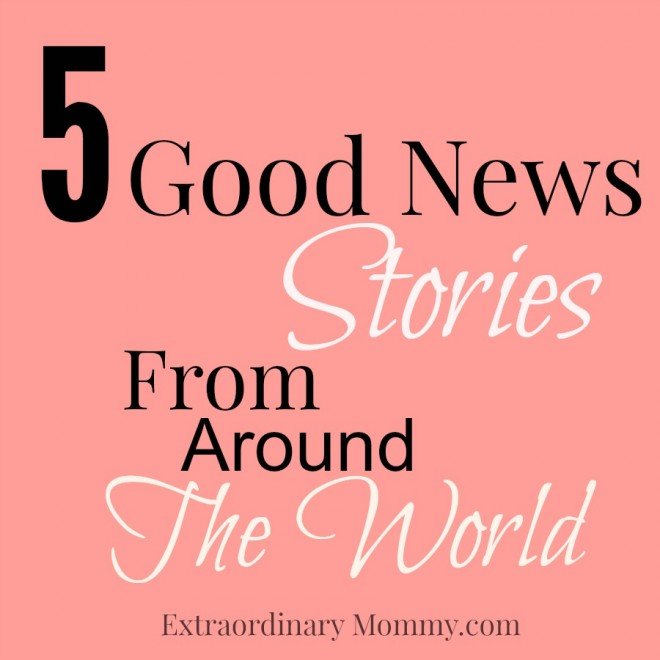 One of the things I love most about Danielle, and the community that she has pulled together in this space, is her ability to look for the good in everything. In a world that feels like it might be spinning out of control, how necessary it is to stop for a moment and tuck away the good news.
We need to hold onto that good like a firefly, delicately and sweetly so that we can marvel in the light it produces. So today, I'd like to share with you 5 Good News Stories happening right now. And perhaps we could link arms, and continue to share the joy that accompanies a story that simply brings a smile to your face.
5 Good News Stories From Around the World
1.) A Boy and His Best Friend
My first born was obsessed with trucks. Like this little boy, he stood at the window of our first home, and he waited for the garbage truck to pull around the corner. He'd fly out the door and down the driveway to give our trash collector a high five.
That little boy is almost 12, and so when I saw this story today, I teared up. It's been a long time since my guy toddled down the driveway on unsteady feet, and it was nice to remember the joy that comes with the delightful innocence of youth.
2.) The Heart of an Officer
It's been a tumultuous year for police officers, and in the midst of the confusion and anger, the questions, and the many stories, it's been easy to lose sight of what these men and women do for us. They're the first line of defense, yes. But they're also the deliverers of news that forever altars lives.
This story about Officer Eric Ellison reminds us that police officers are not only brave in the line of duty. They're also empathetic, gracious, and quick to offer solace to hurting souls. This is a good news story that requires Kleenex.
3.) The Bare Foot Artists
In 2004, Lily Yeh stepped into a slum in Korogocho, near Nairobi, Kenya, and she grew so overwhelmed with the situation that she turned her face to the sky and asked, "What should I do?" The answer? Bring color.
As one who believes in the healing power of creativity, I love this story. Yeh's group, The Barefoot Artists, brings hope and healing to some of the most impoverished areas of the world through painting. In her own words:
"I have come to realize that broken communities are my canvases, people's stories the pigments and their talents, the tools that shape the art we create. Making art in forlorn places is like making a fire in a frozen winter night. It brings light, warmth and hope." Lily Yeh.
4.) Wedding in the Rain
Most brides spend years dreaming of their wedding day, and more often than not, those dreams include blooming flowers, chirping birds, and the full cooperation of Mother Nature.
This is the opposite of how it went down for Stephanie Pepin and Max Santiago. Instead of perfect weather, they had torrential downpours…and it produced some of the happiest, most carefree wedding pictures ever. With smiles stretching from ear to ear, Stephanie and Max splashed their way through the streets.
"All we have ever wanted was to be together and married," the bride said. "Not only did we get what we wanted, but we also got a fantastic, hilarious, unexpected adventure and story to cherish with our friends and family," Stephanie said later.
We wish this happy, adventurous couple all the best in their years together.
5.) Love First, Ask Questions Later
As ISIS storms through the Middle East, it's easy to get lost in the hopelessness of it all. But there is one organization that refuses to give up hope.
Preemptive Love serves the children of Iraq by working "to eradicate the backlog of children needing heart surgery." The help to train and equip Iraqi doctors so that the thousands of children in Iraq born with life threatening heart defects can receive the best care possible.
Two weeks ago, Preemptive Love, along with blogger Ann Voskamp, stood up in the face of terror and placed a stake in the sand: We will not abandon the people of Iraq.
In three days time, they raised $500,000 as the world united with them. Terror doesn't win. Evil doesn't win.
Love wins.
Now, that's some good news if I've ever heard it.
Tell us about you today, friends? What is happening in your lives? Tell us something GOOD!