Update: November 30th – Author Jessica Porter reached out to me to respond to my thoughts in this post and the resulting dialogue.  I have shared her letter in its entirety and my thoughts about it here.
I'm not sure how it happened, but I now live in a world where the likes of Honey Boo Boo outrank and outperform Political Conventions. Where more people fill my Facebook and Twitter stream with their fears about never having a Twinkie again than what is happening in Gaza.  And today, where I can receive an email pitch with the subject, "The MILF Diet".
 MILF as in "Mom I'd Like to ….."  
I will let you fill in the blank.
As soon as I see the acronym, my brain fills it right in with the appropriate expletive.  And I don't do it with a smile on my face. So, now there is a diet to help me look like a MILF?  I put MILF in the same category as 'cougar'.  It's very likely a term someone younger than me *might* use if they deemed me temporarily suitable for the night. It most certainly isn't a word used with respect. In fact, Wikipedia actually says it has it's own version of pornography (awesome!) with the genre  focusing on an age-play dynamic between an older woman and a younger man. If I was compiling a list of words that made me feel strong, motivated, self-reliant and empowered, MILF wouldn't be on it.
Yes, in this post, I'm tackling that email because ladies and gentlemen, I admit it, I was (and am) offended.  And I'm not easily offended.  I can count on one hand the number of times I have been truly frustrated as I sat here, (specifically that time I was appalled at Abercrombie & Fitch) taking the time to tap out my thoughts…fingers bouncing across the keys, trying to keep up with my brain and mouth.  Yes, occasionally I talk to myself when I write.  Especially when I am trying to make sense of something that doesn't seem to have a logical conclusion.
Before you begin your Rumpelstiltskin dance, jumping up and down demanding that I simply DON'T BUY THE BOOK if I don't like it, I will tell you I don't think that is good enough.  It occasionally isn't enough to read an email you find unacceptable and click delete.  In this case, the answer was three-fold.  I read the entire press release.  And I went to the book's promotional site and read that.  Sure, I was making a 'snap' judgement based on the title, but I wanted to understand the content.
A true milf is confident, sexy, and radiates natural femininity. By eating whole, plant-based foods, you, too, can find balance and dynamic health, and unleash your inner MILF.  It's simple: you are what you eat. So, to fulfill your true potential for health, happiness, and MILFiness, it's best to avoid refined sugars, processed foods, dairy, and meat. But it's not as scary as it sounds, and you'll soon discover why. With recipes like Lemony Quinoa Salad; Oven- Roasted Root Vegetables with Garlic, Cumin, and Herbs; Edamame Dip; and Poached Pears with Raspberry Sauce, the MILF Diet is not only easy to follow, it's delicious and slimming, too.  (The Author) brings her wealth of knowledge to The MILF Diet in the form of holistic philosophy, mouth-watering recipes, and a fun and digestible enumeration of the health benefits of MILFy foods.
The number of things that make me uncomfortable about all of this are vast. To begin with, I diet, don't diet, eat well or poorly and exercise or don't FOR ME, most certainly not so that I might be deemed (oh good heavens, I'm doing everything I can NOT TO USE THE LANGUAGE I WANT TO USE!) bed-worthy. When I look in the mirror, when I have a bad hair day, a day when my clothes don't fit, a day when I'd rather eat glass than put on a bathing suit… those days are about me battling me – not me wishing for a white knight, or in this case, someone who thinks MILFs are 'hot', to come riding up to rescue me and my floundering self esteem.  And a diet isn't going to change that.
Sadly, the diet itself sounds packed with goodness, balanced and probably quite good for me.  And the author, Jessica Porter's previous book, The Hip Chick's Guide to Macrobiotics is A modern girl's guide to the secrets of eating for health, beauty, and peace of mind.  That actually sounds quite helpful – who doesn't want to feel healthy, beautiful and peaceful?
But for this new book, what in the world are MILFy foods?  Just the phrase sounds dirty.
As I sat musing about these, bothered that what is very likely great, healthy content is masked in a 'train wreck' title, I decided to do what I often do when I'm curious: I crowd-sourced.  I put this on Facebook.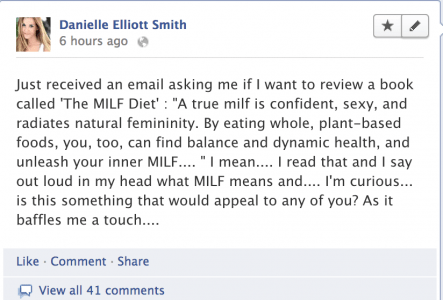 Comment after comment, from both women and men mirrored just what I had been thinking….
…..the term is offensive.
…..that being called a MILF is not a compliment and never was
…..that it plays in to a misogynistic society that amplifies women's shortcomings and insecurities to convince us we need that 'sexy approval'
…..the 'shock' of the title is par for the course – this is the 'new entertainment' that sells (see again: Honey Boo Boo)
Here's the thing: I have a little girl.  And she is growing up fast.  I am not ignorant enough to believe that I can shield her from the world's fascination with women's figures, with 'sexy' and with train-wreck-tabloidism, but I can tell you this: she will be raised to know self-respect and a healthy body image are priorities. I won't perpetuate this kind of idiocy, by using MILF as a 'fun' term or having books around my home that teach her to think looking beautiful or 'sexy' for anyone else is the right thing.
Unfortunately, I suspect, this book may very well have some advice that would have guided women into the lifestyle they want to live and the body they want to have, if only it suggested they should do it for THEMSELVES rather than for how they will be seen by others.
The final thing I did before writing this was respond, respectfully, to the PR rep who had reached out to me.  I did explain to her much of what I have said here: that I am certain the author knows her material and likely has great advice to give, but the title is offensive.  At the time of this publishing, I have not heard back from her, though based on comments on my facebook page, I do understand she has responded to others, including in her comments that the title is intended to empower women.  If and when I do hear back from her, I will update this post.
Updated 11/21 11:40am CST: I did hear back from the PR rep after my email.  Her name is Cristina and she was very kind.  She said, in part:
I am so sorry to hear that you were offended by the title. The title was meant to draw attention and empower women to find their "inner sexy," if you will. With that said, I TOTALLY understand that it may not translate that way for some people. I have seen a mixed reaction from the title: some people think it's funny and racy, others are offended by it.

As you noted, the book is actually filled with really wonderful, healthful tips and recipes. I have been cooking from it for almost a month now and I've lost a little weight and feel more energetic. I wish the title could please everyone, because the book holds some great content.
More than anything, I do appreciate that she responded.