It is the little things – you know those flashes in your Facebook and Twitter timeline that remind you of the good in the world?  Those moments when you see your friends cleaning up homes on the East Coast after Sandy, organizing their own food drives, taking trips to Africa to raise awareness about the need for clean water and many other conditions, or simply overpaying at the grocery store to take care of the person in line behind them.
It keeps my heart full. Often full to the point of bursting.
There are two main 'cause' categories that have always spoken to me: children and the military.  I have certainly donated money and volunteered time for other causes, but these two have my heart in a way I simply can't explain.  Specifically, I have worked to combat Child Hunger for close to four years now – working directly with Child Hunger Ends Here and Con Agra Foods, but also with St. Louis based Operation Shower, which  provides beautiful baby showers for mothers-to-be who have spouses are serving overseas. They are both extraordinary at what they do and I'm honored to be involved with them.
But, even now, I know there are so many other ways I could be giving, so many other ways I could be teaching my small people to give. And just as I think that, one falls in to my lap.  And I am compelled to share it with you…. because you just might be moved to help a little, too.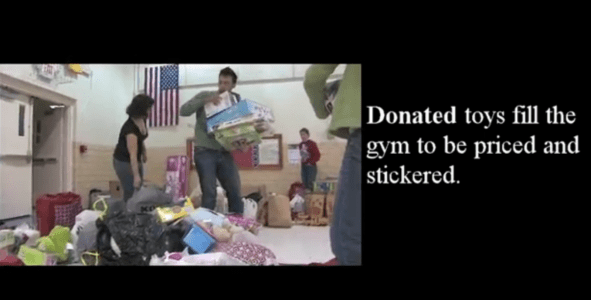 My friend Dave Mills, in the spirit of 'Movember' started his own fundraiser, No Shave VersaDave to benefit The Christmas Store, a local charity that collects brand news toys and 'sells' them to families at an incredibly discounted rate – close to 90% off.
This is beautiful in so many ways:
Dave clearly has a kind heart and chose The Christmas Store as it allows families to 'purchase' toys for their children.  In his words, "The parents walk out with a huge sense of pride that they were able to provide for their kids, and the kids actually get to enjoy Christmas morning like a kid." The toy store is the creation of Serve St Charles (just outside of St. Louis, MO).  They rely on toy and monetary donations to provide the toys for the families to experience their own version of Black Friday.  Serve St. Charles works with local service agencies to identify families who would be a good fit and have a need. Naturally, there are guidelines on how much each family can spend and how many toys they might purchase.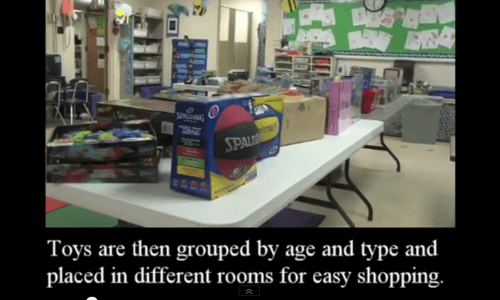 Dave's goal with No Shave VersaDave – where he has not shaved for the entire time he has been raising money for The Christmas Store, was to hit $500.  He has surpassed that, but wouldn't it be fun to keep going?  It you have a few extra dollars to spare (and I know things are tight), it would be delightful if you could help.  Or, if you are local, and would like to drop off brand new toys, you have until November 30th.
The drop off location: Every Sunday morning at Refuge Church, 1735 South River Road, St. Charles, MO.  If you would like to make additional arrangements, please let me know and I would be happy to direct you to the correct person.
Whatever you choose to do this holiday season, keep in mind that sometimes spreading the word or donating the change you find in your car is more than enough.
Thank you, as always, for giving good.