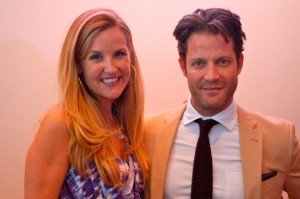 I would be lying if I told you I wasn't one of the nearly a billion people who thinks Nate Berkus is adorable (even his Executive Producer, Terry Murphy used that word).  And, let's be honest – adorable is a word we reserve for people who have that mesmerizing combination of physical attractiveness and supreme kindness – Nate Berkus has both, as well as the ability to make you feel as though you are the one person in the room he would LOVE to talk to.
What can you expect from his brand new show launching this week?  Here is the answer: In his own words…. (and yes….that is me asking a question a few minutes in….it is hard to keep me quiet, now isn't it?)
At an intimate party celebrating the launch of his show, Nate chatted with us excitedly about the metamorphosis of the show as well as what we can expect to see as it launches this week (that's right – today, September 13th ) The show will be a mixture of design, inspiration and the reclaiming of one's life…..and expect a celebrity sighting here and there!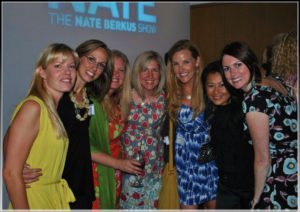 Because I'm excited about the Premiere, I thought I would make it easy for you – this is what you can expect this week on The Nate Show:
Monday : Premiere
Tuesday: Going Vogue at Home on a Budget
Wednesday: Dolly Parton Joins Nate for 'Nate's Crate 911'
Thursday: How to Look Slimmer in Photos without Losing a Pound
Friday: Elizabeth Edwards talks about Reclaiming her Life
Visit The Nate Show's website for local listings…..
Thank you to my lovely friends Esther and Duong for taking the two pictures in this post.