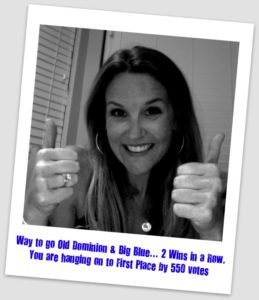 You don't have to be a member of the Pac 10 or Big 12 to demonstrate serious school spirit….at least that is the path the crew at Old Dominion is paving as they maintain the top slot in the Capital One Mascot Challenge.
This past week, Old Dominion's Mascot, 'Big Blue' was up against 'The Bird' from Air Force.  Big Blue's 65,076 votes over The Bird's 23,382 pushed him (or is it a 'her'??) into the top slot.
Where is Old Dominion?  How many students do they have?  And just WHO is this mascot fans have voted for almost 100,000 times in the past two weeks??
Old Dominion is in Norfolk, Virginia with a total enrollment of just over 24,000 (that is both undergraduate and graduate.) Oh….and their mascot?  I present to you….Big Blue. (P.S. Smart Move by the ODU crew – there is a LINK to the Capital One Mascot Challenge on the ODU Athletics Website – me thinketh they play to win)

This is how the rest of last week's voting tallied….
Let's talk about that last match up there for a minute.  And this goes to the big school-PAC-10ish-huge-football-program-hit-me-with-the-school-spirit-thing.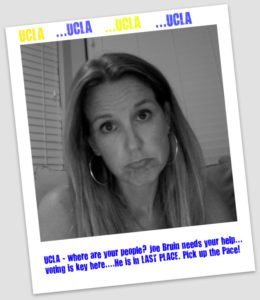 Both the University of Cincinnati and UCLA are well known schools, yes?
UCLA is a Pac 10 School – with a Monster Football program – they play in the Rose Bowl for Heaven's sake….
And yet….not only did UCLA lose this last matchup, Joe the Bruin is ranked LAST of the mascots. In Week 1, Joe was stomped by Brutus of Ohio State University. I'm thinking the Bruin fans need a little nudging to get voting. (Hint, you can be voting now.  Yes, RIGHT NOW. )
And the voting is LIVE.  Vote and watch your vote COUNT. Now. Oh – and when you vote, the mascot does a little victory move for you.  Comedy.
And for the record…if you are voting – and your school ISN'T already on there – you can add them as a 'write in' – maybe they can make the team next year.
Just for fun….let's meet Joe…..UCLA needs him to whip out his claws to drag himself (with the help of voters!!) into a better position!

In case you need a little refresher on the Capital One Mascot Challenge:  There are 16 Universities and their Mascots competing.  Each week, the mascots are matched up – you vote for your favorite.  At the end of 12 weeks – the top 8 mascots advance to a 'playoff' – voting still decides the winners.
At the end of the season – the WINNER will be announced at the Capital One Bowl Game on January 1st in Orlando, Florida.
AND – we are still looking for female bloggers (ladies – we know you love your college football) to represent each of the 16 Universities (you can be a current student, an alumni, or just a HUGE fan)  Apply here.  The winning bloggers will help their Universities and Mascots to get votes – and if your Mascot wins – well, you will be joining us at the Capital One Bowl Game too!  We are taking submissions until next Tuesday, September 21st!  Enter now!
Disclosure:  I am working with Capital One on the Mascot Challenge and will be a) writing about it weekly and b) covering the Unveiling of the Winner at the Capital One Bowl Game on January One in Orlando, Florida.  However, as always, the thoughts expressed on this site are entirely my own.