A green smiley face.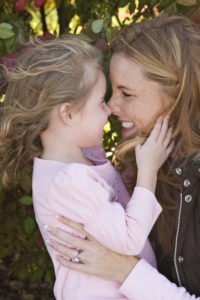 That is what marks my sweet girl's behavior daily at kindergarten.  There is a calendar – and every day I know – green smiley face = good Delaney.  If she misbehaved a little, I'd see that warning 'yellow' and well, you can see where this is going, red = notsogoodatall.
One time.  That is how many times she has come home with a yellow this school year.
Until last Thursday.  But we didn't know until Monday.
Why?  Because she was taking the calendar out of her folder and hiding it.
As for me, well, I forgot to ask.  Because she always came home with a green.
My husband figured it out.  As soon as he asked, the tears started.  The hyperventilating began.
She couldn't speak.  She couldn't stop crying.  We promised we wouldn't be mad – we just needed to know what happened.
My heart fractured a little more with each tear, with each labored breathe – what in the world could have happened to cause this type of trauma?
I actually started to get scared.
Little by little, the story came out in spurts.
She had kicked a little boy.
He hadn't done anything wrong.
She had been told to do it.
By an 'older' girl she adores.
Hence the devastation.  Even at 'almost-six-going-on-sixteen', she feels betrayed and embarrassed.
And I feel like the air has left the room.  I wasn't ready for this.  I'm not ready for this.  I'm hugging her tightly, as if I can block the pain of growing up and realizing you can't trust everybody with my embrace.  I quickly wipe the tear that seeps from the corner of right eye. It wouldn't help her tears if she saw mine.
I think….I hope….we covered everything.
No, she can't kick someone.  It is ok to make a mistake.  Trust your own little heart – even if someone tells you to do something – you do know right from wrong.  We aren't mad at you.  You can ALWAYS talk to us. We WANT you to talk to us.  We trust you.  We love you. (Did I miss anything?)
My heart hurts as I write – just knowing we are the very beginning of the long and treacherous road of 'growing up'.  I hope I am equipped.
If you have suggestions, well, honestly, I'd love them.