The small girl is keenly aware of the pecking order as it applies to the Tooth Fairy.
"Mommy, Madison has lost TWO teeth.  These ones…..right here…. ", she leans in and opens her mouth wide.
"But, Addie?  Addie has lost SEVEN!"
When you are six years old, lost teeth separates the big girls from the little girls….at least in my sweet one's mind.  And she already ranks herself low on the age totem pole, because well, that's where she falls.  With a July birthday, she will always be the baby of the class.  Not to mention, she's a peanut.
For months now, we have been wiggling, and wiggling and wiggling that bottom, right tooth.  By last Friday, I could barely stand to touch the thing….since I could almost push it flat.  But it just wanted to hang on.
Until Saturday, when the seatbelt yanked it out.  That's right.  The seatbelt.  Because, naturally, Delaney had the seatbelt in her mouth, right by the stubborn loose tooth.  As we rounded a corner – that tooth came flying out.  Despite the mouth-full of blood, she was ecstatic.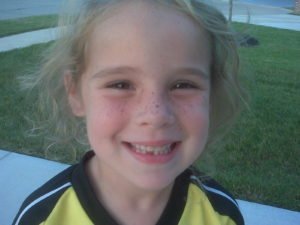 Overjoyed is more like it.  She couldn't stop giggling.
She hasn't stopped smiling.  She can't stop looking in the mirror and telling every.single.person we see.
She delicately placed the tooth under her pillow and woke us at 5 am, delighted by the silver dollar the Tooth Fairy had left.
She is positive she caught a glimpse of her wing and crown as she flew into the room and touched her pillow.
I have to confess, I had no idea I would revel in the magic of the Tooth Fairy as I have the past few days.  I can't wait for her to visit again.
Have you had a visit from the Tooth Fairy?  And just how generous is she in your home? ( Shhhh –  I'll confess – Delaney's Tooth Fairy is the VERY SAME Tooth Fairy that visited me when I was a little girl and she is carrying the VERY SAME magical Silver Dollars.)