Dear Daddy Diary-
You ever have those moments in life where you actually do sit back, take a deep breath and wish you could just freeze the moment forever? I had one this past Tuesday night at a First Grade Girl's Soccer Game.
It was the 'Consolation' Championship Game of a Pre-Season Tournament. Both teams had lost their 1st game, but won the next 2 advancing to a "Trophy Game." Trophy Game being defined as a game where the winner receives a trophy. See, you don't have to be too smart to read/write these diaries.
I only mention this fact, because this game was tied 1-1 after 50 minutes of play, thus went into Penalty Kicks.
For the non-soccer fan, this is where the ball is set up just a few yards from the goal, and a player is allowed to shoot the ball completely uncontested as hard as she can at the goal. It's the goalkeeper's task to stop that ball from crossing the line. Each team gets 5 shots. Whichever team scores the most, wins, and thus walks home with the trophy. Kind of a big deal to a bunch of 6 year old pony-tailed soccer zealots.
This author is one of the "coaches." Whew, use that term extremely loosely when referring to me. Coach Joe is the Head Coach. He's the guy on the field positioning the girls during the entire game. He's constant with his words of encouragement, working so hard to keep them in the right spot that I was tired for him. Then, there's Coach Matt, the "teacher". He's the guy that played ultra competitive soccer back in the day, and could still whistle a shot past a Ghana Goalie (yep, could have used him in South Africa about 2 months ago). Coach Matt is so patient with the girls explaining the way the game is supposed to be played: passing, spacing, unselfish play. Then, there's yours truly. Coach Joe has assigned me the job of substituting the girls on/off the field; making sure they all get as equal amount of playing time as possible, and also putting each of them in the best position to be successful. No pressure. Thanks Coach Joe. (Pssst, I love it.)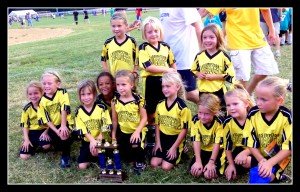 Then, of course, there are the girls. Just look at them. Don't they look sweet? Huh, think pack of wolverines. Sure, they're cute and nice, almost adorable with their little pigtails and batting eyelashes, but then the referee blows the whistle, and their entire purpose in life for the next 50 minutes is to put that ball in that goal as many times as possible. Tonight, they found the net once. The other team scored the same amount, so it's on to Penalty Kicks.
Coach Joe takes the 5 girls who are going to shoot and gets them all ready. Coach Matt takes Addie (the goalie) and explains to her how she is going to stop all of these shots from reaching the net. Yours truly sits alone on the bench. See, my job is over. No more substituting. I'm just a Dad now watching his little girl and her friends have fun.
And, this leads me to the moment that I want to freeze forever.
I look across the sidelines, and realize that these parents are my friends for the next 8-12 years (or longer if I'm lucky). I look on the field and understand that these little girls will grow up with my little princess and experience all of the wonderful things that kids enjoy. They'll be in and out of my house faster than Landon Donovan, have all night slumber parties, text boys on their smart phones from my living room, beg me to re-charge their ipod in the middle of the night and coerce me into downloading multiple movies on a Friday evening. I gazed down the sideline at my wife, peeked at my little Mia Hamm on the field and found my 4 year old son sitting with another of the girl's brothers (of course), then looked to the sky and said "thank you."
See, this is everything that I've ever dreamed of…I love team sports. I truly love them for this. I love that team sports bring kids together and let them play….just play together with the goal being to have fun and maybe learn a thing or two about being a part of a team. These kids will be friends for a long time, not forever for some of them of course, because the world will try to pull them away from each other. But, for tonight, on this field, each one of these innocent balls of sugar and soccer spice is rooting each other on harder than they've ever rooted for anything in their lives, and for what? A Trophy? Heck no, they're rooting for each other because they're friends.
It really is that simple; Just friends cheering on friends. It's perfect. We're going to have a lot of fun over the next 12 years. See this picture. You can almost imagine this Class of 2022 walking across the stage, gathering their diplomas and heading off into the real world. For now, they are just a bunch of 6-year old girls who would love nothing more than just to play with their friends.
And, maybe, just maybe win a Trophy.
PS…Addie (The Goalie came up huuuuuge). The Wolverines (ahem, I mean Crusaders) win in Penalty Kicks.
I "CAN" wait for the next game. I'm just fine enjoying this one FOREVER.
Sincerely,
A Soccer Dad