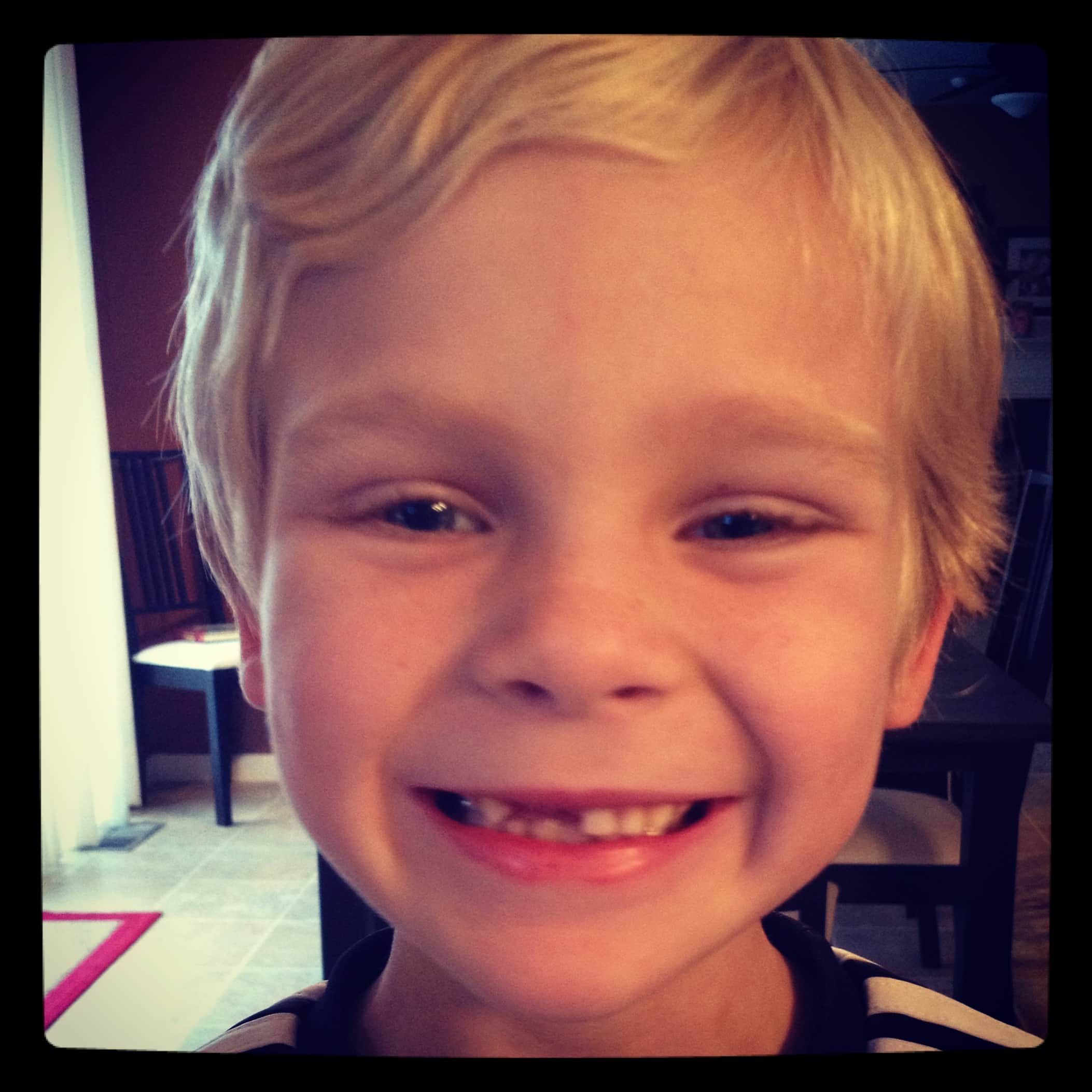 The Tooth Fairy came for a visit this weekend.  And, as she typically does, she sprinkled some of that special Tooth Fairy dust (or whatever it is she does) and dropped off a single silver dollar.
What?  A SINGLE SILVER DOLLAR? What  a CHEAPSKATE that STUPID TOOTH FAIRY MUST BE!
Or at least that's what I imagine my small dude was thinking when he woke up this morning and reached his little six year old hand under his pillow – clearly hoping for a different outcome.
Allow me to explain.  It has come to my attention, that the Tooth Fairy who last visited a friend of Coop's (also a first grader) is ever so slightly more benevolent than the winged-one who typically makes the nightly visits to our home.  And whom, I might add, has been to our home THREE other times in the past two weeks.  Yes, Cooper is currently gumming his food.  It's applesauce and ice cream around these parts.
So, just what did this lucky first grader receive for said tooth, you ask?
Prepare yourself.
ONE HUNDRED DOLLARS.
Feel free to pause for a moment to pick your jaw up off the floor, to yell to your significant other, or to post about it on Facebook (I already have).  But yes, for all of the times you wondered to yourself if there was a line?  This, my friends, is it.
Initially, the small dude didn't want to put his tooth under his pillow last night – he wanted to wait until today – until St. Patrick's Day.  He figured waiting until this 'special day' – you know the 'green' day, might up his chances of securing a little more 'green' from his Fairy.  Dad convinced him to go for it anyway. Naturally, the Fairy wasn't falling for it.  The Fairy thinks every tooth is equally special in our home = Silver Dollar Special.  All of them.
After finding the solitary coin, Coop did what most disappointed six year olds do – they rationalize the problem, "Well, you know, 'my friend' WAS out of town when he lost his tooth.  I bet that's what happened."  I questioned, "So you think his Tooth Fairy gave him $100 because he was out of town?"  His assured reply, "Yes, that's what happened."
Let's just hope he doesn't lose that FIFTH loose tooth when we are visiting his grandparents in San Diego in two weeks.  I'm pretty sure he'll find the out-of-town Tooth Fairy ALSO thinks $100 for a tooth is absurd. In fact, she thinks $10 for a tooth is a racket.
I have to assume there are extenuating circumstances that precipitated the $100: His friend's tooth was knocked out by a horse?  The Tooth Fairy had FORGOTTEN every other time (10 times)? The kid was holding the Tooth Fairy's kid sister hostage? Maybe blackmail?
Your thoughts, my friends?  I've heard of Tooth Fairies who gift $1, $2 and $5 or some combination depending on first tooth or front tooth, but TELL ME, PLEASE TELL ME, your Tooth Fairy doesn't drop over One Thousand Dollars on baby teeth.
Please.
Please.