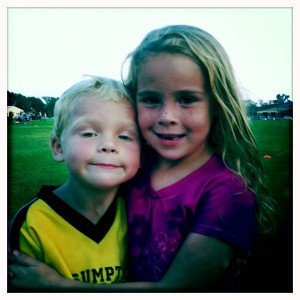 I have a fear.
I am afraid of missing a moment with my small people – you know….a special moment.
Like a first-ever soccer goal.
Small girl is on a team for the 2nd year.  As of last week, she still hadn't scored, but she was committed. Every game began with her 'game-face' and ended with a disappointed….."but I tried…."
Small dude is on a team for the very first time….he too is on a mission.
And then there is me.  Biting my nails on the sidelines.  Not only because I want what they want.
But because I am selfish.  I know I am going to be out of town a few times in the next few weeks and and I am petrified that I won't SEE the goal, but will have to HEAR about it instead.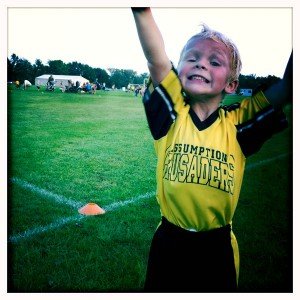 I am lucky.
I saw them.  Both of them.  She scored on Saturday.  He scored on Tuesday.  I left town yesterday.
The list of emotions I experienced came in waves.
Relief.  And joy.  Like the kind of joy you see on the small dude's face right there.
And that is extraordinary.