Okay, I love this topic. I know that it can be a bit taboo in parts of the world, which is bizarre to me, but I think it's amazing. I think blended families are so beautiful.
Now, this post isn't just for blended families. I do think  even if you are the same race and culture your family traditions might be completely different and then all of these things would still apply to you. In the end, marriage is two different people coming together to act as one…. both bringing the good and the bad with them. It's tough!
My husband was born and raised in The Bahamas and I was born and raised in a small city in southern California. He is black, I'm white. Thankfully, English is both our native tongue, but other that that, not much of our up-bringing was similar.
In The Bahamas, parents are the end-all authority. When they say jump, you better be jumping before they finish speaking! In America, let's just say kids have more wiggle room. Now blend those two things together as parents. He's always too hard (in my opinion) and I'm always too soft (in his opinion).
However, he's learning from my perspective that kids are people too and need to be heard and understood. I am learning that I am the authority and my kids need to listen to me and respect me. He's still the strict one and I'm still the softy, but we are blending into a lovely version of parenting that is just *us*.
Our first year of marriage was probably the hardest year of my life. We fought, we yelled, we argued, and not nicely either. We had no idea how to live together as people, let alone with understanding of the other's culture. However, we were committed to working it out and eventually we fought through. Along the way (we're going into our 8th year of marriage now), I've picked up some tips on intercultural/interracial marriages. Here are my thoughts:
Tips for Blending an Intercultural/Interracial Family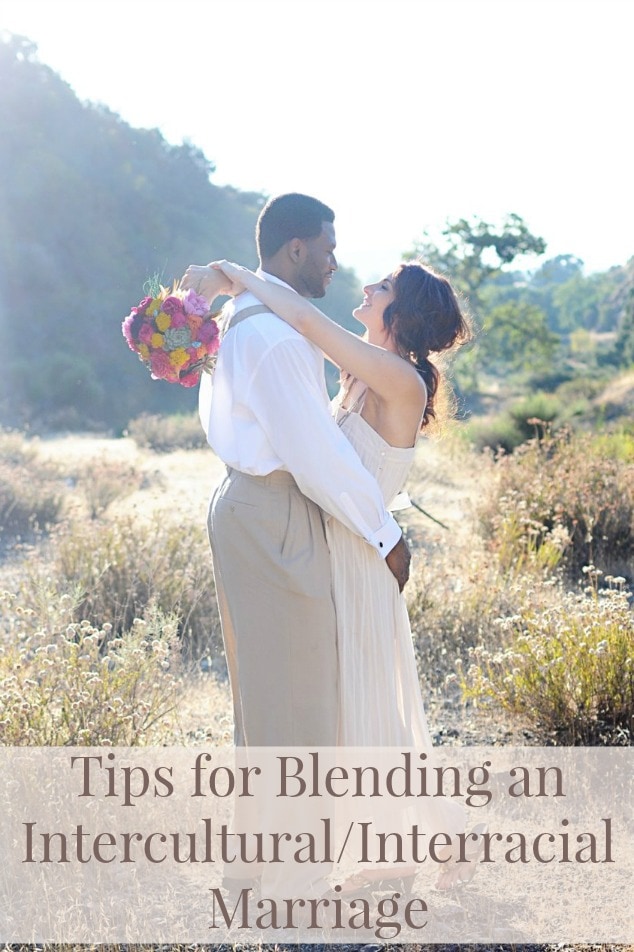 Be Willing to Learn
I am not black and I wasn't raised in The Bahamas. There is no way I can ever be in my husband's shoes. They stay up late and and we get up early. There are plenty of things about their culture I just won't get. Listen. Ask questions. Lean in. Want to learn about the culture and lifestyle that your significant other came from. He needs to know that you care. And you really should care, it's a part of you now too.
Be Understanding
They do Christmas differently. They might not even celebrate Thanksgiving. They threw rotten eggs at people passing by for Halloween. (We won't name names…) Birthday went uncelebrated. It's weird, right? Nope. That is the way they were brought up! It's not weird to them. It might be weird to them that you make a huge deal out of your kids 1st birthday that they'll never remember. No culture is better than the other and every one has good and bad. Just because it's different doesn't make it wrong. Instead of labeling it, be understanding of it and learn from it!
It's okay that you don't understand
You just won't. You didn't grow up in his (or her) home, with their parents, under their roof. You truly don't know what it's like. That's okay.  You can be willing to learn and sometimes still not understand. Occasionally, my husband will try to explain a tradition to me, and I will simply have to take his word for it.
Be prepared
For the questions, comments, struggles, situations. This is especially true if you have children and they are a mixed race. My kids are very aware that they are often the only 'brown' kids. The kids see that they're different. They talk about their color before we can even mention it. Not always negatively, but they are aware. Be prepared to talk to them about it and be united as parents. Ignoring it doesn't make it go away.
Make an effort
You're not right in doing things your way because "that's how it's done." And they're not right doing it their way because it's all they've known. When you're blending two cultures you have to understand what you're bringing to the table. What might seem like a normal tradition to you, may be foreign to your significant other. It's okay! Be open to new things and make an effort to integrate these things into your life together.
My family grew up camping. I love it. Our kids love it. My parents love it. My husband hates it….with a passion. However, he still sucks it up and goes with us. We've made accommodations for him to make him more comfortable and he just shows up. It's our compromise!
Blend it!
That's just what you are…BLENDED! When I asked my husband for his take on this post he said "pull both cultures together to create your own unique culture." What? This man was spitting wisdom tonight, ya'll, he could have written this post himself. He probably just wanted me to stop bugging him so he could watch basketball, but we got some great advice out of it! This pretty much goes for every family, but throw what you're "supposed" to do right out the window. Forget what is viewed as normal. Don't look at the Joneses because they're broke and unhappy. Just huddle together and create your own unique, beautiful culture and run with it!
I would love to hear from all of you! Did you come from a blended family? Can you relate to any of these? Leave a comment with some of your tips, I'm sure they'd be useful for everyone!