Family photographs are almost as exciting as the holidays for me. They mark a passage of another year, they document the amazing growth of my small people and I must admit, there is something so extraordinary about seeing the joy and love of my family captured in time. For us, family photos are an annual Fall tradition, which means every year I need to tackle the ever important question:
What will we wear?
Since I know for many people this can be nearly as much of a challenge as finding the right photographer (a very important issue I will tackle in a later post), I wanted to offer my favorite 10 tips.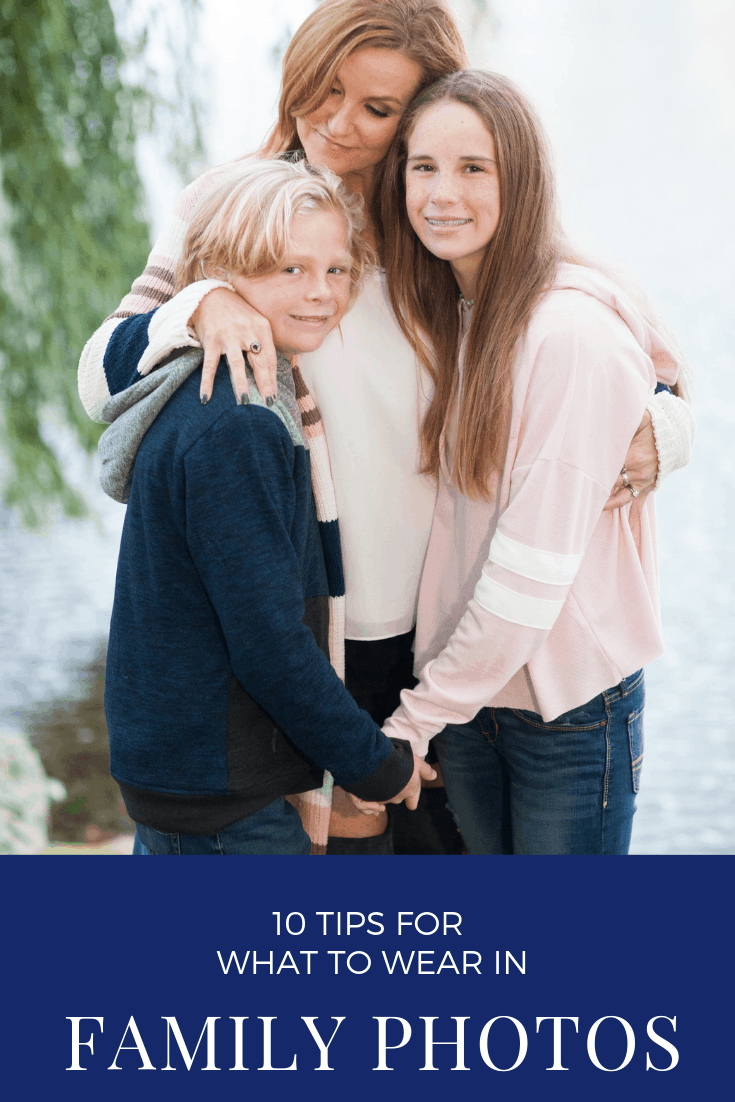 Tips for What to Wear For Family Photos
1) Coordinate outfits, don't match.
I know. It used to be a thing – everyone would wear the exact same outfit: think jeans and a white t-shirt. A million years ago, we even did it. Don't do it now. I clearly remember a photographer I love in San Diego fretting to me about ALL OF THE FAMILIES DOING IT. (I was one of those families – see below) And while I wouldn't change those captured memories, we have all moved on and learned to be more stylish. Choose a color scheme – mix and match colors so that everyone flows and coordinates.
2) Start with one piece and build
When I don't know what colors I want to choose for a photo shoot, I choose one piece and build around it. For this shoot below, I found this green dress that I loved and then built the rest of my family's attire around it – adding blue for my daughter and husband, and orange for my son. (Also – I chose that vest for my son so it could be versatile – it is on in some pictures and off in others.)
3) Plan in advance
The more time you allow yourself to decide what you would like everyone to wear, the more calm you will feel. Waiting until two nights before your shoot is bound to make you feel panicked. What if something you choose doesn't fit, you can't find the right shoes or your five year old refuses your chosen outfit? Just give yourself time. Additionally: options never hurt.
4) Keep your location in mind
Are you going to be on the beach? Surrounded by beautiful foliage? Sometimes you can choose what you are wearing to accent the locale. Fall colors – deep reds, oranges and greens look lovely this time of year, while a softer palette accents the coast.
5) Avoid being too seasonal
Since you ultimately want your pictures to be up all year long, you likely want to avoid being too seasonal, so you may want to skip Santa hats, reindeer ears or Halloween costumes – even if you are taking specific holiday pictures.
6) Consider your home decor
Matching your clothing to your home decor? I know it may sound silly, but this is more about matching your personal style. As you will likely want your pictures to be on display for a very long time, consider if you are normally drawn to bold colors or neutral ones. This will allow your photographs to blend seamlessly with your home permanently. The beach girl in me loves how this set from Madeira Beach blends into the motif of my home.
7) Comfort matters
We have all seen – kids especially – styled in hats, boots, tutus, and jackets. And they look ADORABLE. But if those kids aren't comfortable, you are in for one miserable photo shoot. Make sure to keep everyone's comfort level in mind. A tutu may SOUND like a great idea, but if you choose a blustery November day, your girl may be freezing, so have a backup plan in mind.
8) Skip the extra patterns
That favorite sweater or scarf or yours? You know the really loud one with the stripes AND dots? It might be best to skip it. A little bit of texture or patterning can be a good thing in one place, but if there are multiple patterns in a photo, it can be distracting.
9) Just say no to characters
I know your sweet girl loves her Frozen Dress and crown, but as this is a more formal photo and one you want to put on display, it is best to keep characters out of the picture. If this might be a fight, you can always bring the crown and much like my family ALWAYS does at least one crazy/silly/funny face photo, make the Princess photo one of the last ones you do. Take this photo below, for example….trust me when I tell you, at the time – I LOVED that Cooper's shirt said, "Little Brothers Rock"….but many a quick glance at this picture has thought it says something not quite so appropriate.
10) Think Timeless
Fashions and styles come and go. You want your family photos to be timeless, so it is best to aim for more of a classic look, not one that instantly dates you. Just as we can easily point to wedding photos from the 70's and 80's, noting the hairstyles, the frills and lace, your goal is to have this year's photographs blend right in.
Good luck and HAVE FUN!
Visit some of my favorite Photographers: Carey Schumacher (San Diego), Joanna Kleine (St. Louis) Gina Kelly (St. Louis, RIP – my friend),Stephanie Zettl (St. Louis) and Flytographer – EVERYWHERE. 🙂