With the holidays right around the corner, I'm in full gift-buying mode. One person I haven't bought anything for yet? My two-year-old toddler. Buying gifts for kids can be difficult. They're always happy to receive toys, but I always strive to find those with staying power. I want to buy items she'll be playing with for months and months to come. If you're like me when it comes to shopping for children, you'll love this toddler gift guide, which includes both toys my little one currently loves and ones that are on my to-buy list!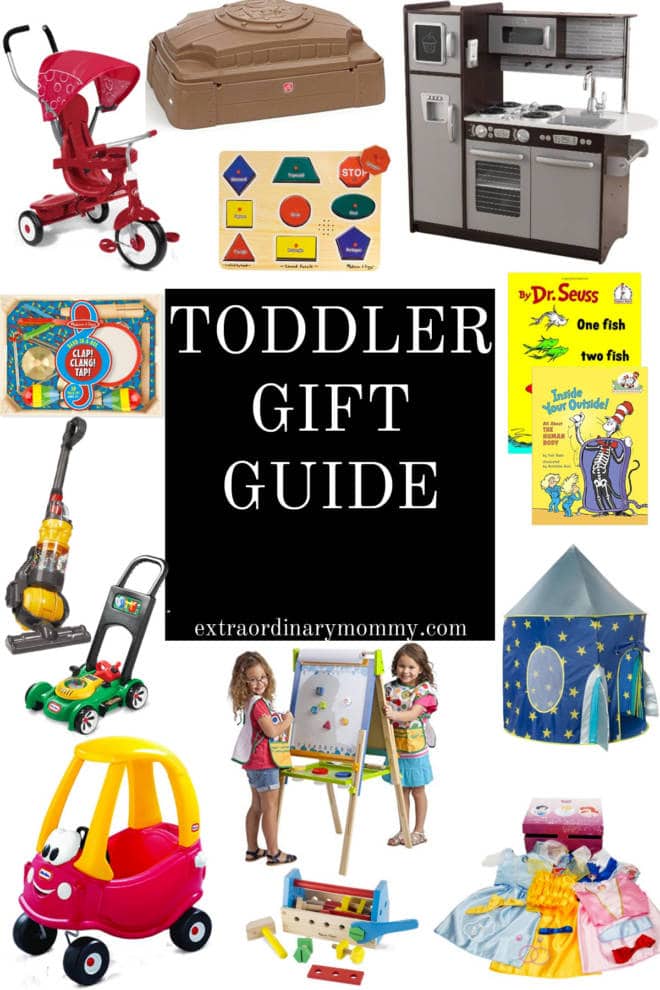 If your little one loves being outdoors, then toys like a toddler playset are perfect. They'll also love a Cozy Coupe, sandbox, or a tricycle that will grow as they do! Tents are a fun option as well. They're perfect for popping up both outdoors and indoors!
Imaginative play is big at this age! To encourage it try dress-up clothes like this princess set. There are also great occupational sets like this doctor set or construction worker set. A toolbox is another fun idea that will also help them improve dexterity!
If your child loves imitating what you do (what toddler doesn't?!), then great toys would be a play kitchen, mini lawnmower, or pretend vacuum cleaner!
To explore their artistic side, this easel is perfect. It has a chalkboard side, a whiteboard side, and a roll for holding paper too! A band set is another must-have!
I also love educational toys. Puzzles, like this alphabet one or shape one repeat the letter or shape. It's a great way to reinforce their knowledge! And books are a no-brainer, right? My little one loves anything by Dr. Suess or Sandra Boynton. I've come to love the Cat in the Hat Learning Library series that has fun rhymes but is also educational!
What are your favorite toddler toys?