Shopping for the beauty maven in your life? From haircare to makeup sets to skincare products, these must-haves are surely to be a hit!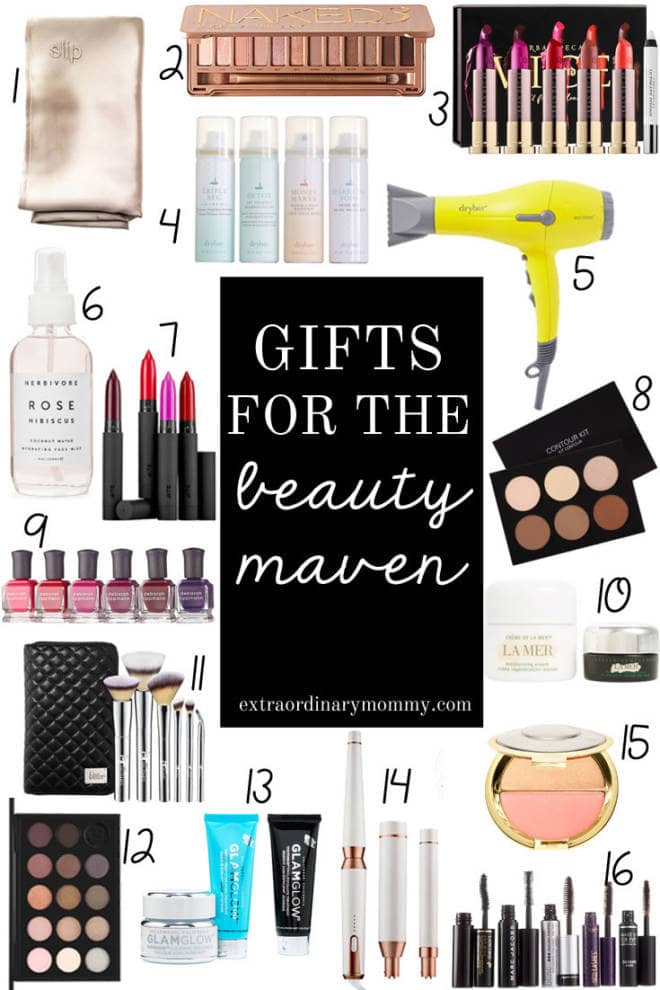 1 | 2 | 3 | 4 | 5 | 6 | 7 | 8 | 9 | 10 | 11 | 12 | 13 | 14 | 15 | 16
Little luxuries are always a great gift idea right? A satin pillowcase is the perfect indulgence she might not buy for herself. This rose facial mist is another great option. It tones and hydrates this skin! For ultimate in luxury, why not gift this La Mer moisturizer set? La Mer is synonymous with luxury skincare, and this kit is a great way to sample the products for under $100! And lastly, this makeup brush set from IT Cosmetics is seriously the softest, most luxurious set of makeup brushes I've ever tried!
If your beauty-lover enjoys trying new makeup sets, then this MAC set, which also comes in warm colors, is perfect! And you really can't go wrong with any of the Naked palettes either, although the Naked 3 is my current fav! For those into contouring, this Anastasia Contour Kit is highly rated and comes with all the shades she needs. Of course highlighting is a huge makeup trend right now, and this highlighter and blush duo from BECCA contains cult favorite, Champagne Pop with a coordinating blush.
For haircare, my all-time favorite hair tool is the T3 Whirl Trio. With three attachments, it's the only curler she'll ever need. Or why not buy her this top-rated blowdryer? It claims to dry hair more quickly with less damage, and the reviews agree! This set of styling products from Drybar is another fun option. It has all of Drybar's top sellers for picture-perfect hair!
Or if you want to give your beauty maven options, there are several sets sure to be winners! This sample kit of mascara allows her to try several top-sellers and a voucher to trade in for her favorite full-size version. Bite Beauty has some of the all-time best lipsticks and this set contains full-size versions of some bold, wearable shades. Urban Decay's lipstick set also contains full-size versions of some of their top shades. This Deborah Lippmann set of berry polishes is perfect for the mani-obsessed lady. And for pampering, this set of GLAMGLOW masks will surely be a hit.
Do you love beauty products? What are you wishing for this year?