I don't claim to know why everyone uses Twitter, but I can certainly suggest (beyond SEO, traffic or promotion of any kind) why you should.
For inspiration. To feel connected.  For advice.
This morning, I awoke to another cloudy, rainy day.  Desperate to avoid another Monday (or, as it turns out, my early Tuesday), I jumped on Twitter and said,
"Anyone have any sunshine to share?"
Wouldn't you know – there were A LOT of people willing to spread a little sunshine. (and a few who wished they could but didn't have any to spare.)
@luannarodham decided to make me laugh (and she did!)She wrote: @ExtraordMommy Here's something funny. My 7yr. boy says that he can tell girl dogs from boy dogs because girl dogs have eye brows.
@GaneshiX offered : @ExtraordMommy This fresh cup of coffee is awfully sunshiny to me! 😀
@4thQtrCoach flattered: @ExtraordMommy Here's some sunshine. Our friend @DixieDynamite says YOU are a great #stl connector!
and my new friend @NTFFC  (No Time For Flash Cards) sent the sun right over: @ExtraordMommy Here is some sun for you ! https://tinyurl.com/d9hg8s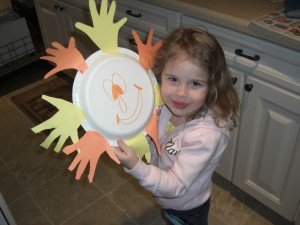 As soon as I went to her site, I decided a good copy-cat project was in order and Delaney couldn't wait to get started.
All I needed was a paper plate, some glue, construction paper and scissors. Thank heavens I had it all.
Voila!  Instant Sunshine!
I was so excited we had this sunshiney Mommy-Daughter time, I started singing the song on NoTimeForFlashCards' site.  And Delaney couldn't help but be drawn in.
Friends – use Twitter for anything!  Ask for computer advice, request jokes, tell a story, MAKE FRIENDS.
I am. And I LOVE it.