It's early. Really early. I'm up long before the sun today so that I can do the thing that I love to do, stringing together sentences so that I can paint vivid word pictures. This is my happy place – the world where dreams come alive, and I get to enter my dreamland uninterrupted.
Most of my dreaming happens in the dark while the rest of my family sleeps. That's the nature of my life right now. My days are filled with serving them, pouring myself out so that they can all accomplish their goals and dreams.
I'm the taxi driver who sits on the sidelines and cheers them on during gymnastics meets and soccer games.
I'm the teacher, standing next to them as they feverishly try to grasp the latest math concept (and usually trying hard to grasp the concept myself!).
I'm the listening ear, letting my husband fill me in on all the details of his work, his goals and plans to grow as a leader in the workforce.
Sometimes, I get so wrapped up in supporting all these people in my care that I forget to tell them about myself. I forget to bring them into the fold of my own swirling dreams.
This isn't uncommon. Many women struggle to bring their families on board with their dreams, particularly when those dreams spawn from creative hobbies. In this digital age where life and art can blend together much more seamlessly thanks to the internet, more moms are starting at-home businesses, often under the veil of darkness because that's the only times they have to work.
But if we never bring our ambitions into the light of day, our husbands can be taken aback by them, and our children completely oblivious. Here are three ways to bring your family on board with your dreams.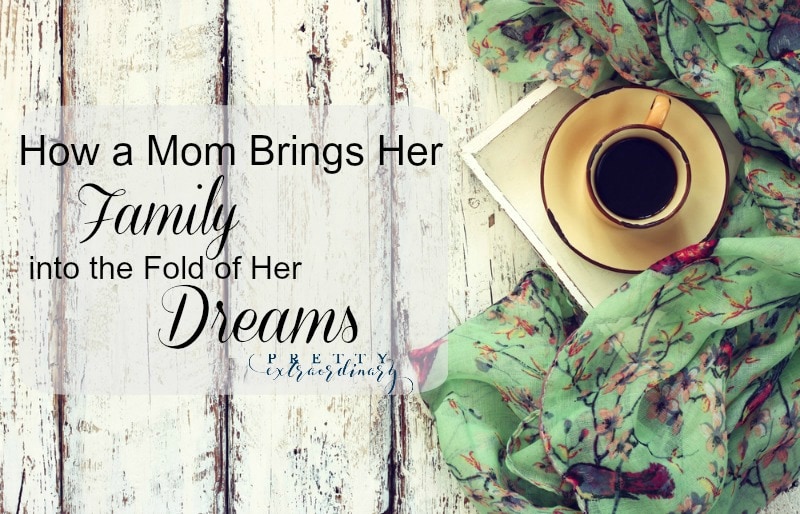 1.) Tell Them
This seems obvious, but it is anything but simple. Oftentimes mothers hide their ambitions, particularly when they stem from creative hobbies, because they feel like these skills and desires are less important than the typical paying career.
Mothers, hear me – Your dreams matter!
If you long to turn your hobby into a business, then let your family know. Tell them what you're up to in the early morning hours before they wake. Tell them about the book you're writing, the photography business you're building, the clothing you're designing, or the Etsy shop you've opened.
Tell them, and let them see your excitement, so that they can be a part of your journey.
2.) Make a Plan
Oftentimes, our husbands or partners want to support our dreams and help us reach our goals, but first they need to understand them. If you have a dream you're working toward, talk to your husband about it!
Tell him your plans to reach your goal, and ask him ways that he might be able to help you get there. By boldly showing him what you've been up to, and how you hope to accomplish these goals, you will allow him to step in and be a part of it. Let him offer his wisdom, or give suggestions on how to best accomplish your goals.
Ask him to help you find time to fit working into your busy daily schedule. Maybe he takes over on Saturday mornings with the kids so you can sneak out to work. Or perhaps he gives you a quarterly weekend away to indulge in those parts of you that don't involve motherhood.
Don't demand that he help you, but ask him. Cast a vision for him, and give him an end goal so that he can get excited with you, and can be a part of helping you succeed.
3.) Persevere
I once had a wise mentor tell me that "Worthy goals are rarely easily attained."
Dream chasing takes time and perseverance. When you're fitting it into your already busy mothering days, it may take even longer. This is okay. The point is to not give up.
Your children will take notice when they see you fighting toward that goal, and it will leave a life long impact on the way that they, too, approach working and dream chasing.
Dreaming is a family affair, and while you, dear mom, are probably excellent at cheering others on toward their dreams and goals, you must not forget to let them reciprocate.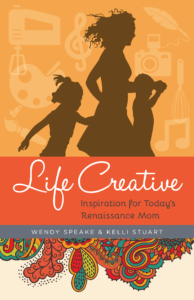 Bring them into the fold and let them join your journey. Because when a mother chases her dream, she will inevitably take the whole family with her.
For more encouragement on blending motherhood and life together when they don't seem to mesh well, check out my latest book Life Creative: Inspiration for Today's Renaissance Mom.
*affiliate link