I honestly don't know what I would do without my online friends.
You keep me sane, give me recipes when I pledge to eat healthier, suggest songs for my iPod, help me decide on a new smart phone and then today…. one of my online girl-crushes proved, once again WHY I must visit her site regularly (never mind that she is one of the kindest people I know).
Do you know Laurie from TipJunkie? You must.  Her site is a treasure. She posted this amazing little article about Back to School gifts for teachers last week.  I've kept it open on my desk top since I first saw the link on Facebook.  (I stalk her there too – I'm cool like that)
In the article, there were four crafty suggestions….each one easier, more affordable and MORE adorable than the next.  (Those are key for me, by the way – EASY AND AFFORDABLE)
I let my sweet girl choose which one she wanted to make.  I was personally fond of the Winnie-the-Pooh framed quote…but Delaney prefers to sprinkle the world with candy.  And so….this is what we did: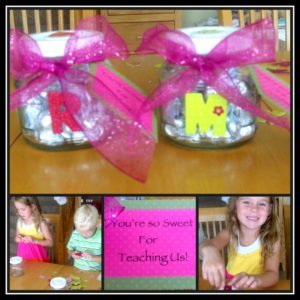 The cost per gift:

$1 jar from the Dollar Store
$2 Hershey's Kisses
$2 ribbon
$2  craft letters
$1 paper
Total:  $8 per gift (with ribbon and craft letters left over)
Seeing Delaney's joy when giving her gift to her teacher?  Priceless.
Thank you, Laurie.