Christmas shopping for the littlest ones in your life can be tough — I should know with a 15-month-old at home! They're still too little to have interests in the latest Disney craze but are too old for teething toys and rattles. I'm sharing the top ten gifts one year olds will love!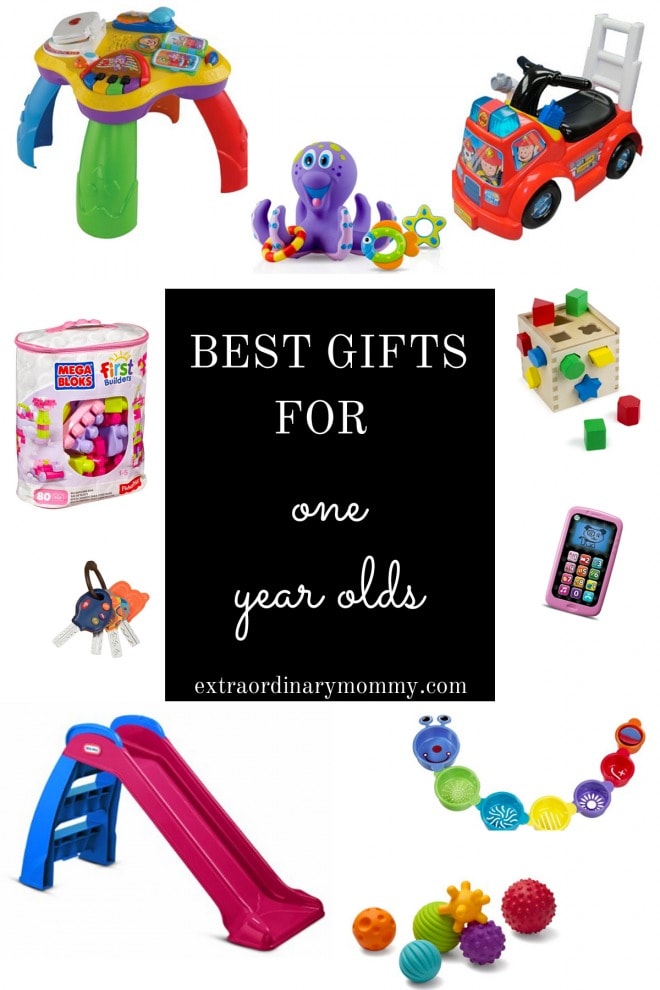 Activity Table – For little ones just starting to stand or walk, this is a great toy to encourage time on their feet. Plus, they love that it's just at their height!
Music set – One year olds love to make noise, am I right?! Let them explore their musical side while doing it! (My daughter loves this set!)
Mega Bloks – Traditional blocks might be a little over their head, but Mega Bloks are just right for tiny hands. They stack (and tear apart) so easily!
Sorting toys – One year olds love sorting things and practicing skills like emptying and filling containers. Try traditional shape sorters or our household favorite, this LeapFrog picnic basket!
Push and Ride Toys – This is another great option to encourage those walking skills. Plus they turn into a ride along toy as your child ages!
Nesting and Stacker Toys – These classic toys aren't flashy, but your child will still love them! My daughter loves these stacking cups that double as tub toys and these stacking rings!
Balls – Balls of all kinds are always a hit with little ones! Try a set of sensory balls to encourage movement and to allow them to explore texture!
Play set – One year olds will love exploring a mini play set, but you don't have to invest in the big backyard one yet! Try a mini house, a perfectly-sized slide, or even a tunnel toy!
Tub toys – Squirting toys are always a hit or try a ring toy or a set of fun bath books!
Look-a-like toys – Has your little one starting imitating your every move? Then you know they'll love toys that look like Mommy and Daddy's things! These keys are a big hit at my house and so is this LeapFrog phone!