Meet the Small Dude.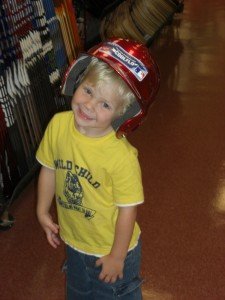 He just turned three.  Loves baseball (hence the helmet), is afraid of, well, just about everything, is ALMOST potty trained (please, please, for the love of ALL THINGS, poop on the potty!), and has recently developed what I consider to be a gargantuan problem.
He keeps taking off his pants.
Naturally, he has to do this when he goes potty.
However, he DOES NOT have to do this in the backyard playhouse.
Nor does he need to STRIP DOWN TO NOTHING when we have friends over.
Do you understand where I am coming from?
I mean, isn't he cute in clothes?  I especially like him in blue…but, I digress.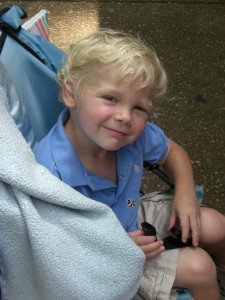 Don't get me wrong – he has the cutest little bottom in the world, but seriously??!!??  Do we need to show it to everyone?
Unless any of you tell me otherwise, I am going to ASSume I will be seeing less of his, well, you know….