I'm not sure when it happened. 
And, I'm definitely not sure HOW it happened.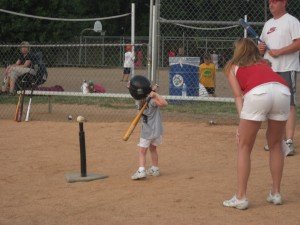 But, I woke up this morning, and suddenly I am the mother of this LITTLE GIRL (not toddler) and she actually plays sports.  By herself.  The child who couldn't leave my side, now hits the ball and runs the bases.  And she is so proud of herself.  And she is having so much fun.
Was it really only 4 years ago that she was so very itty-bitty?
I mean, I knew she was going to grow up sometime.  I guess I just wasn't really expecting it.
If this is how I feel when she's 4…what in the world am I going to be like when she turns 14?