My small people?  They are wise.
Too wise.
Wise enough to recognize my absence and brave enough to pretend it is all ok.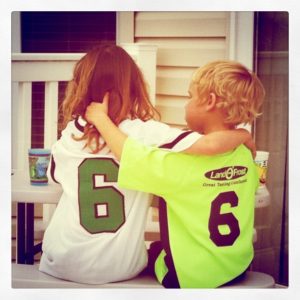 But I can see we are wading into new territory.  I've traveled before.  Three days here.  The odd weekend there…  but never like this.  Never gone more than I am home.  For a while when I only traveled three days in a two month period, they would whine and moan, attaching themselves vise-like to my ankles.  I would drag us both down the stairs fearing one wrong move and we would all tumble.  And I'd end up with a broken hip.
Now that I'm traveling – sometimes a week at a time, they comfort each other and it is their silence that speaks to me.  It is the joy in their eyes searching for recognition, for love, for placement in mine…. this is what I hear echoing in my ears even when they don't say a word.  It is the enthusiasm of a first goal hooted and high-fived as I hop in the car from the airport…
It is the, "Mommy-will-you-tie-my-shoe-get-me-some-milk-look-at-this-picture-I-made-you-HOLD-MY-HAND-fix-my-ponytail-carry-my-soccer-ball-LOOK-AT-ME-read-me-a-story-dance-with-me-pet-the-puppy-TELL-ME-YOU-LOVE-ME…."  that screams to me….
And I hear them.  Not in my head.
But in my heart.
I hear them.  I hold them.
When I arrived home yesterday, I didn't answer my phone.  I didn't shoot you a quick email.  I didn't even plug in my computer for the first 6 hours I was here.  Because I wasn't really here.
I was waaaaayyyyy over here.
And I like it over here.  It is soft.  And warm.  And full of giggles and light, goodness and heart.
If home is where the heart is?  Well….  my home is wrapped tightly between a small girl with freckles and brown curls and a spunky blond dude prone to yelling, "hugs, Momma!"