A Baby-Shower-In-A Box….
This is what LeAnn Morrissey and her friends like Amy Belle Aisle provide each time they host an Operation Shower event.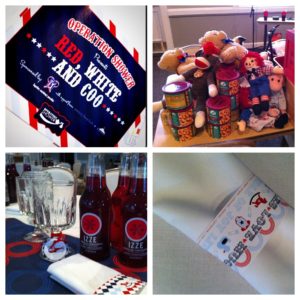 But what they are really doing is changing lives.
They are standing in front of dozens of women…. each of them, the pregnant wife of a soldier serving our military – each of them currently going through the pregnancy alone…..
With each box that they hand out, they are saying, "I care.  We care. Thank you.  Thank you for what you and your family are doing for our country."
Tomorrow, Operation Shower will host its most spectacular event yet at Camp Lejeune in North Carolina – not simply because of the 40 moms who will be celebrated – but because of the special guests who will be in attendance.  I hate to tease you, but I must…  not only will these moms be spoiled, SPOILED with love and attention, but they are in for an event like no other….  I am over-the-moon-butterflies-in-my-stomach-excited to be emceeing the event and promise to have pictures and video as soon as I can…
EDITED TO ADD:  If the LA Times can release it…. I suppose I can too:  Attending this event?  The First Lady, Michelle Obama, Dr. Jill Biden and Martha Stewart.  And now you know….
THIS?  Will be a BUCKET list event for ME and I'm clearly not an Operation Shower recipient…. but oh…. the GIVING that is going to happen here tomorrow?  I'm giddy….and I'm grateful to be involved.
Operation Shower hosts baby showers for pregnant military wives who have a spouse serving  abroad.  They have been doing this since 2007.