I stood right next to the First Lady of the United States.  I took the microphone from her and thanked her and Dr. Jill Biden for visiting the Operation Shower event.  I Introduced Martha Stewart to a roomful of beautiful, military moms-to-be.  I joked with Martha's 'people' about my assumption that Ms. Stewart was likely not a hugger (I was right)….  I shook her hand and brought her to her table where she taught the art of preserving memories to these women who are about to become moms – many for the first time.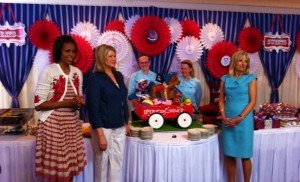 I was only feet away from Michelle Obama as she talked about her new military initiative with Jill Biden, Joining Forces.  I listened as she talked about Operation Shower, about the moms in front of her, and about the items everyone at the White House had collected for these brave women.
It was amazing and fantastic and who-knew? all wrapped up in one.
But.
It wasn't the best part.
Not of the day.  Not of the experience.
I won't tell you it wasn't fantastic to emcee this event, because, naturally, Pinocchio, my nose would grow. But when I said this would be a 'Bucket List' day for me….  it wasn't because I was surrounded by celebrity.  It was the every-day heroism in the room and it was a gift for me, truly a gift…. to experience a bit of an "Oprah Moment'.  I'll explain.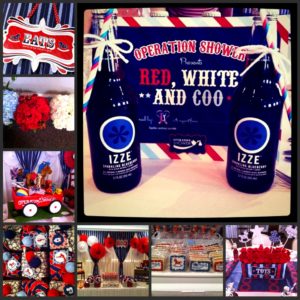 Operation Shower started in 2007.  They host glorious baby showers for the wives of Military men serving overseas…  Their showers have blessed all five branches of the military – the Marine Corp, Army, Navy, Air Force and National Guard.  During each shower, the moms-to-be are gifted with a 'shower-in-a-box' – full of amazing mom and baby related items donated by a variety of sponsors.
This shower was held at Camp Lejeune in North Carolina.  The added bonus, of course, were the visits from First Lady, Michelle Obama, Dr. Jill Biden and Martha Stewart.
When the event started, I promised the 40 moms-to-be two things. ONE: they would have an extraordinary time…. I may not make them laugh every second, but they would definitely have fun and TWO: by the time they left, they would know, without a doubt that we (everyone at Operation Shower) were extremely grateful to them and their families for the sacrifices they are making on a daily basis.
I kept my promises.
At the very end of the shower….  after the moms and their guests had eaten their baby's weight in cake and cookies, after they had experienced the joy of opening their showers in a box, we had a few items to raffle.
Are you ready?  Because right about now it gets REALLY good.
Diaper bags, exclusive Operation Shower art work, a high chair from Scandanavian Child, and wicker baskets from Pottery Barn kids were all raffle items that made all the make a few moms extra happy.
Then Care.com gave away TWELVE THOUSAND DOLLARS to one mom.  Why?  Because $12K is the average annual cost of child care.  I think that mom is still trying to restart her heart.
Next, Carousel Designs – a baby bedding company started by two West Point graduates, is set to raffle off a baby bedding set and instead gives a $400 gift card to EACH MOM so they can individually choose bedding for their babies.
Is your heart racing yet?  Tearing up?  The moms were.
And then….  this from Pottery Barn Kids:
It was all I could do to keep from bouncing, pointing and yelling…. "YOU GET A CRIB, YOU GET A CRIB…. EVERY BODY GETS A CRIB!!" (my Oprah moment )
The joy in the room was textured.  I could have picked it up and wrapped it around me as I finished my emceeing duties…. and in a way, I imagine, I did.  I felt their hearts settle on my shoulders, their eyes darting from me to the solitary crib in the room, disbelief marking their features.  Their smiles told me everything I needed to know.
A small miracle, this was…. to be a part of gifting something so amazing to these deserving women.
You see? Here's what I know.  As a mom, I have had some really hard days (and still do) – the baby cries, the small people fight, I work, I don't sleep, I can't remember the last time I showered….I balance between one sick child and one sad one, but at the end of the day, my husband is at home with me…. he isn't deployed.  I never prepared to deliver a baby knowing my husband would miss the birth of our child by one week.  I never had to call my husband, half a world away to say, "surprise, we're pregnant."  I never had to count 127 days, 210 days, 267 days until the father of my child would first see his baby.
I didn't do any of this alone.
And these remarkable, amazing, beautiful women are sacrificing time with the people they love the most so that you and I can appreciate the gift of freedom.
So, sure, being in room with the First Lady and Martha Stewart was neat, but it was really the presence of these other women that hit my heart.
They remind me what it means to be grateful.  They remind me what it means to experience joy.
They remind me to appreciate the freedom their husbands are helping to provide.
Operation Shower has other events planned this year.  If you would like to be involved as a volunteer or sponsor – let me know, I'm happy to introduce you to the amazing women behind this event including LeAnn – the founder of Operation Shower and her team: Amy, Ginger, Angela and Jenn (who, as the Hostess with the Mostess,  – is responsible for much of the amazing design you see).
A million thank you's to the Operation Shower crew for allowing me the privilege of emceeing this event.
As a disclaimer, I volunteer for Operation Shower because I believe in what they do – supporting the families who are
daily
protecting our freedom.  I am not compensated in any way to endorse their mission.  Everything you read here comes directly from my heart.