Yellow Car!
I'm in the car by myself and I just shouted that silly phrase out loud.
Yellow Car!
Another one zoomed by, and I cannot stop.  It's like a nervous twitch.
If you're smiling, laughing or even… like me … crying, you have kids who play this game while riding in the car with you.  If you have no idea of which I'm writing, then good for you.  I'm jealous.
Yellow Car! (I'm not alone now)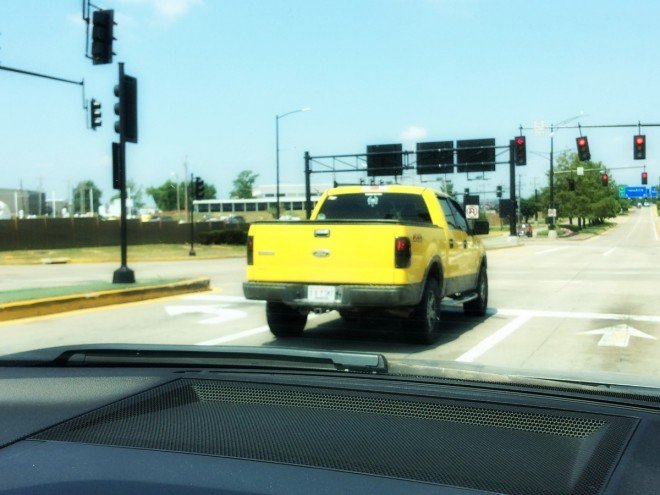 No, Cooper, that doesn't count, the car has to be moving.  You cannot get credit for a "yellow car" if it's parked in someone's driveway.  I love that the 8-year old Surfer look-a-like thinks that he can just memorize where all of the yellow cars are located throughout St. Louis and anticipate the next "wave" of yellow cars to get credit.  This is a competition, we need rules.
Yellow Car!
No, that's a bus.
Yellow Car!
Taxi, doesn't count.
Yellow Car!
That's a Land Mover from Caterpillar.  That's not a car.  Come on, you two.  Very simple concept.  It has to be yellow.  It has to be a car.  It has to have its motor running.
So, now that the rules are established, we get to the point system.  Each time your family enters the vehicle within close proximity of your residence (Garage, Car Port, Driveway, On Street Parking, etc), the game begins.  One point for each "Yellow Car" exclamation, most points before returning to your residence wins.  Ties go to the driver who is normally ME, so that's my rule.  I've also explored thumb wrestling, but that ended in torn ligaments and a visit to the ER.  Well, that's what it sounded like happened from the way my kids started bickering, so the conclusion was any "tie" argument is a point for ME.  I love playing the dual role of competitor and umpire.  Awesome Sauce!  The two back-seaters hate it when I say that, which I belt out after I win an official game.
Yellow Car!
Where, Dad?
Right there, at the stoplight.  Jeep.
Come On, Dad.  You're in the front seat.  You have the advantage.  Double Digit Daughter (10-yr old) growing more agitated.
How do you figure?  I'm driving, focused on the road with your safety in mind as the most important part of my job.  Oh by the way, Yellow Car!
Come on, Dad.  That doesn't count.  That man just got into his car in the parking lot.  Car wasn't turned on.   He didn't have his seat belt on yet.  Son joining daughter and growing more heated while turning up the AC (Agitation Club).
I'm calling for a booth review.  We're going to go ask him if he puts his seat belt on before or after starting the car.  If before, I'll forfeit two points.  If after, I get double points.  Deal?
"Deal," says the son.  "This is embarrassing," says the daughter.
Man pulls out of his parking spot, inches down the aisle and whoops, I calmly cut him off.  Window rolls down.
Excuse me, sir.  Quick poll we're taking.  Which act do you perform first?  Start your car or put your seat belt on?  Don't worry, I'm not a Police Officer although I probably appear to be by my intimidating appearance, the fact I have two kids in the back seat with one hiding her face and the words "ExtraordinaryMommy.com" sprawled across the back window.  So, start the car or put on the seat belt?  Which do you perform first?
Ummm… I start the car first.  Can you move now?  I'm kind of in a hurry.
Sure thing sir, thanks for taking our poll.
I tap the accelerator to clear his path, put the car in park, and scream Awesome Sauce!  2 points for me.  What's the score?
5 to 2 to 2, Dad, but the game is not over, so you can save your "Awesome Sauce."
Well, I guess we can go home now.
What???!!! I thought we were running errands, shouts an extremely disheartened pair of sore losers.  We haven't been inside one store yet.  Mom gave us a list of things to do.
Nope, we're done now.  We'll be home in a few minutes.  Oh, and one more thing.
Yellow Car!!!  Right there, just pulled into the parking spot vacated by that other Yellow Car. Awesome Sauce!
Delaney under her breath, "We need a new game."
"Yah, no kidding" says her kid brother.
Yes! I win.
Sincerely,
A Dad with a Plan