If I say the number 103 to you….I imagine there are a few directions your brain travels.
Dollars.
$103 is just about the price of a 19″ TV at Target.
It is currently just more than the flight between St. Louis and Tampa. (I know – it is a 2002 flight price, but amazing, right?)
Miles.
103 is just one mile less than the distance between my husband's home town of St. Charles, Missouri and his college city of Columbia, Missouri, where the University of Missouri resides.
Maybe it is a radio station: 103 FM?
Or a temperature?
If you live in Yuma, Arizona, as I did for the first few years of my television career….103 degrees Fahrenheit is about the average daily temperature for early to mid June.
For my sports minded friends…a score?
Like when the Philadelphia Sixers beat my LA Lakers on December 15th, 2015: 103 to 91?
Or for the baseball minded folks (I know there are many of you….)
There are exactly seven Major League Baseball teams who have ended the season with exactly 103 wins since 1969: the Oakland A's have done it twice, the Atlanta Braves, and the New York Yankees have done it three times…most recently in 2009.
But infrequently do we measure 103 in years…as in, 103rd birthdays….except in this case, when we are celebrating the brave and beautiful, Patricia Marra Elliott, my sweet grandmother, who turns 103 today.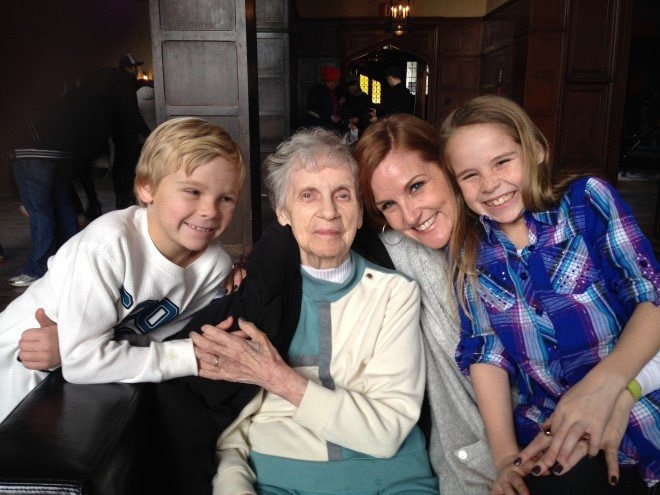 Happy birthday, Grammie.
On the very day she was born, February 15th, 1913, William Taft was president, but Woodrow Wilson had newly been elected. She was born the same year as Rosa Parks.
The very same year Harriet Tubman died. 
There was the Great Depression, World Wars, life without television, cell phones or even phones in every home. She never learned to drive or master an answering machine – before they became obsolete.
She knew a world before the polio vaccine, before heart and lung transplants.
Before coffee makers. Before the Internet. Before GPS.
Before the first commercial international flight on January 1st, 1914.
Before the 19th Amendment allowed women the right to vote on August 18, 1920.
She lived through the construction of the Berlin Wall (when she was 48!) and saw it come down (at 76!).
The year my sweet Grammie turned 100 years old, I wrote a letter to her, amazed by the life she had lived, the history she had witnessed, the woman I was lucky enough to know, heartbroken by a turn of a events that prevented my family and I from spending that special day with her.
We were, however, graced with spending her 101st birthday with her. It was both a treasure and a sorrowful time. I was grateful for the fleeting moments of 'her'. The flashes when I could see the recognition skim across her eyes, when 'Darlin'…her long-time, pet name for me, would slip from her lips.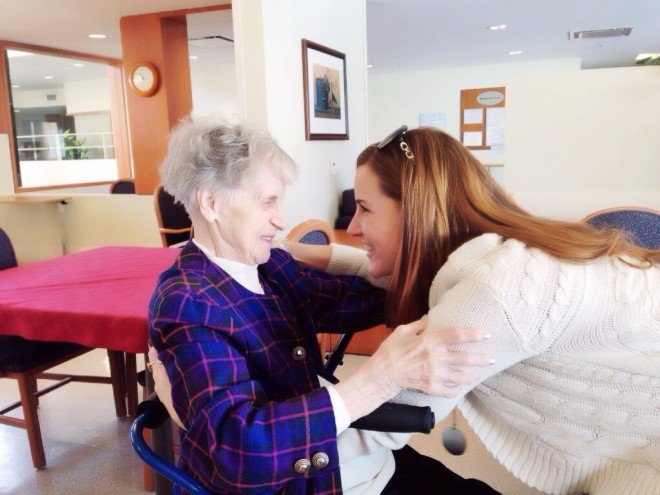 The treasure was in the laughter shared between her and my small people.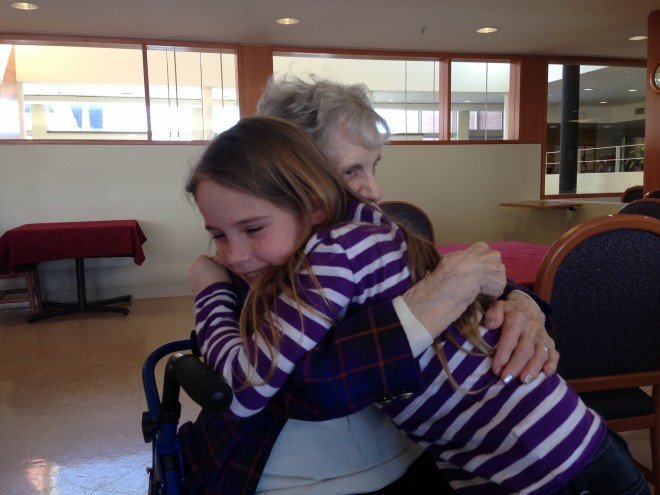 Knowing that the memories Cooper and Delaney will tuck away of her will be giggles and hugs and holding hands does help to lift the weight Alzheimer's has tried so desperately to put on my shoulders and chest. I know they won't remember her as I do, but they won't be afraid of her.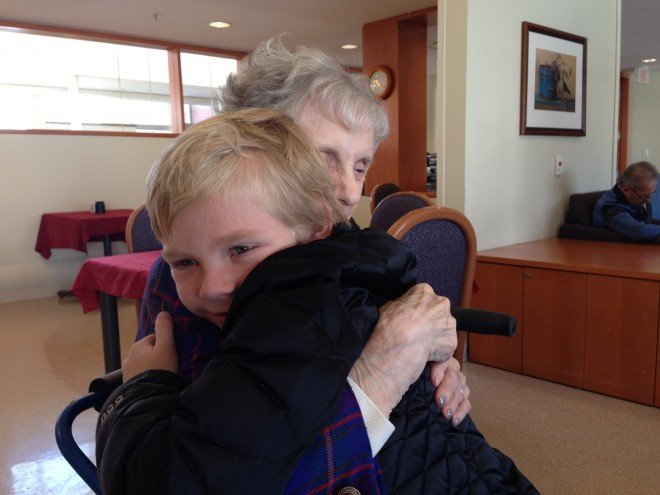 They will smile as they say her name. Her memory will live through these bits and pieces and the stories I will continue to share.
Alzheimer's is a thief of the very worst kind. He attempts to steal the good and leave darkness in its place…robbing you of shared memories, of the beauty of being recognized, of being known.
I work daily to keep this nearly five foot tall powerhouse of a woman, strong and deep in my memories and in the stories I tell.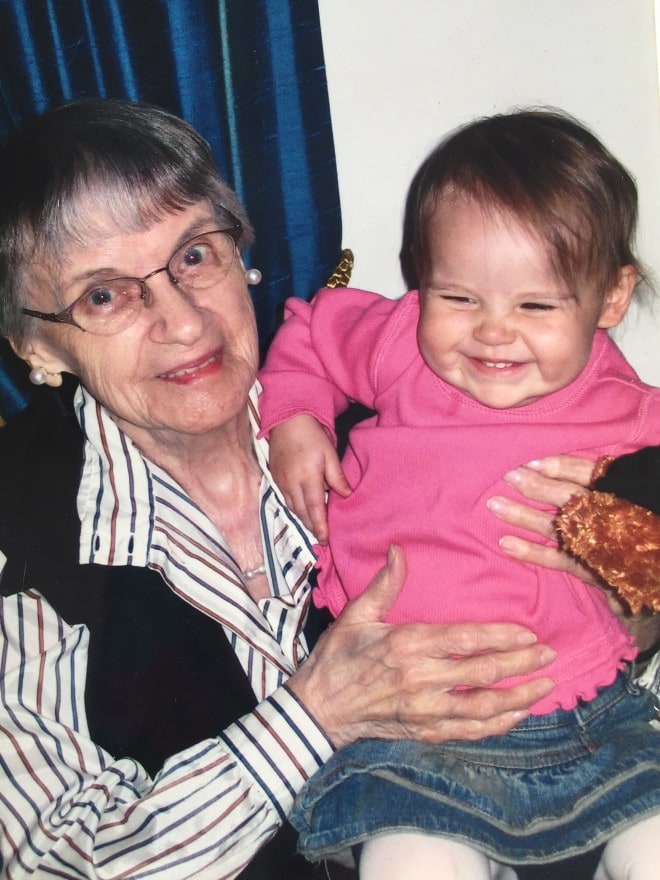 Don't worry, Grammie….I remember now, I will remember…the Christmases you visited when I was a little girl.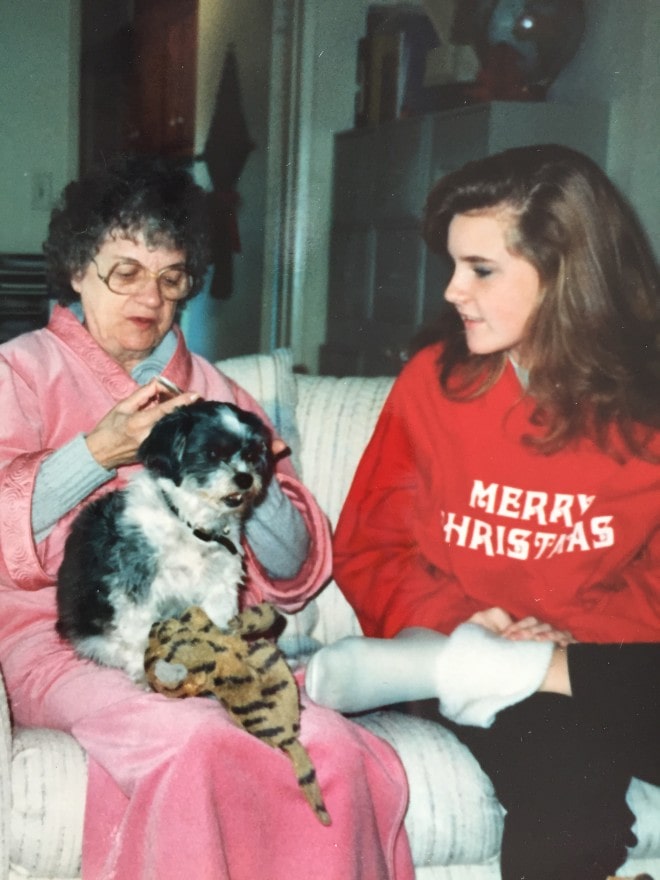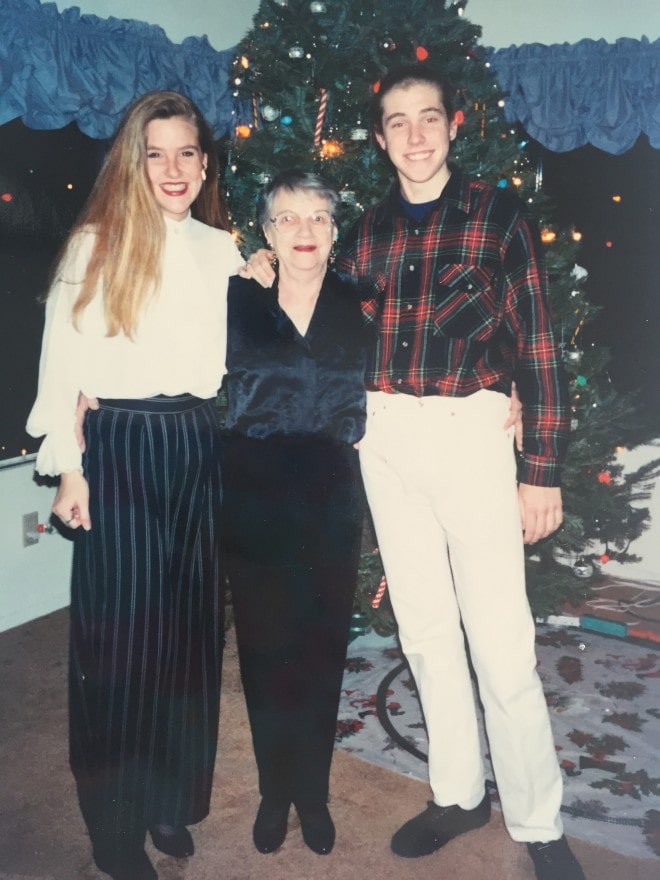 I will remember you made the best Rice Krispie treats ever and you always brought them with you when you visited.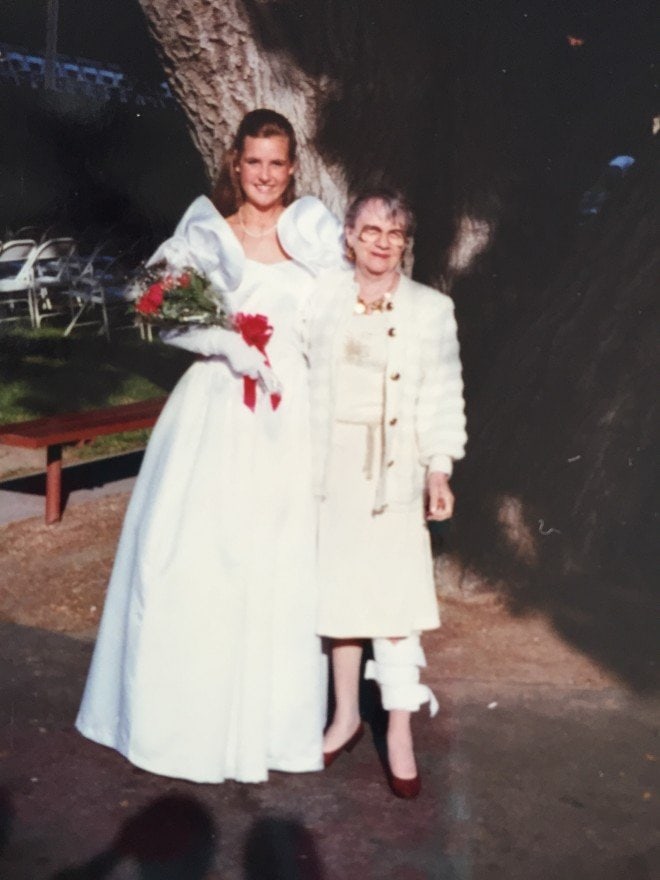 I will remember that you never missed an important moment in my life – from graduation to my wedding. I will always wonder how you lived so privately, will stand in awe of your strength of character and how you taught me the most beautiful life lesson by wearing the very same dress to my wedding that you wore to mom and dad's. All five-foot-nothing of you demanded to be heard when dad demanded you wear something new…. you stood your ground, refusing to give in. You won. It fit, it was back in style and there was absolutely no need to spend unnecessary money on a new one – and DAMN – you looked dynamite!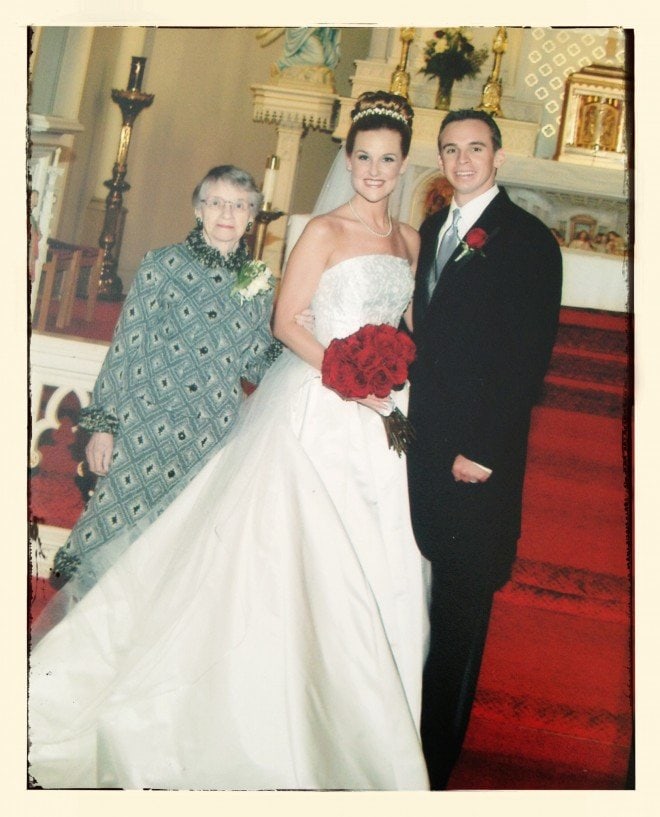 I will remember and be grateful for every handwritten letter you ever sent, how you began to share a little more of you and your story as you got older and how you worried about me when I started my first job.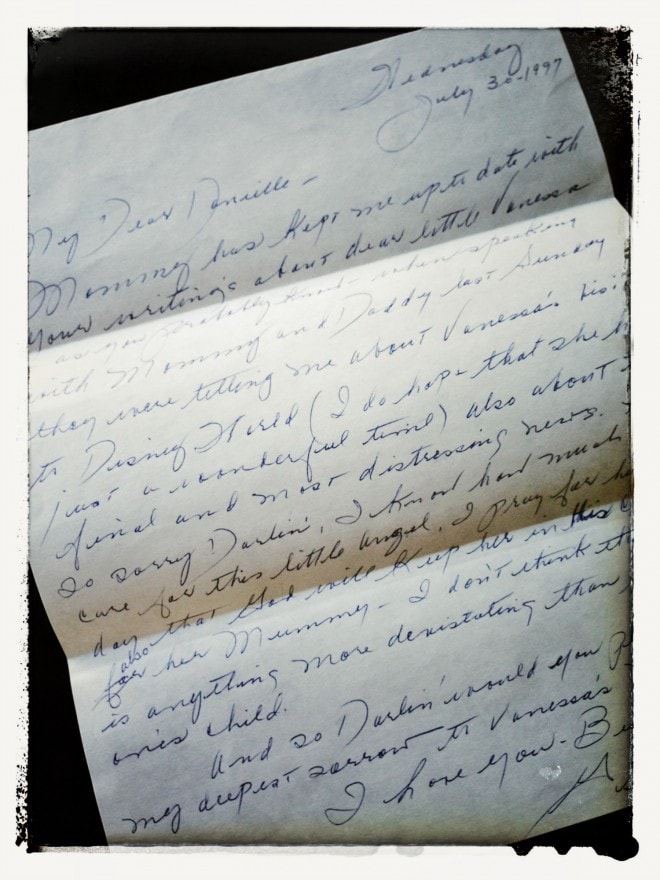 I will embrace being a bit of a packrat and be grateful for it because, despite your tendency be unemotional and sometimes stern, I have exhibits of your softer side in cards like this – one you sent me 'from Delaney' on the day she was born. Thank you.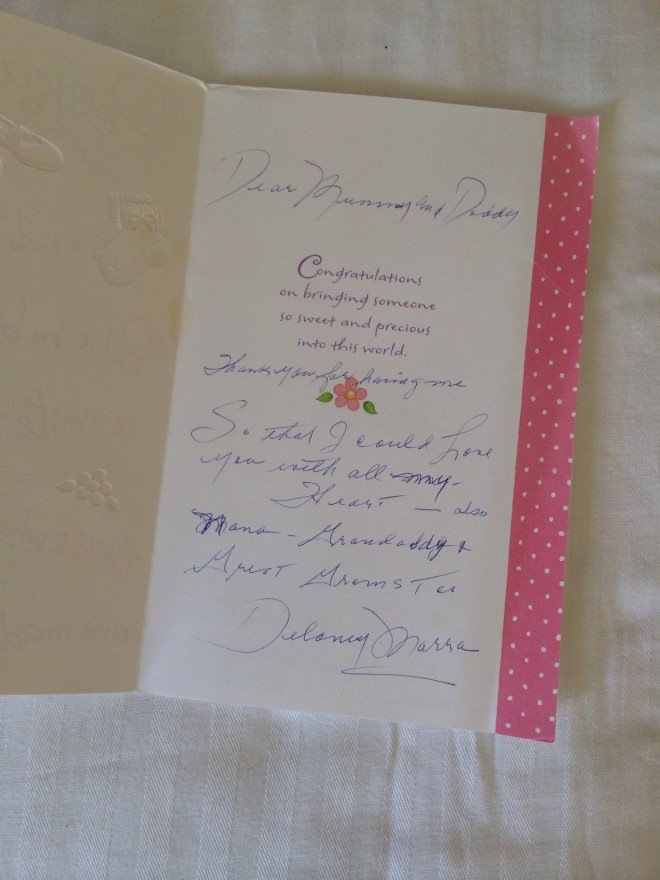 You are a pillar of strength and a dynamo of a woman. At 103, you still make the nurses in your facility laugh, you still quip that 'life goes on' and regularly get up and walk daily.
I wish you still knew me as I know you….but 103 years in….Grammie, you are known, you are magic, and you are loved.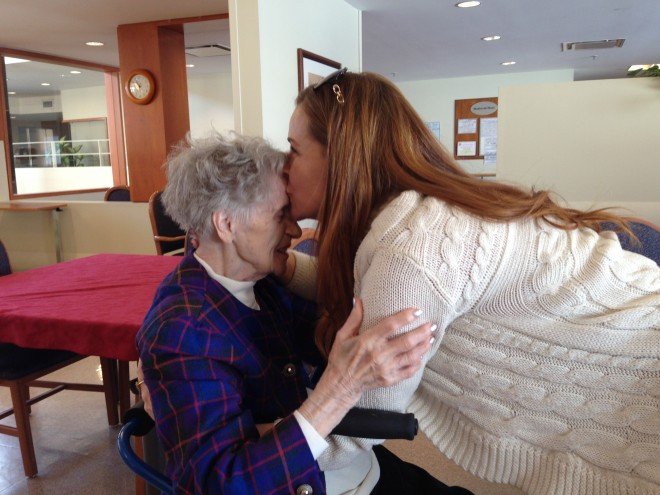 Alzheimers be damned.