If there's one fruit that looks as spectacular as it tastes it's definitely strawberries. I consider them a treat even when eaten plain, but combining them with chocolate does take things to another level.
I find strawberry and chocolate desserts to be one of the most indulging pleasures of life. They are perfect to make when you want to serve your guests something that looks impressive but also if you just want to enjoy a flavorful sweet treat. And the best part is, this wonderful combination is so versatile.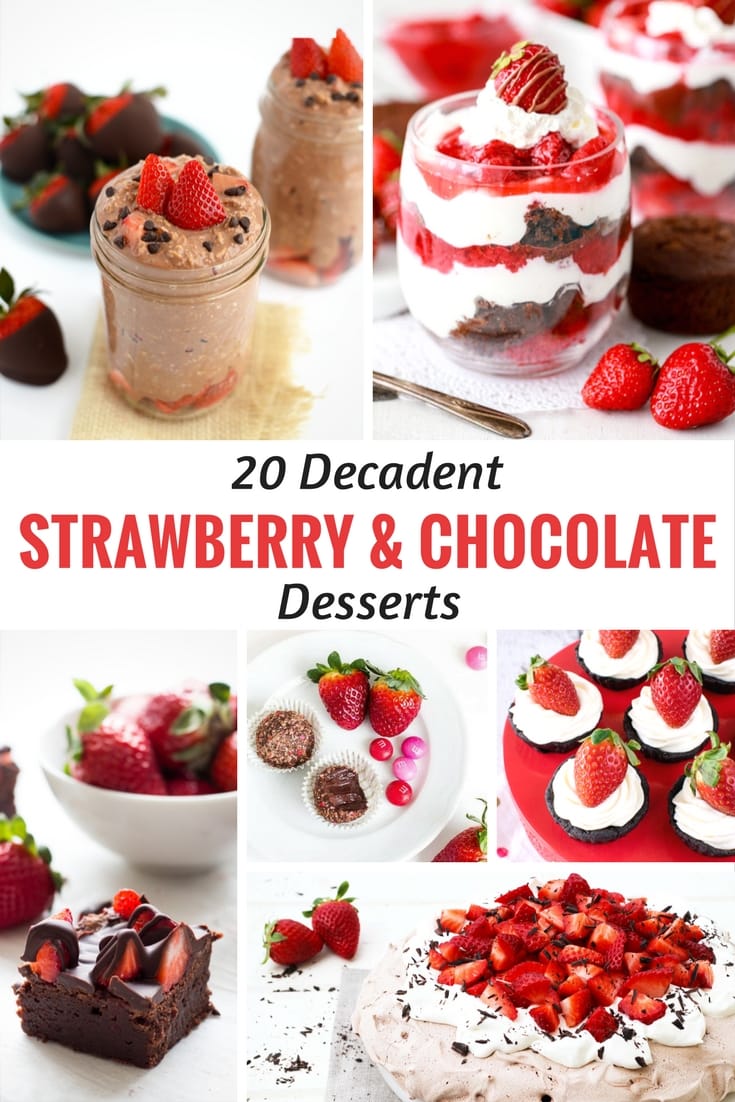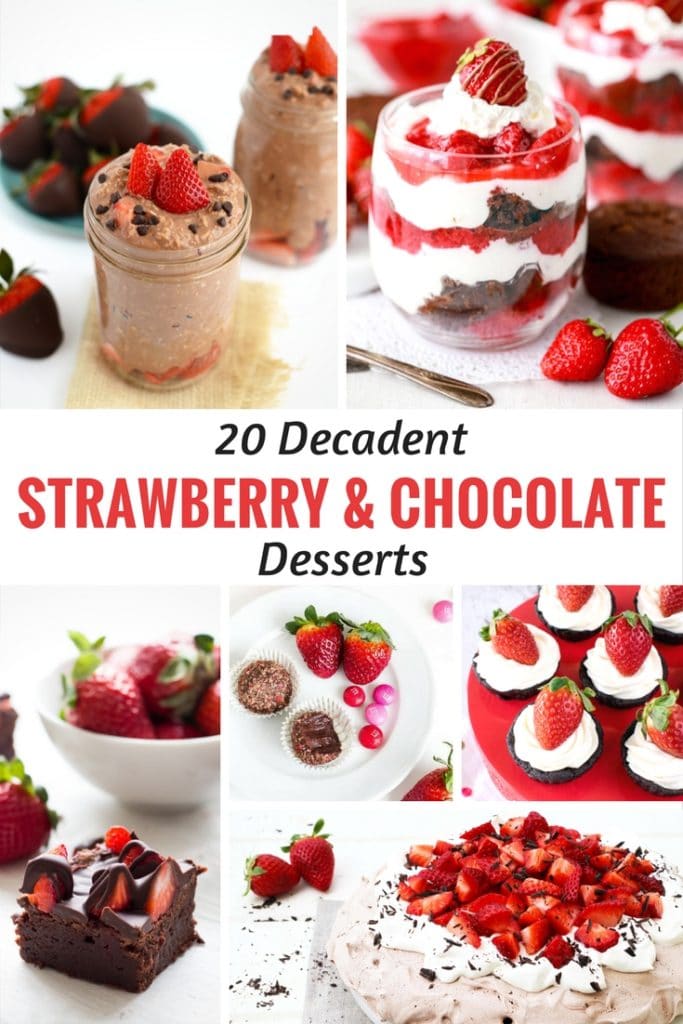 There are so many amazing options. You can make a simple parfait, layer cake, velvety cheesecakes or mouth-watering brownies. What to choose first?
Decadent Strawberry and Chocolate Desserts
Chocolate Strawberry Cake from livforcake.com
No Bake Chocolate Strawberry Coconut Bars from yayforfood.com
Chocolate Strawberry Pretzel Fudge Cups from familyfoodonthetable.com
Strawberry Nutella Chocolate Crepe Cake from modernhoney.com
Chocolate Covered Strawberry Brownies from ifyougiveablondeakitchen.com
No Bake Chocolate Cream Tarts from insidebrucrewlife.com
Chocolate And White Layer Cake With Strawberry from iambaker.net
Chocolate Covered Strawberry Cheesecakes from awayfromthebox.com
Chocolate Covered Strawberry Overnight Oats from fitfoodiefinds.com
Chocolate Covered Strawberry Cups from amindfullmom.com
Strawberry Chocolate Pound Cake Trifle from life-in-the-lofthouse.com
Salted Chocolate Covered Strawberries from 3boysunprocessed.com
Strawberry Chocolate Breakfast Parfaits from spendwithpennies.com
Chocolate And Strawberry Pavlova from contesetdelices.com
Strawberry Chocolate Truffles from sweetandsavorybyshinee.com
Dark Chocolate Strawberry Yogurt Cake from fooddonelight.com
Strawberry Chocolate Shortcake from beyondthechickencoop.com
Chocolate Covered Strawberry Ice Cream Tart from melaniemakes.com
Chocolate Covered Strawberry Birthday Cake With Fresh Flowers from thebutterhalf.com
Chocolate Covered Strawberry Overnight Oats from livelytable.com
Do you have a favorite you would add to the list?