Is the chaos in your world starting to ramp up as we head in to the holiday season? Mine too. The decorating, party planning and attending, shopping and gift giving….it can all add up – especially when we don't allow ourselves a little time to center. I do my best to start and end each day with some focus on gratitude and often find quotes and messages to be a source of inspiration
Let them remind you to be grateful. Use them in your planner, your vision board, on wall art, or simply repeat them to yourself.
These are 20 of my favorite thankfulness quotes from a wide range of authors and sources. Use them to build your sense of gratitude.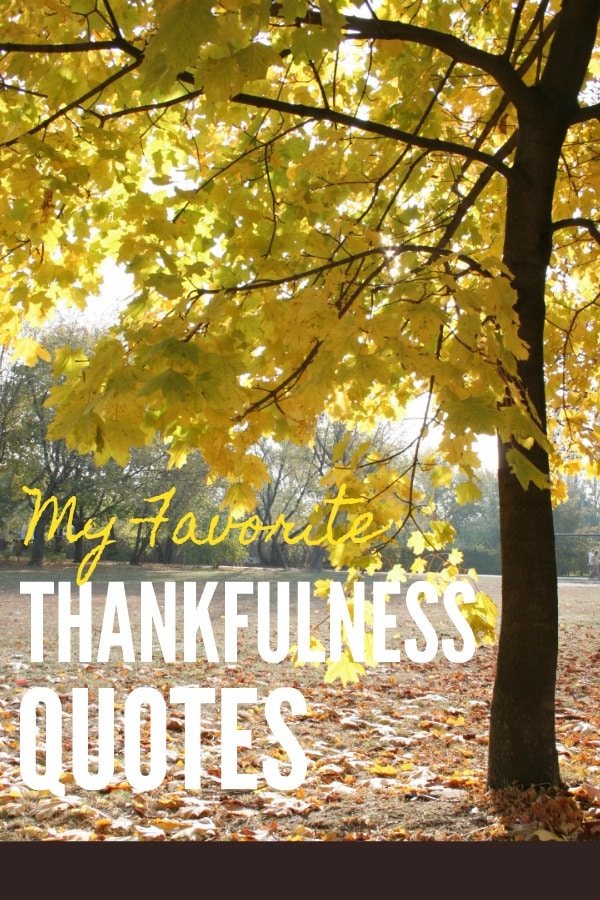 20 Thankfulness Quotes to Keep You Centered
Now is not time to think of what you do not have. Think of what you can do with what there is. – Ernest Hemingway
Be thankful for what you have; you'll end up having more. If you concentrate on what you don't have, you will never, ever have enough. – Oprah Winfrey
Gratitude is not only the greatest of virtues, but the parent of all the others. – Cicero
Some people are always grumbling because roses have thorns; I am thankful that thorns have roses. – Alphonse Karr
Make it a habit to tell people thank you. To express your appreciation, sincerely and without the expectation of anything in return. Truly appreciate those around you, and you'll soon find many others around you. Truly appreciate life, and you'll find that you have more of it. – Ralph Marston
Let us be grateful to people who make us happy; they are the charming gardeners who make our souls blossom. -Marcel Proust
Gratitude can transform common days into thanksgivings, turn routine jobs into joy, and change ordinary opportunities into blessings. – William Arthur Ward
The unthankful heart discovers no mercies; but the thankful heart will find, in every hour, some heavenly blessings. – Henry Ward Beecher
Thankfulness creates gratitude which generates contentment that causes peace. – Todd Stocker
None is more impoverished than the one who has no gratitude. Gratitude is a currency that we can mint for ourselves, and spend without fear of bankruptcy. – Fred De Witt Van Amburgh
Not what we say about our blessings, but how we use them, is the true measure of our thanksgiving. – W.T. Purkiser
It is impossible to feel grateful and depressed in the same moment. – Naomi Williams
The thankful receiver bears a plentiful harvest. – William Blake
Give thanks to the LORD, for he is good; his love endures forever. – 1 Chronicles 16:34
Do not be anxious about anything, but in every situation, by prayer and petition, with thanksgiving, present your requests to God. – Philippians 4:6
If we magnified blessings as much as we magnify disappointments, we would all be much happier. – John Wooden
Things you take for granted someone else is praying for. – Marlan Rico Lee
When you rise in the morning, give thanks for the light, for your life, for your strength. Give thanks for your food and for the joy of living. If you see no reason to give thanks, the fault lies in yourself. – Tecumseh
Be thankful for the things you have, because you never know what will happen next. – unknown
Be grateful for what you have and stop complaining – it bores everybody else, does you no good, and doesn't solve any problems. – Zig Ziglar
Do you have a favorite I might add to my list? I'd love to hear your suggestions as well.
If you are looking for ways to express your gratitude – consider an easy, free option for spreading kindness in your daily life.