So, my mom – who is 27 times more talented in the kitchen than I am…..  sent me a picture of one of her latest holiday creations…
And naturally, I just had to share it with you….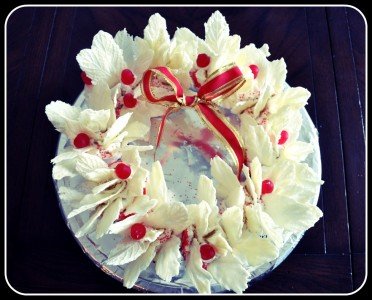 Feeling bold?  Here's how to make this White Chocolate Cupcake Wreath:
Cupcakes:
Use regular cake mix (preferably not one with pudding or angel food).  Cupcake needs to firm to hold decorations.
Instead of water (usually 1 1/4 C) add 1 cup of buttermilk, then the vegetable oil and the 4 eggs (even if it call for 3)
Mix as usual
Pour half into a zip lock bag, snip one corner and and fill the 12 SILVER cup cake holders 2/3 full
(make the rest into cupcakes for the family or another wreath!)
Leaves
2 bunches of fresh mint, preferably with large leaves
line 2 cookie sheets with wax paper.
pick the mint leaves from the stems. Wash and pat dry on paper towels ( I waited until they were completely dry)
1 bag white chocolate chips – place in medium mixing bowl and microwave until smooth (about 1 min)
Using a small clean brush (or your finger tip) coat the top side of each leaf with a fairly thick, even layer of chocolate & put them on the cookie sheets chocolate side up. You can let the leaf curl a little to make it more natural but not too much or the leaf is too hard to remove.  Place leaves in the refrigerator until set, about 5 – 10 minutes.
Carefully remove the leaves from the hardened chocolate.  They come off surprisingly easily, but use a toothpick or tweezers to remove any small pieces of mint that may remain.  The leaves can be made up to 5 days in advance, covered and kept in a cool dry place.
1 container of vanilla frosting – ice each cupcake and I sprinkled them with red decorating sprinkles for a little more color.
Place the cupcakes close together in a circle.  Press the chocolate leaves into  the cupcakes, ' oriented in one direction, to cover the cupcakes.  Put drops of icing randomly on the leaves and attach red candies (the recipe calls for red candy coated milk chocolate balls, but I bought some Dots and just used the red ones)
Add a festive bow and you are done!
Well, done Mum!!  Enjoy friends…