Has it been a hectic day? Mine has. I feel as though I've spent half of my time staring at the wall, fighting a headache or trying to snap myself out of a funk.
What is it for you?
Maybe your boss or a normally favorite client was in a mood or your workload doubled without warning; the kids are running wild, fighting and jumping off the furniture; or maybe you've just wasted an hour in traffic and you feel like you could explode at any second. You're just done.
Whatever the situation, you know you're on edge and need to chill out and fast. Is that even possible anymore? The older we get, the busier we get and life has a tendency to get out of line. It's common for us to set aside our own well-being and usually end up running ragged and stressed out.
Chronic stress can contribute to a variety of medical conditions and without keeping it in check can affect not only our health and vitality but have a negative impact on our well-being and overall joy and happiness.
It's not easy to get stress under control, especially when we're used to operating that way; with a little commitment we can learn to better manage your stress and improve your life. The next time you feel yourself getting stressed out, before your blow your top, try these tips to help you de-stress and hopefully feel great. (I'm working on them myself right now.)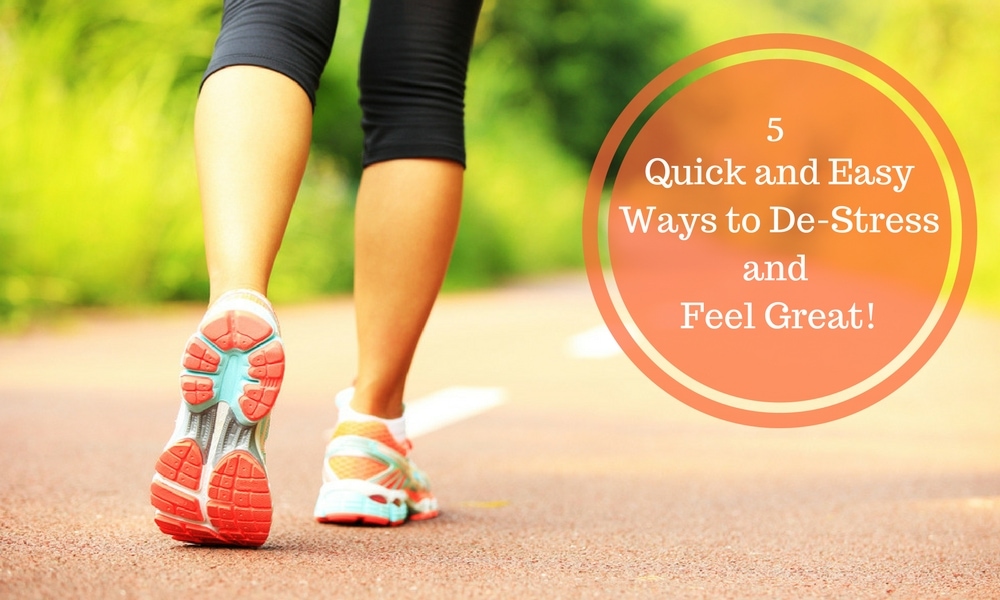 5 Quick Ways to De-Stress and Feel Great
Walk it off: Exercise is proven to reduce levels of stress hormones in the body; it stimulates the production of endorphins which are the body's natural mood elevators and painkillers. Taking a walk provides you with the opportunity to enjoy solitude leaving you feeling relaxed and optimistic while reducing mental stress and anxiety.
Creative expression: For years therapists have been suggesting music and art therapy as a way to combat stress for their patients. Having an outlet allows you to express emotion and put things into perspective. These therapies engage a variety of the areas in the brain that impacts mood and cognitive function. Whether you prefer to write, paint or color; do not underestimate the powerful benefits of creative expression for stress reduction. (I've taken to coloring AND painting as a way to focus on something other than stress!)
Unplug: Step away from the screen! Constant stimulation and exposure to social media can have real physical and emotional effects on the body. Recent studies have shown an impact on mood, sleep and appetite. Instead, opt to turn off the gadgets, get outdoors and enjoy time spent with friends and family in-person.
Laugh: Laughter has been proven to reduce mental stress but also induces physical changes in your body that can have an immediate positive effect. Laughter increases endorphins in the brain, stimulates the heart and lungs while increasing your intake of oxygen and engaging muscles and improving circulation. The physical effects of laughter combat mental stress and fatigue quickly; leaving you feeling relaxed, refreshed and joyful.
Buy a plant: Natural environments are known to have a calming influence and introducing plants into your workplace or home can allow you to experience that while indoors. Additionally, plants and flowers offer aesthetic beauty that greatly reduces a person's stress and anxiety. People surrounded by plants and other natural elements have improved concentration, less stress and are healthier overall.
Do not let stress rob you of the joy and peace you deserve in this life. Take the time to get in tune with your body, mind and spirit and you'll be on track to a healthier well-being and a stress free life.