When you think Napa Valley, California, you (like me) likely think wine. Gorgeous vineyards, overflowing glasses of vino, and tapas to delight your palette. However, there is more to Napa than sipping spirits. I promise. Check out a few of our favorites.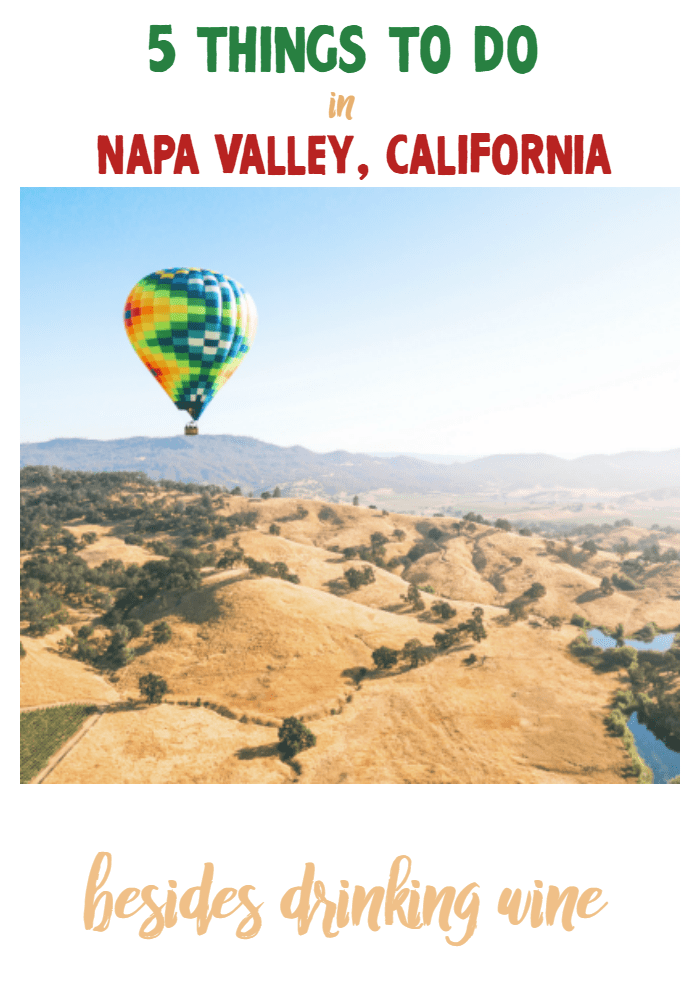 5 things to do in Napa Valley, California (besides drinking wine)!
1. Ride the Napa Valley Train
Although you may sample the beverage Napa Valley is known for on the Napa Valley Wine Train, the journey is more about the scenery and ambiance than what you sip on the ride. The train cars originated as first class coach cars for the Northern Pacific Railway in the early 1900s. In 1987, the cars became the Napa Valley Wine Train, where passengers dine and view the beautiful Napa Valley scenery in comfort and elegance. Take the 36 mile, three hour tour from Napa to St. Helena and back. The train offers winery tours complete with lunch, a murder mystery train on select Fridays and Saturdays, throughout the year, a romantic journey with a spectacular view in the Vista Dome, and more!
2. Take a Hot Air Balloon Ride
Napa Valley Aloft allows you to soar above California's wineries, Mount Saint Helena, and more! Choose from semi-private and private (just the two of you and the pilot/instructor) rides. Champagne is included with this post-flight breakfast, but the focus is on seeing Napa Valley from above, in the most breathtaking way possible!
3. Visit a Castle
Castello di Amorosa does have a winery on property, but the building and land itself are worth a tour. A full-scale 13th century, Tuscan-inspired castle, its picturesque beauty is straight out of Italy. The construction took more than 15 years, and the intricate details of the castle were all handmade. Tripadvisor names Castello di Amorosa the number one thing to do in Calistoga.
4. Enjoy the Music
The Napa Valley Opera House hosts concerts, theater, and cultural events in a 650+ person capacity opera house. Opera isn't the only jam here, however. Artists such as House of Pain (Everlast) and Willie Nelson have played here. Even comedians like the late Robin Williams and Steve Martin have graced the stage. NVOH is known for talent and culture, with or without a glass of wine!
5. Go Shopping
Check out Napa Premium Outlets on your trip for a little retail therapy. With 50 stores housing international retailers, you'll love the bargains you'll find on your shopping excursions!
There is so much do in Napa Valley, California outside the vineyards. Take a ride in a balloon or train, visit a medieval castle, go to the theater or a concert, and shop! Try out any of these 5 things to do in Napa Valley, California (besides drinking wine) on your next trip!
Check out these great books for more things to do in Napa Valley, California!
Fodor's Napa & Sonoma (Full-color Travel Guide)
Truly Napa Valley: The Experience Guide
The 2017 NapaLife Insider's Guide to Napa Valley
Napa Valley – 2017 (The Food Enthusiast's Complete Restaurant Guide)
Hidden Napa Valley, Revised and Expanded Edition