When I was a little girl, I imagined I would be married by the time I was in my mid-20's.
But I wasn't with the right guy.  Not at 25, or 26, or 27, or 28.
Fortunately, Jeff was worth the wait. And we didn't even really like each other when we first met. Funny how that happens. We met at work. The Sports Guy and the News Anchor eventually hit it off.
Seven years ago today I walked down the aisle and watched him tear up.  Our priest compared marriage to a baseball game – my husband-to-be was in heaven.  We said our 'I-Do's', kissed and waltzed out into the great big married world holding hands.
And that's how we still do things….standing together and holding hands.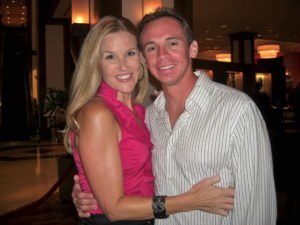 I won't bore you with the cliches.  We do fight.  We do get on each other's nerves. But, I think he is super fantastic.  He makes me laugh every.single.day.  Even when I'm crabby with him and don't want to crack a smile. Oh – and that 'he's-such-an-amazing-daddy-he-gets-sexier-every-day' thing??  Yep, he's go that going for him too.
You know when you 'just know'?  Well, that's me. I know he will pick me up every time I fall.  I know he will never cheat on me. I know he will continue to make me giggle.  I know he will always put his family first. I know he will celebrate every success with me. I know he will love me forever.
I know I will do the same.
Seven down.  Seventy-Seven to go.