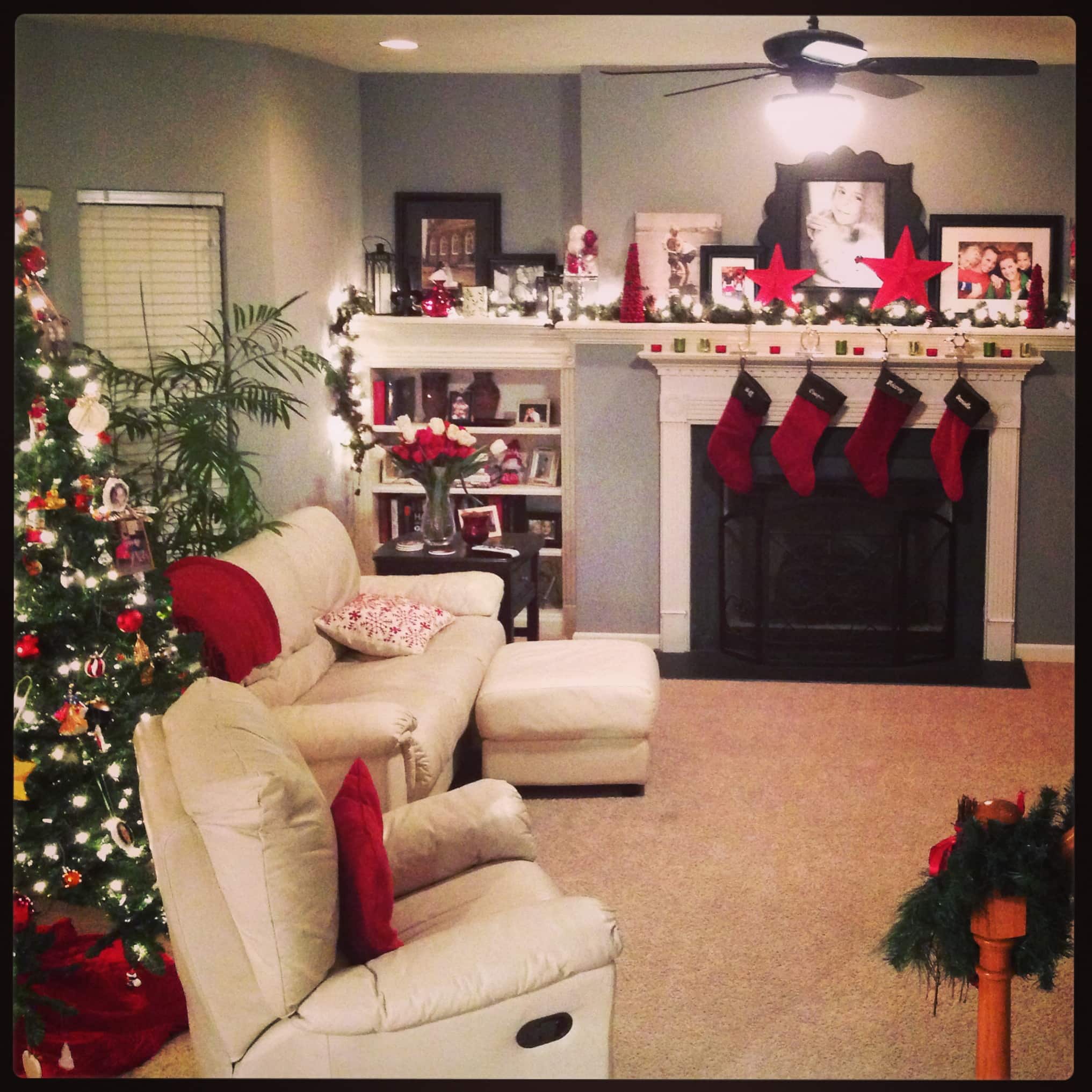 It isn't just that red is my favorite color.
Or that red and silver are stunning together.
Or that my small people morph into magic beings this time of year, their eyes perpetually wide, their jaw permanently open in wonder… (though that last one could have a little to do with it).
Quite simply, I adore the holidays. And the sooner I transform my home from standard living to holiday style, the more spirited I feel, the more apt I am to embrace everything special about this time of year.
My favorite room in the house – especially this time of year – is our family room. It is where our tree lives, where we spend the most time and where you will find this mantle.
I fell in love with this mantle before our house was built. It is lovely from January through November, but right now? It is glorious. I could stare at it for days. Because I think your mantle – any mantle – or even a shelf that plays a central role in your main room deserves to be the focus of the holiday room, I wanted to share 8 tips to transform your mantle for the holidays.
8 Ways to Decorate Your Mantle for the Holidays
Choose a Palette – I know this sounds like fancy-decor-speak, but in layman's terms – choose a couple of colors (rather than ALL of the colors) so the space will be pleasing to the eye when you are done AND so you can easily spot new pieces to buy when you are out shopping. Ideally purple, red, silver, blue, green and gold will feel like too much, so focus on just a couple.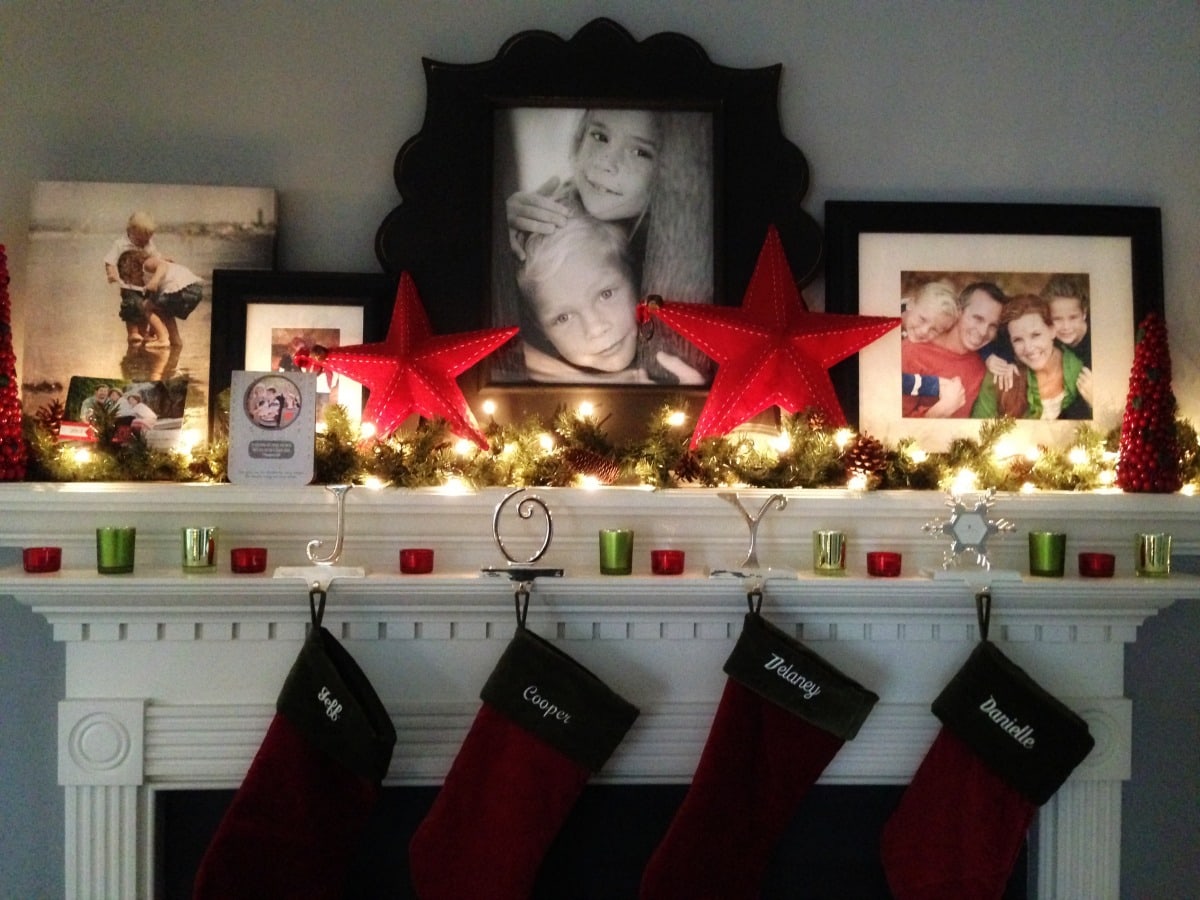 Keep Family Photos in Place– On any given day, our mantle plays host to any number of family pictures – specifically some of my favorites. Keep them in play. Your family is central to the magic that IS the holidays. Use these pieces for their sentimental value and for filling some larger space.  If you have Winter or Holiday pictures – the kids sitting with Santa, the morning your puppy arrived, the family on that ski vacation, swap some of these out to make it more festive.
Go Green – I love the texture that greenery can add to any space, but specifically a shelf or mantle. This is  your version of bringing the outdoors inside. Much of the greenery you can purchase is evergreen in nature and has pine cones or berries, so the holiday feel is instant.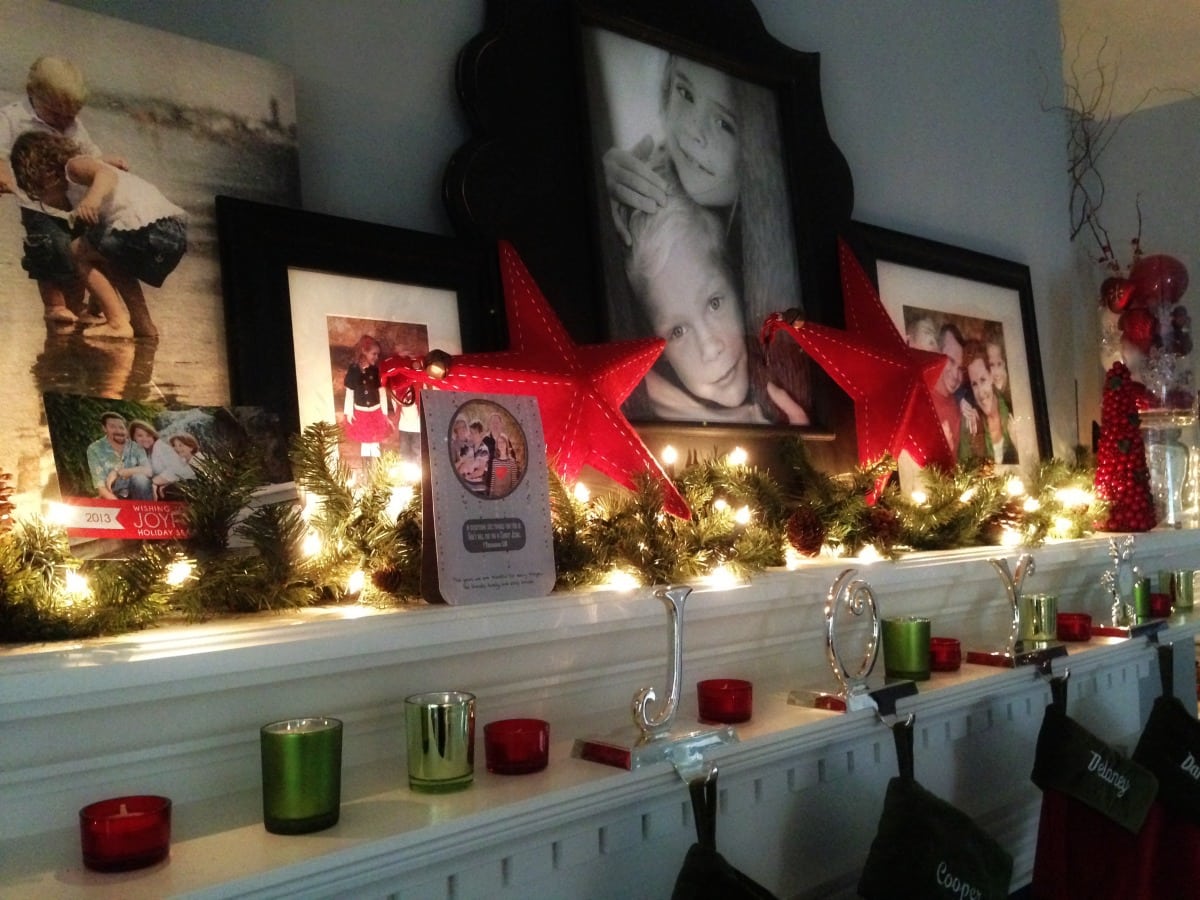 Incorporate year round decor – Once you have decided to go with certain colors or textures, feel free to move other items from around your home to this center spot to increase the holiday focus. Those red stars? They aren't only holiday decor….I use them in our house all year. But they are red, they are eye-catching and they add to the overall feel.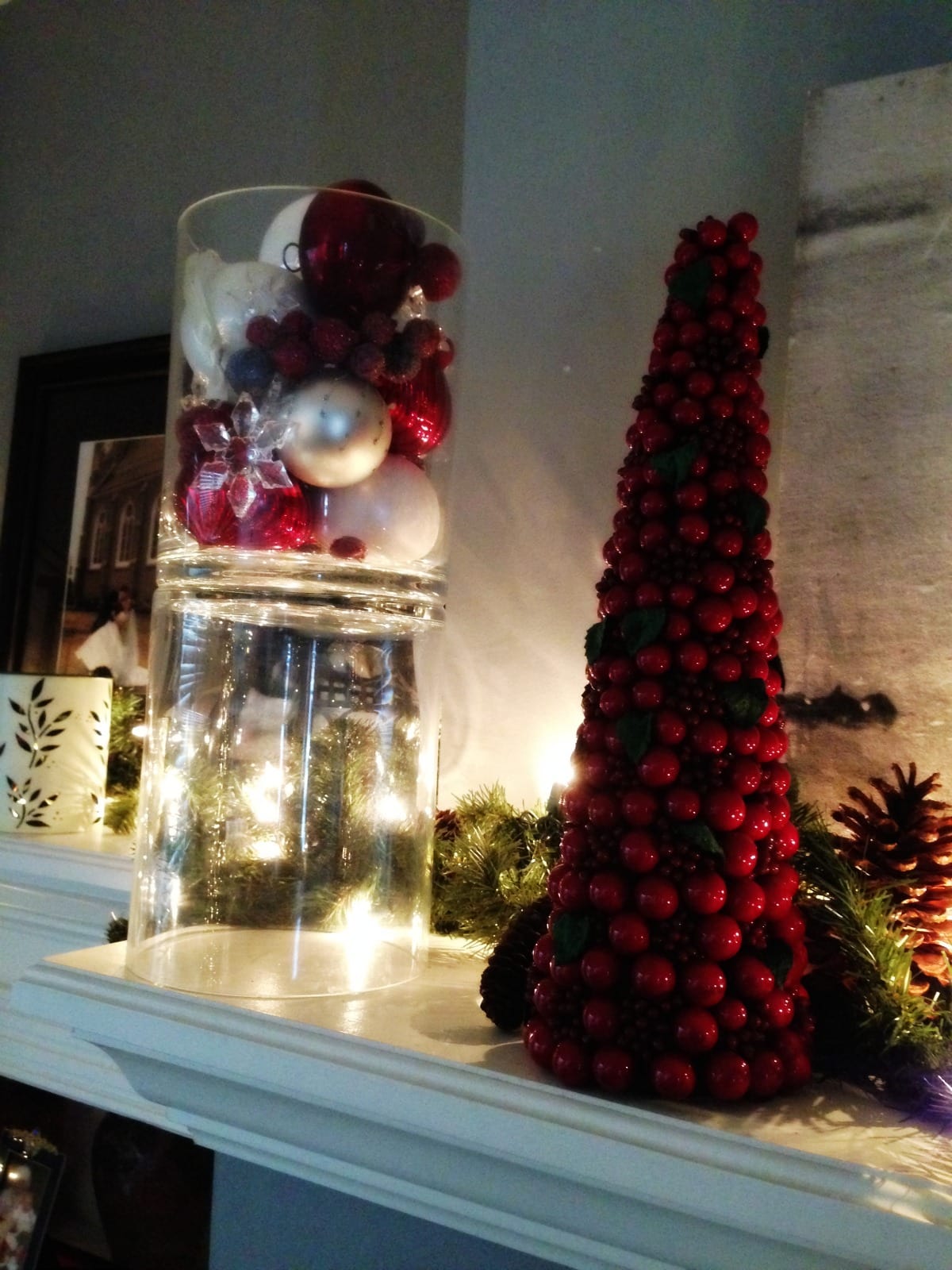 Use Ornaments in Different ways  – Sure ornaments are beautiful on your tree, but make a change: add some to your mantle instead. Allow your creativity to take over here: put them in a tall vase, set them within the greenery, use them as 'book ends' to hold up some of your holiday cards. The key is to choose a theme or feel – blue and white? Green and Red?
Light it Up – This can be as simple as adding a few candles. I like to vary the colors and sizes of the candles we incorporate in this space.  But I also love the look of the white lights wrapped in the greenery. (the greenery/lights came together so I don't spend additional time each year melding the two.)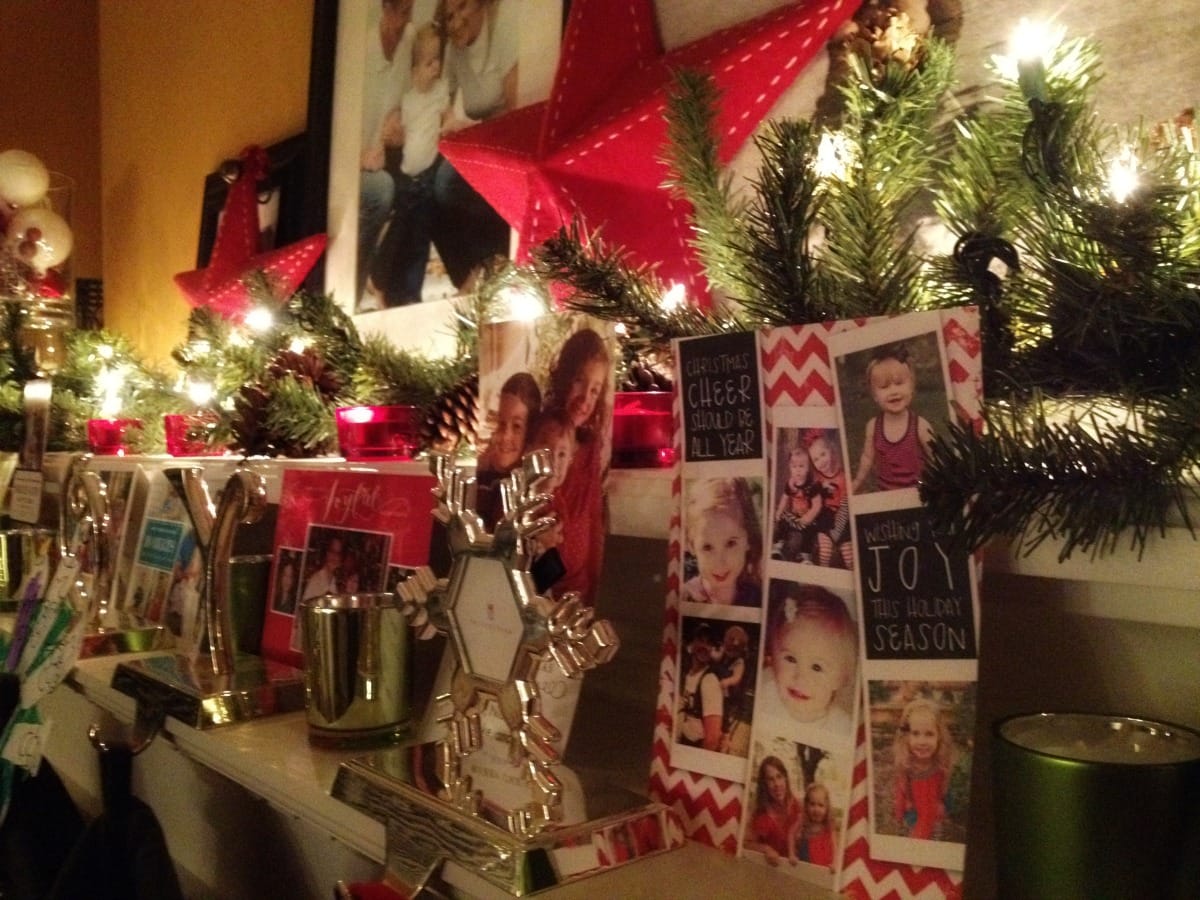 </centerHighlight Family and Friends
– Going to the mail this time of year makes me giddy. I adore seeing the faces of family and friends and want them on display. Consider adding your holiday cards to the mantle to highlight the people you love most this time of year. I know my parents used to put holiday cards on our refrigerator, but I want this loveliness as part of the decor.
Hang Stockings with Care – Now clearly, the holidays don't include stockings for everyone, but for us, they are a part of the decor and a big part of what turns this space into a Christmas room. When I was a little girl, I had a stocking with my name on it – done with glue and gold glitter – long before personalization was 'a thing'. Now, I don't think having the stockings personalized matters as much as having one that represents each member of your family. My small people love to hang these each year.
And then….sit back and enjoy. I love spending time in this room just soaking of the magic of the space. How do you decorate for the holidays? Share links in the comments below – I'd love to see.