(Raises hand)
I have a confession to make.
I love movies.  LOVE THEM.  Could watch them all day.
But I have kids.
And kids are time consuming.  And at the end of the day, I'm simply too exhausted to start a movie.
A few times, we've attempted it and *gasp*, I've actually fallen asleep.  Sacrilegious to a movie-lover.
And, yet, I will be glued to the Oscars on Sunday night.  There is simply something about them – the Red Carpet, the Hollywood swagger, the fashions, the stars, the films themselves – I adore.  Jeff knows it is my 'World Series' night – the only night of the year I am allowed to watch uninterrupted.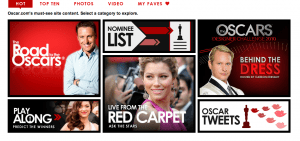 It pains me to tell you I have seen a record ONE of the Best Picture nominated films. (Can you guess which one?  Hint – I'm a mom. Nice work, can't put anything past you: Up.)  Does it count that I really want to see The Blind Side?  And Hurt Locker? And Precious? And District Nine? And Invictus? And Nine?
I haven't even seen Julie and Julia. I had it recorded, but my DVR deleted it in favor of the Olympics.  *sigh*
I used to have a fancy Academy Awards party – girls only.  (This was when Delaney was just a baby)  We'd eat, gab, dish about the fashions, eat some more and naturally predict the winners.
I'm afraid this year my predictions will be nothing but guesses based on what I *hope* I will like the best.
But I will still be eating.
If you are the Academy-Award-Watching-Love-to-snack-away kind, (especially if you are hosting a little party) here's a little something to inspire you.  The widget below, from Hyundai's Facebook Fan Page,  showcases some Movie Inspired Eats…. Enjoy.  And happy predicting.
This post, while entirely based on my own experience, thoughts and love of movies, is sponsored by Media Needle on behalf of Hyundai.