So, here I go.
On my way to Las Vegas.  Set for the Red Carpet at the Academy of Country Music Awards.
Despite my endless flights of panic this week, the fears that things might not fall into place (including the last minute stress of an en route dress that I was certain would never arrive – but did) I am taking one breath at a time and attempting to absorb this experience.
I will confess….wrapped tightly within my uber-excitement is a ball of nervous energy.  This feels like a marathan I have been training for.  Except I've been training my entire adult life and someone finally said, 'Run!'.
So, here I go.  Running.  And I'm thrilled beyond anything I can express.  And determined to make every portion of this experience count.
My flight left before 6 am this morning and my day promises to continue for the better part of the next 20 hours. I have a full schedule even before my 9am hair and make up appointment tomorrow morning.  Which, incidentally, was the LAST appointment available and is about 5 hours before my silver-clad tootsies step on to that Red Carpet.
What does today include?  OH MY HEAVENS….TODAY!
I trust you know WHY I'm going to the Academy of Country Music Awards, yes?  I first talked about it here.  But as a quick refresher: during the ACM's, there is a beautiful charitable segment called the Lifting Lives Moment where a special cause is highlighted.  This year, Child Hunger Ends Here, an effort championed by Con Agra Foods, is the focus.  A song co-written by 20 year old ACM New Artist of the Year Nominee, Hunter Hayes, will be performed by Little Big Town.
The song is called 'Here's Hope'.  It is gorgeous.  You can hear it on the Child Hunger Ends Here site.
When I arrive in Las Vegas, I will be attending Little Big Town's rehearsal for their ACM performance of 'Here's Hope'.
Giddy.
And then?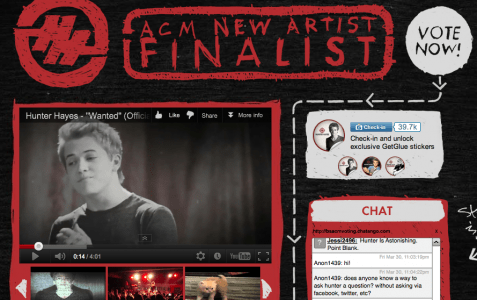 I will be sitting down with Hunter Hayes to chat with him about the thrill of being nominated as ACM New Artist of the Year, and well, a few dozen other questions.  I kid.  Sort of.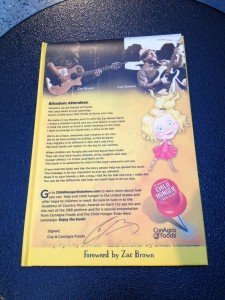 Also?  If you attended Blissdom, you may have received one of these books, Amy Giggles, written by Coy Bowles of the Zac Brown Band.  I'm ALSO going to be sitting down with Coy this afternoon to talk to him about his book and his charitable efforts with kids.
The book is delightful.
I can't wait to share all of the video with you.
Whew.
I *should* be tired thinking about it.
But, I'm not.  I'm still pinching myself to make sure I'm not dreaming.