A few weeks ago, I sat in my office, broken-hearted from missing my grandmother's 100th birthday.  It couldn't be helped.  The flu had attacked the small dude the very day we were supposed to board our flight and it was only days before my small girl and then my small dude again were bed-ridden with an entirely different intestinal virus.
Naturally, my parents, though understanding (what can you do about the flu??), were devastated to miss us – especially their grandchildren.  Living on the left coast with us in the middle of the country isn't easy.  Somehow, Delaney and Cooper seem to grow inches and lose teeth between every sighting. Because he masquerades as a real dad, but truly lives life as a Superhero, my sweet husband suggested a last minute trip to San Diego for Easter to visit my parents.
My parents did mental handstands.  The small people did real ones.  Jeff dusted off his cape and went back to work.  I felt peaceful for the first time in two weeks.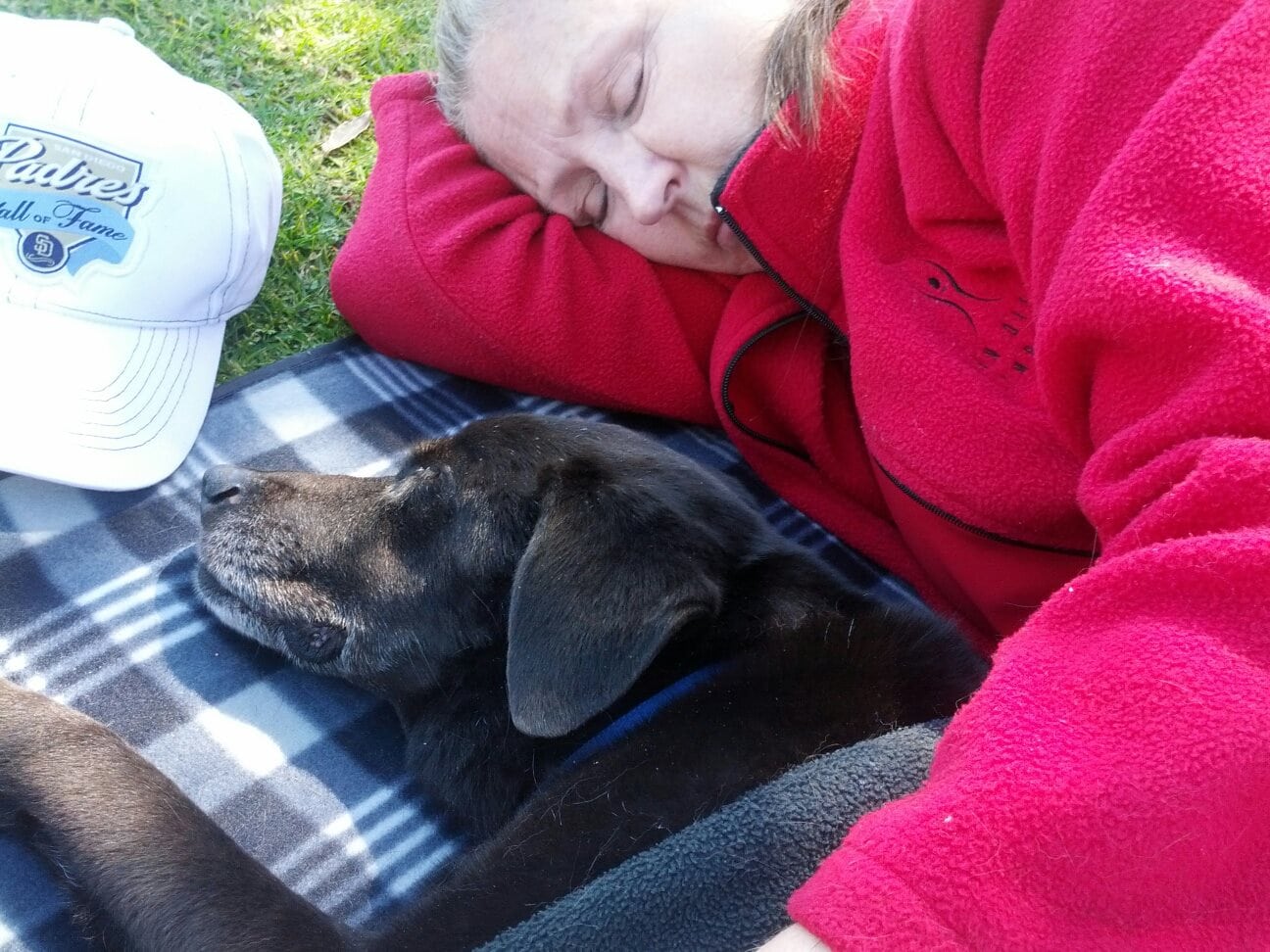 Until last night.
My parents have two dogs and seeing them when we visit is an incredible highlight for my sweet ones.  I cry now as I type.  Murphy, their lovely black lab, who has been with them for more than a dozen years, has been living with a tumor pushing on her bladder for the past two years.  She took a terrible turn on Friday night.  She can no longer walk. Her kidneys are failing.  Today is to be her last day.  My poor mom is heart-broken.
My parents took their pup out in the sunshine, to Shelter Island in San Diego – where she is normally greeted by dozens of other dogs.  But not today.  Today she was approached by only one: Haley.  Another dog seeing the sunshine, the outside, for the last time. You have to figure that Haley knows she will be seeing Murphy again tomorrow, right?  Why not make a friend now that you'll be soon seeing in heaven.
That's where all dogs go, you know.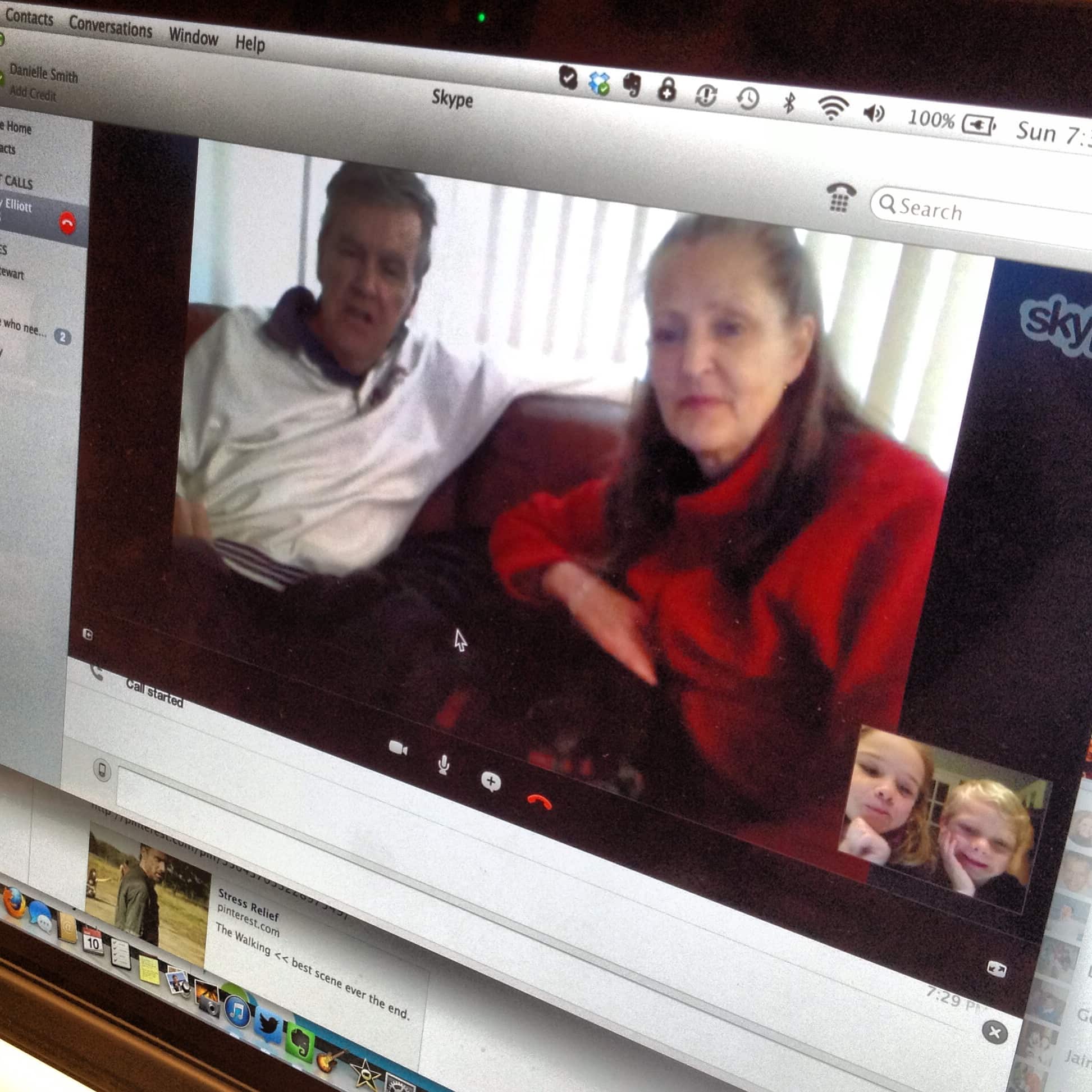 Seeing my mom with her girl hurt my heart. Telling my small people? Oh, this motherhood gig is a bear.  Delaney's eyes watered, she asked questions and she hugged me.  But Cooper?  Well, I used the phrase, 'put her to sleep'…. so naturally, my six year old asked, "Well, ok, Mommy, but how long will she have to be asleep?" I don't know that I could describe his look of shock and anguish when I explained that she was actually going to die because she is so sick.
He covered his face, put his head in my lap and cried.
Through the miracle of technology we spoke to my parents via skype tonight – Murphy snuggled up between them – exactly as she will be until tomorrow.  It was a bittersweet conversation.  We made it *almost* to the end without tears.  My heart hurts for my mom who will miss her companion, the one who greeted her at the door as she came home every day, who rested her head in her lap as she watched TV and who begged for carrots as a 'treat'.  I hurt for my small people who are being touched by death in even the smallest of ways.
All dogs go to heaven, but does Murphy have to go right now?  The question my small people can't seem to comprehend….