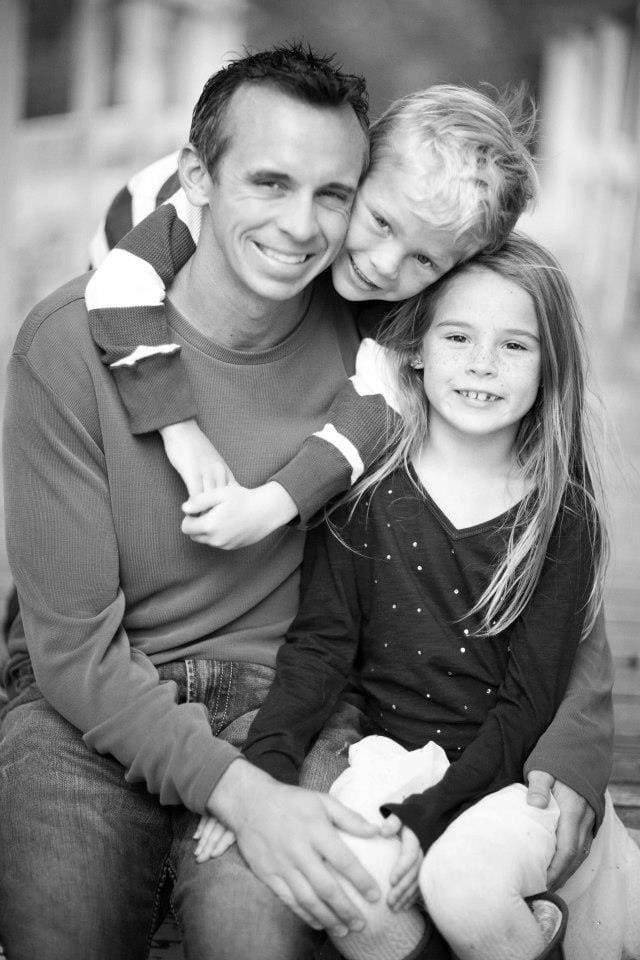 Every morning my husband gets up at 4:30 in the morning and heads to the gym.  You might call him dedicated. Many do. Or crazy.  (I've done it) You might think his exercise regimen demands this of him, but what people often don't realize is that his motivation is sleeping soundly as he wakes – one with freckles and chocolate brown eyes and the other a little blond guy who is currently missing three front teeth.
Jeff heads to the gym before the sun rises every morning so that he can be home to share breakfast with our sweet small people before they head to school each day.  I get them out of bed and dressed and as we head downstairs… there is their daddy, pouring milk on their cereal and cutting up fruit.  Instead of this ritual, he could be sleeping for an extra hour or more each morning and THEN heading to work to start his day, but this time is so important to him.
I can't claim to be a morning person, but these three?  Are laughing, singing songs and telling jokes before I'm fully awake.  With everyone in a good mood, they share time, they share food and they share moments.  Sometimes, I just observe their banter, absorbing the calm before the chaos of trying to get out the door.  You know what I know? Many families don't have this time.  Many dads don't have the luxury of these moments – and there isn't a single one he takes for granted.  He asks questions, quizzes them on past Presidents, and whips out multiplication flashcards.  He prepares their minds while he feeds their bellies, making sure they have everything they need to have the energy to learn.
Never for one moment have my children had to question if there would be enough for them to eat.  And yet one in five children have circumstances that are so far from what mine experience, it breaks my heart.  One in five children right here in the United States is hungry.
Hungry.
They, quite simply, don't have enough to eat every day.  They head to school in the morning without breakfast, without the energy to focus and make it through the school morning.
For more than the past year now, I've been working with Kellogg's and often talking about the beauty of breakfast in our home.  Today's message is a little different.  I want to talk about Sharing Breakfast. Because Kellogg's believes in the power of breakfast and its ability to give each of us – especially our small people – a great start, their 'Share Breakfast' program with partner Action for Healthy Kids is working to change the number of kids who start their days without.

And even better, you can help. And it is easy: it is some of what we do every day – Tweet or Pin or post a Facebook update.  When you do, use the #ShareBreakfast hashtag to help spread the message. Every time you do, the equivalent of one meal will be donated to a child.  .
Last week, I had the chance to chat for a few minutes with Actor Taye Diggs (Private Practice  – and one of my personal favorites, Stella Got Her Groove Back), the celebrity spokesperson for Share Breakfast.  His passion for this program is fueled in part by his role as a dad.  For me, making sure my small people are aware of the needs of others and that I model how to best to help is a priority.  Though Taye's son is only a little guy, he did share with me a similar desire.
"We're already planting the seed and as he gets older, we will introduce him to programs like this, because these are the types of things I think we are going to be involved in for the rest of our lives.  I think the most important thing to do is lead by example."
Just look at the work already being done and the lives already changing…. this is Cypress Elementary in Kissimmee, Florida.
If you want to know a little more… this is a message from Taye Diggs…
Each time you watch and share these videos as well, you are ALSO making a difference.  As of this writing, the equivalent of more than 287,000 breakfasts have been donated.  The goal is ONE MILLION.  Will you help?  Watch a video. Share a video.  Tweet with #ShareBreakfast.  Post on Facebook.  It all helps – and it doesn't cost you a penny.
Thank you for caring as I do.
I'm grateful once again, to be working with Kellogg's.  I'm thrilled with the work they are doing to help hungry children and also – I'm delighted by the emphasis they put on breakfast – it is my children's favorite meal. As always, all opinions and thoughts are mine alone.