The voting has been EPIC.
That's right E-P-I-C.
As in Hundreds of THOUSANDS of votes coming in…..
The Capital One Mascot Challenge has come down to this….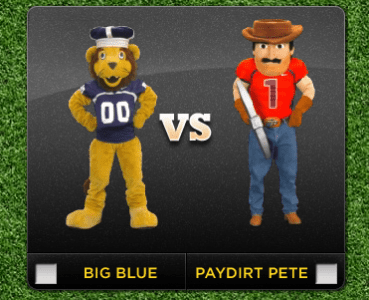 There are just two Mascots left standing…..
The Indomitable Big Blue from Old Dominion.
And the Tough, Crafty, Can't-be-Beat – Paydirt Pete from UTEP.
Last week, Big Blue and his Voting Mob took down The Duck from Oregon while Pete battled it out with Cincinnati's Bearcat.  If you were watching the Live voting….  during the week, you would have noticed The Duck hanging on to a strong lead most nights, but as Saturday moved into Sunday, the Old Dominion faithful came out in full force, taking up residence in front of their computers….
As I watched on Saturday afternoon, a nearly 7 thousand vote deficit began to disappear to the tune of nearly 1500 votes every 20 minutes…..  until Big Blue was in the lead and pawing his way to a more than 40-thousand vote gap.
In the mean time…. Paydirt Pete and Bearcat  spent the weekend leapfrogging over one another – it was difficult to tell just who would end up a winner.
But now….  voting is SECRET.
Why, you ask?
Because the WINNER will be announced on January 1st at the Capital One Bowl Game.
And I will be there to capture the crowning moment.
And so will one lucky football-mascot-loving lady…..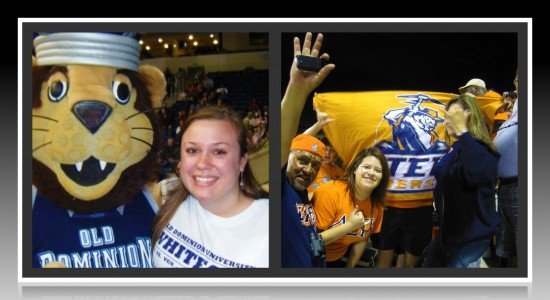 Will it be the lovely Lindsay, who has been fighting for her beloved Big Blue?
Or will it be the fabulous Jackie – the spirit behind Paydirt Pete?
You decide. CapitalOneBowl.com : Vote.