(EDITED: Contest has been extended by ONE WEEK until TUESDAY, SEPTEMBER 21st!!  THANK YOU SO MUCH for all of your submissions – we are going through them all and will announce the winners by noon on Wednesday, September 22nd!)
My four year old has more athletic ability in his left hand than I have ever hand in my whole body.
I do, in fact, live up to the throw-like-a-girl stereotype.
But you know what that makes me?  A FANTASTIC FAN.
And more than any other sport, I love Football.  Especially College Football.  There is just something about the traditions and history, the spirit, the loyalty, the pride – not just in the team – but in the school and in the players, and of course, it is just pure fun.
I am thrilled to say I am working with Capital One on an amazing College Football related project….
So here is a little History on the Capital One National Mascot of the Year Contest:
Capital One is, once again, hosting their annual Mascot Challenge.  Sixteen Mascots, from sixteen Universities around the country are competing to take the title. Last year, the honor went to Bearcat from the University of Cincinnati.  The competition has been fierce since 2002.
Each week for the next 12 weeks, the Mascots will face off against each other in head-to-head match-ups online.  The final four weeks will be championships. Votes on CapitalOneBowl.com decide who wins.  So, naturally, a strong online campaign can be useful!
The winner is announced, each year at the Capital One Bowl game on January 1st in Orlando, Florida.
This year – the added bonus – I will be there to cover the event – and so will one female blogger.  I know I am not the only woman who loves this sport.
We are looking for SIXTEEN female bloggers – one to represent each of the following Universities and their Mascots: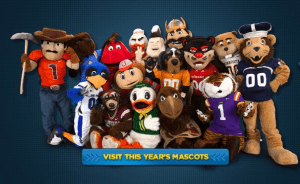 University of Tennessee – Smokey
Louisiana State University – Mike the Tiger
Ohio State University – Brutus
UCLA – Joe Bruin
University of Miami – Sebastian the Ibis
University of Cincinnati – Bearcat
University of Oregon – The Duck
Vanderbilt University – Mr. C
Air Force – The Bird
Old Dominion – Big Blue
Western Kentucky University – Big Red
University of Minnesota – Goldy
University of Maryland – Testudo
University of Idaho – Joe Vandal
University of Texas El Paso – (UTEP) -Paydirt Pete
University of Montana – Monte
Each of the 16 bloggers chosen will:
be an alumnus or adopted fan of the University
share their enthusiasm for their University by blogging/tweeting/using Facebook to encourage votes for their Mascot
receive a Gift package from their respective university which could include game tickets and/or school gear
When this year's Mascot is announced on January 1st in Orlando, their female blogger will be there to cover the event! (airfare, hotel, the GAME and food will be covered)
If you are interested, email the following to WhyMe4Mascots@gmail.com:
100-250 word essay – Why should you be chosen to represent your school? (Be creative!)
provide a link to your blog/twitter/facebook
include the best way to contact you
Contest entries will be accepted until 12:00pmCST on Tuesday, September 21st.
Good luck.
I am delighted to be working with Capital One for the duration of the Mascot Challenge (16 weeks) – so, in the coming weeks, I will be sharing a lot of information about the contest and college football. My thoughts and opinions can never be bought, so I will only be sharing what I believe to be true and accurate as I did when I was a traditional news reporter.