Peanut butter sandwiches. Almost every single day last year my small people requested a peanut butter sandwich, and I complied. Now, there are three things you could say about that: 1) I'm giving them the food they would eat and 2) I'm incredibly lazy. Both are probably accurate. I DID know they liked it. I DID know they would eat it. And yes, it certainly made that one small area of parenting just a little bit easier. But it definitely didn't award me a gold star in 'lunches' when it came to parenting.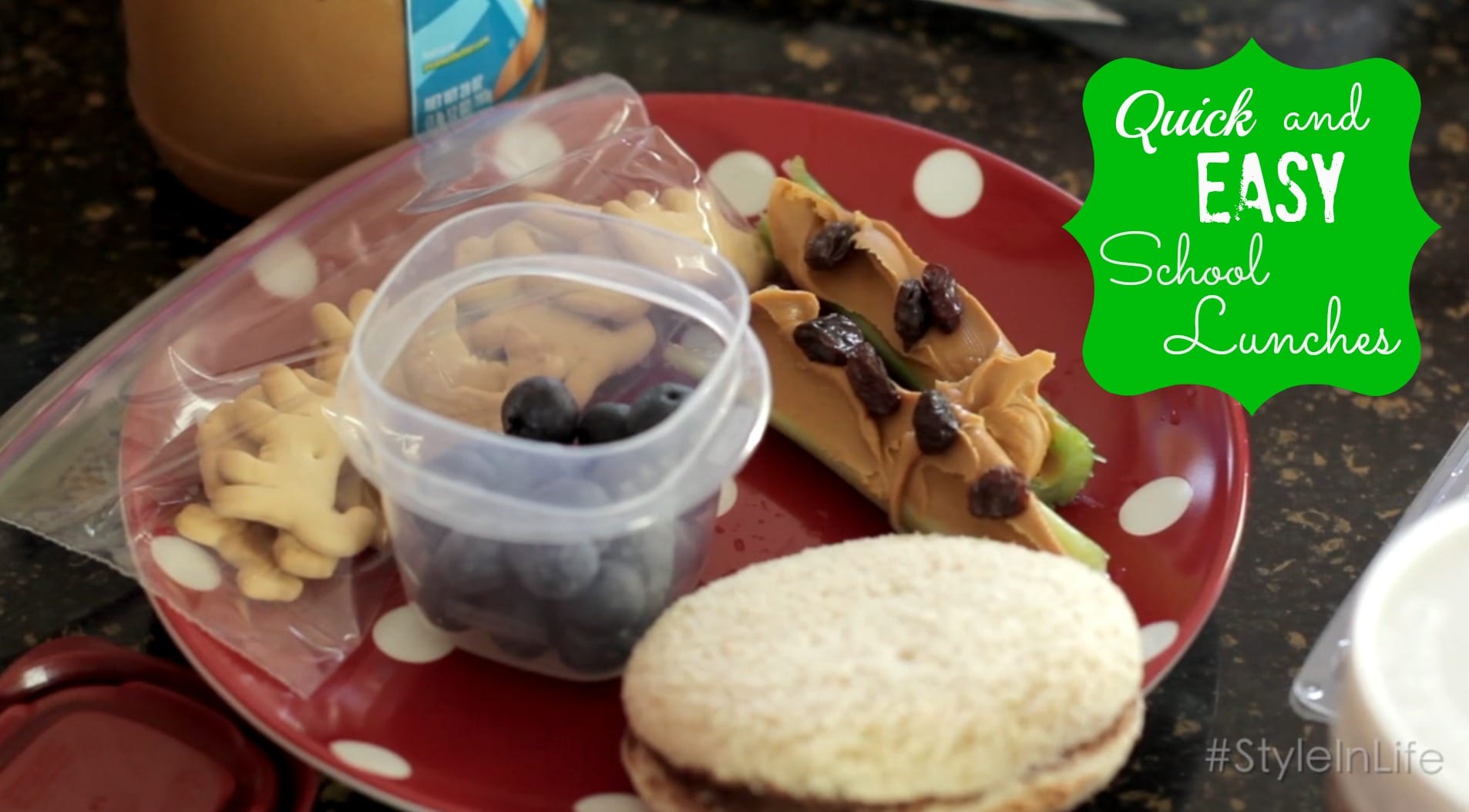 So, this year, determined to do better, I started researching.  Or crowd-sourcing. Or looking online. I asked my friends on Facebook. And the first few people jumped off my page with 'GO TO PINTEREST' and then my brain exploded… because people? One of the first things I saw was THIS: It is a cherry tomato, cucumber cut out with a cookie cutter and an individual shrimp on a popsicle stick. Sure it is cute, but oh-so-very-time-consuming and my kids just aren't going to eat that.  (I link because I don't want to take the picture…. you know how I feel about that 🙂 )
So, I asked AGAIN and this time qualified – OTHER THAN PINTEREST. I wanted real options. Something that I could create in a reasonable period of time and that, *gasp*, my kids might make on their own. And that they would EAT.
Success.
Here are some suggestions…. from me, from my small people, from other fabulous mothers I know.
This video is part of my weekly 'Keeping Style in Your Life' Series… a new one comes out every week.  For past videos focusing on everything from fashion to hairstyles, from home organization to recipes and wine, from time with your kids to making guests feel comfortable  – everything that keeps STYLE in our LIVES – see below!
Hair Tutorial: Create Quick, Easy Beach Waves
5 Must Have Fashion Items for Your Winter Wardrobe
Hair Tutorial: Quick & Easy Double Braid and Fishtail Braid
Wine Tasting: 6 Amazing Red & White Wines for $15 or Under
How to Organize Your Home Office in 10 Steps
5 New Spring Fashion Trends for 2013
Make Guests Feel Comfortable In Your Home – 5 Tips
How to Make Perfect French Toast
Make it a 'Yes Day' With Your Kids!
5 Cheap and Easy Ways to Redecorate a Room in Your Home
How to Do a Fancy Ponytail Twist
How to Make To-Die-For Nutella Rice Krispie Treats
Travel Tips: Making Packing Easy
How to Plant a Vegetable Garden (for Beginners)
Favorite Summer Salad Recipe: Strawberry Walnut Feta Salad
Chocolate Cashew Corn Flake Bars – Recipe
Organize Your Laundry Room With Style
Hair Tutorial: Chic Side Twist Braid