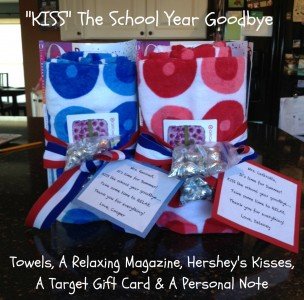 I cannot claim to be the craftiest of souls, but every now and then, something works out ok.  This was one of those times.
For teacher gifts, I always feel a bit stuck.  Sure, I could go the easy route and add money to the class gift and be done with it – but I really want my children's teachers to know how much we appreciate the effort they put in every single day.
This means I feel compelled to do something individual for our teachers…something that comes just from us.  And I'm not suggesting you (or we) break the bank.   So…. I spent some time looking around on Pinterest and found some great suggestions like this one here (I would link to the actual blog post, but the link for that gift idea just takes you to this website and I can't seem to find this teacher post on the site.  So, I modified their gift suggestion to fit us and our teachers.)
I decided to 'Kiss' our school year goodbye – and the Hershey's kisses worked especially well since Delaney and Cooper's teachers love chocolate.  The towel, the magazine and the note let them know we hope they have a chance to relax and of course, the Target gift card will hopefully allow them to get a little of what they WANT.
What are you doing for the teachers in your kid's lives this year?