All I can hear is squealing. It is the final day of Summer for my small people and they and their friends are making the most of it. They don't care that it has been raining off and on for most of the day. They don't care that the temperature has dropped below 80 degrees for the first time in weeks.
They just want to P-L-A-Y.
Because tomorrow? It gets serious.
The small dude hits the books for 5th grade.
And the small girls dives right back in to the heart of Middle School. We know from experience Middle School is not like her earlier years in the classroom. It requires far more effort, time and lots of concentration. Every "A" she gets now is absolutely earned. Concepts are more challenging, there is more to remember and sometimes it just doesn't feel quite as 'fun' as it once did.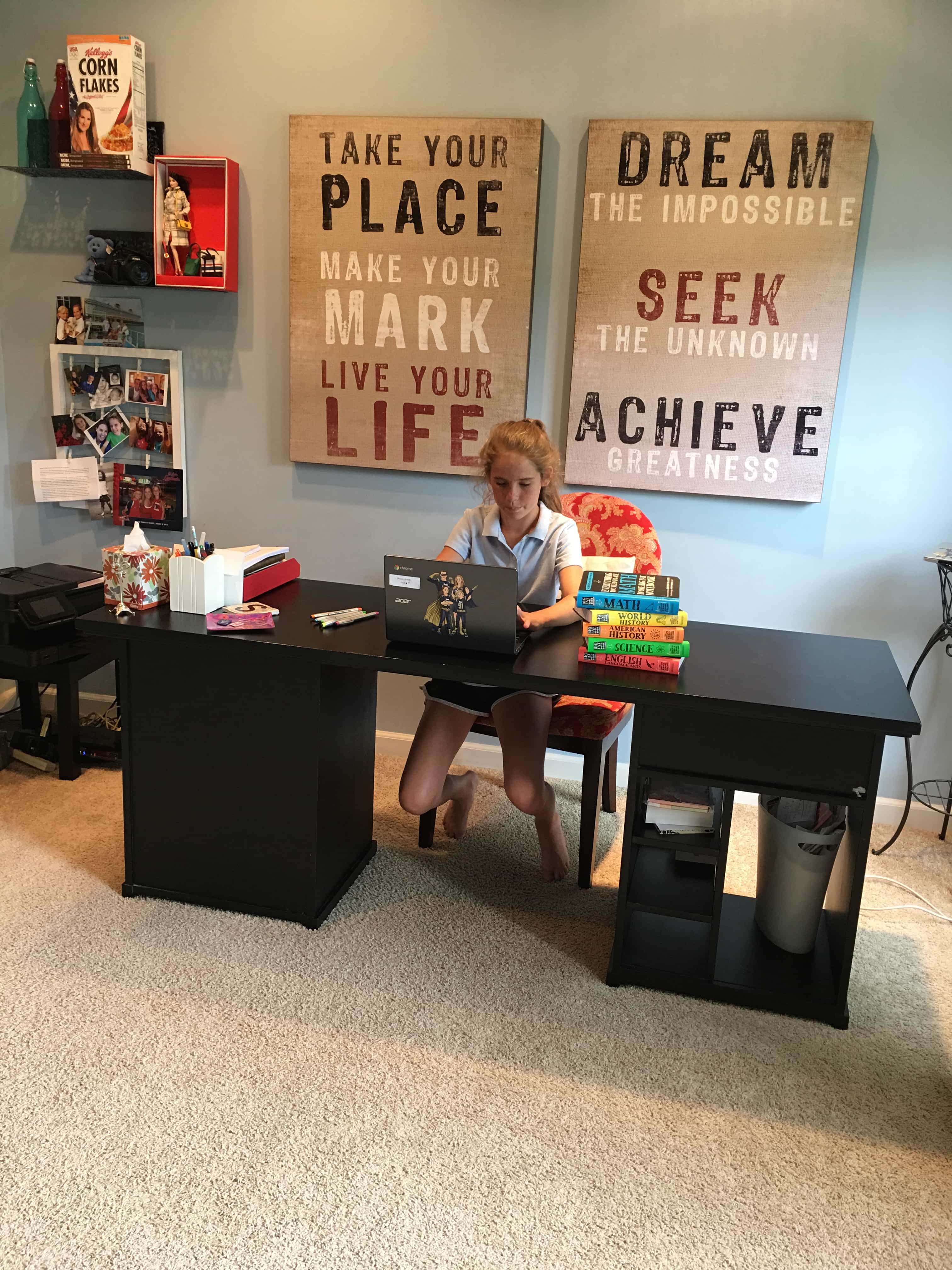 But not to worry.

Enter Big Fat Notebooks. This series is akin to sitting next to the smartest kid in school, the one who is willing to share his or her notes after class AND who can give you the fast track to remembering everything you need to know (all with a grin). Tackling all of your main subjects – Math, English Language Arts, Science, American History and World History, these books are broken down in to easy-to-digest concepts, include brightly colored drawings when appropriate, highlight important ideas and create memorable shortcuts.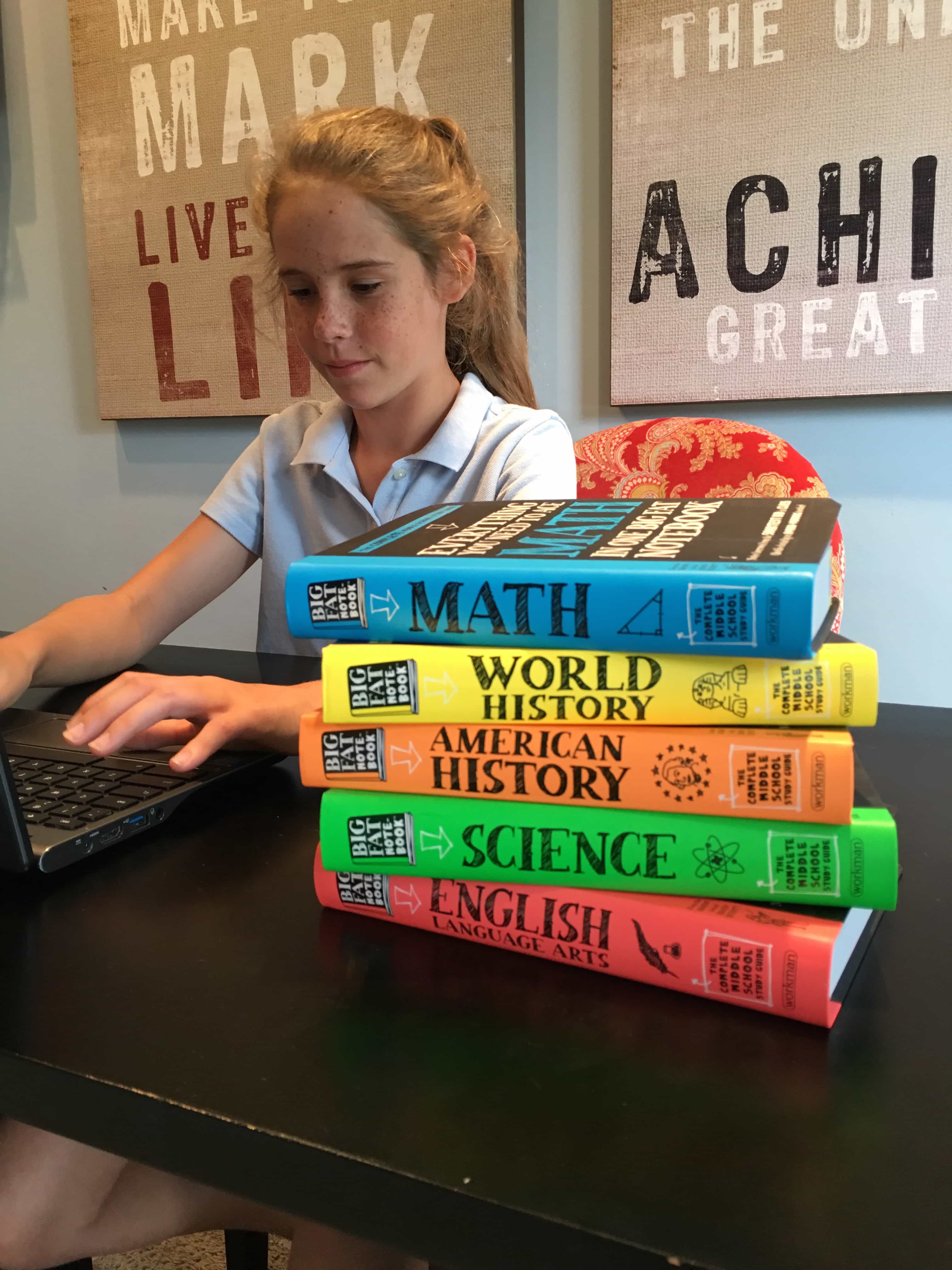 Here is a bit about each book from the Big Fat Notebooks website:
Everything You Need to Ace American History . . . covers Native Americans to the war in Iraq. There are units on Colonial America; the Revolutionary War and the founding of a new nation; Jefferson and the expansion west; the Civil War and Reconstruction; and all of the notable events of the 20th century—World Wars, the Depression, the Civil Rights movement, and much more.
Everything You Need to Ace World History . . . kicks off with the Paleolithic Era and transports the reader to ancient civilizations—from Africa and beyond; the middle ages across the world; the Renaissance; the age of exploration and colonialism, revolutions, and the modern world and the wars and movements that shaped it.
Everything You Need to Ace Science . . . takes readers from scientific investigation and the engineering design process to the Periodic Table; forces and motion; forms of energy; outer space and the solar system; to earth sciences, biology, body systems, ecology, and more.
Everything You Need to Ace Math. . . covers everything to get a student over any math hump: fractions, decimals, and how to multiply and divide them; ratios, proportions, and percentages; geometry; statistics and probability; expressions and equations; and the coordinate plane and functions.
Everything You Need to Ace English Language Arts . . . takes students from grammar to reading comprehension to writing with ease, including parts of speech, active and passive verbs, Greek and Latin roots and affixes; nuances in word meanings; textual analysis, authorship, structure, and other skills for reading fiction and nonfiction; and writing arguments, informative texts, and narratives.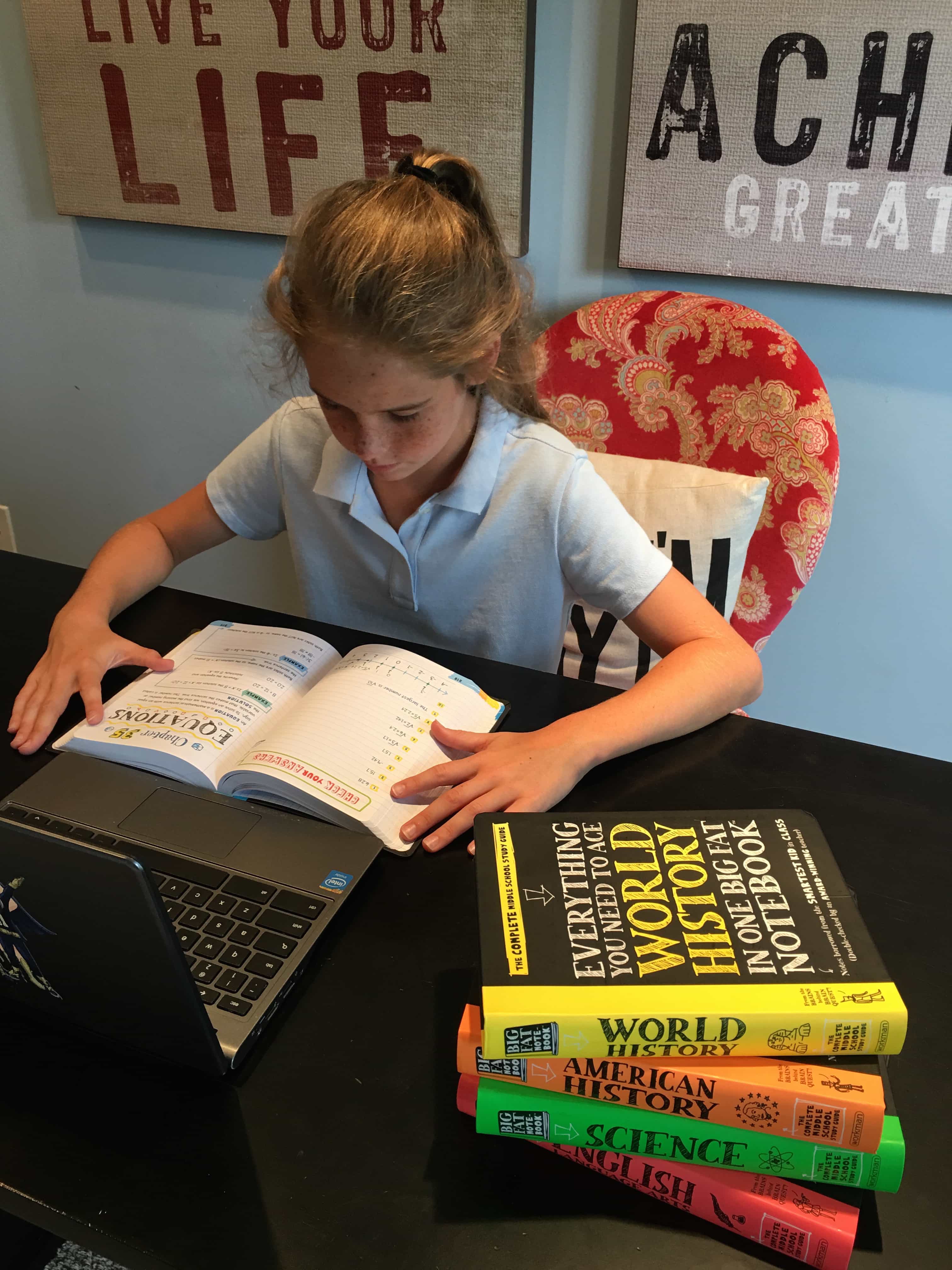 Delaney is giddy. (So giddy that she took two of these books with us on our family vacation the final week of summer – because she wanted to do so.) Her only challenge? Trying to decide if she should keep the books in her locker at school or here at home for reference. As English and History are her favorite subjects, she figures she'll be flipping through those books just to learn more. Math, however, will likely be a companion – helping to guide her through concepts she needs to break down and memorize.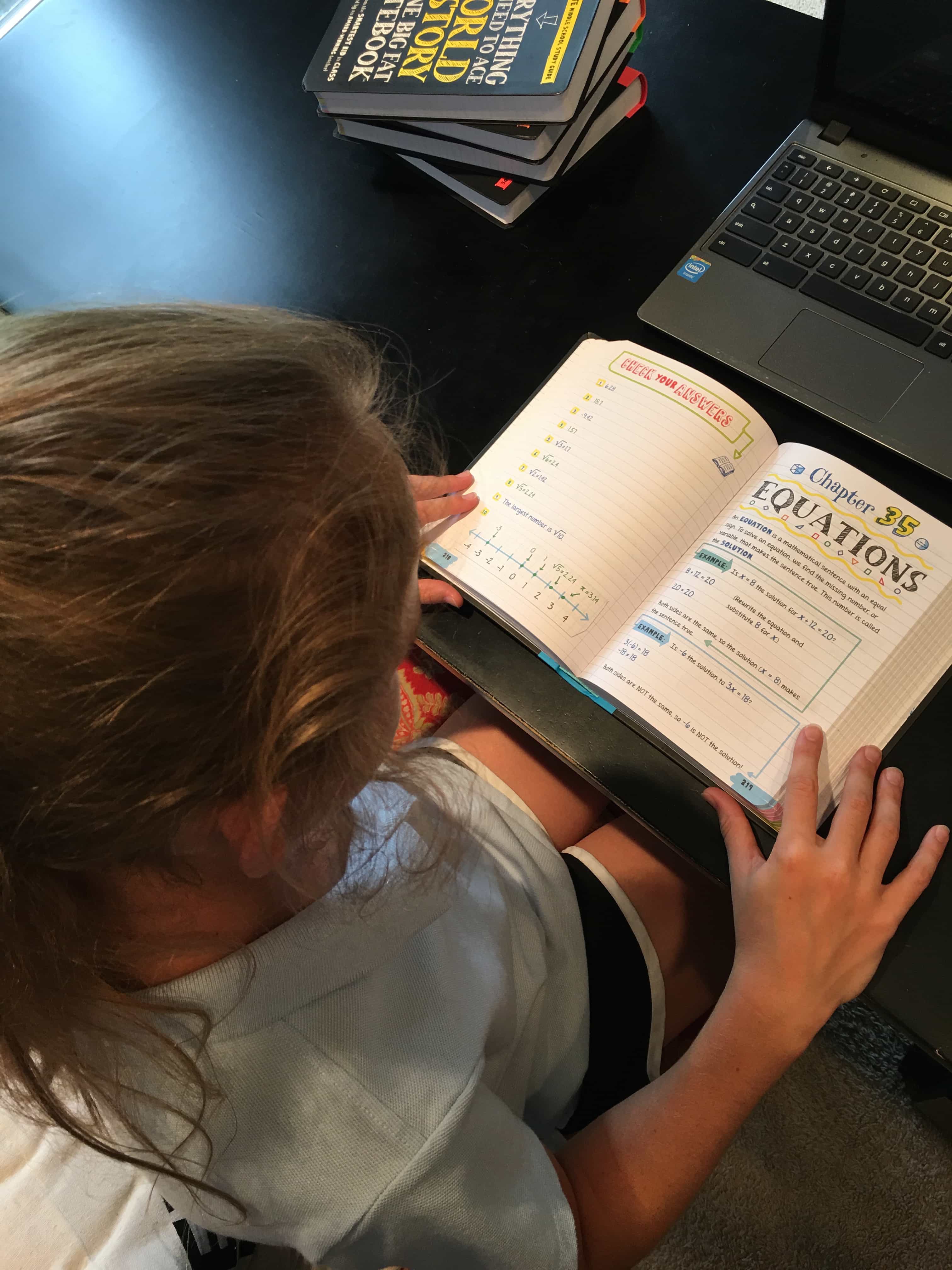 Here's the best part – you can purchase the entire #BigFatNotebooks series (or your child's favorite individual book) at any of your favorite book sellers like Barnes and Noble, Amazon, Workman Publishing or Indiebound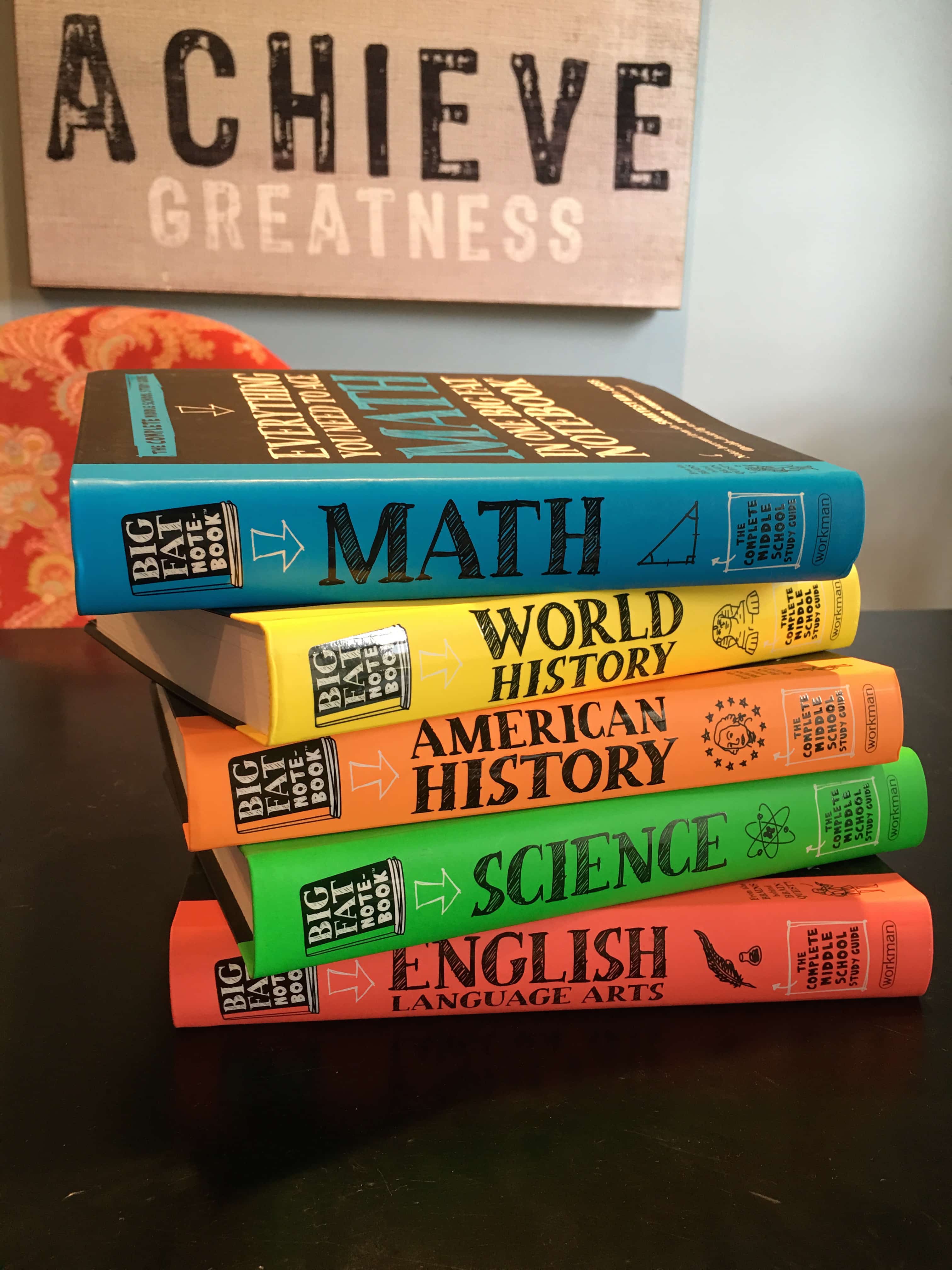 To learn more about #BigFatNotebooks check them out all over the place!
#BigFatNotebooks Official Blog
Workman Blog
Facebook
Twitter
Instagram
Pinterest
Disclosure: Thank you to Workman Publishing and #BigFatNotebooks for partnering with me on this project. As always, all thoughts and opinions are mine and mine alone.