Middle School: a time where homework is real, grades are earned, and time spent studying is needed. The transition seemed to happen almost overnight.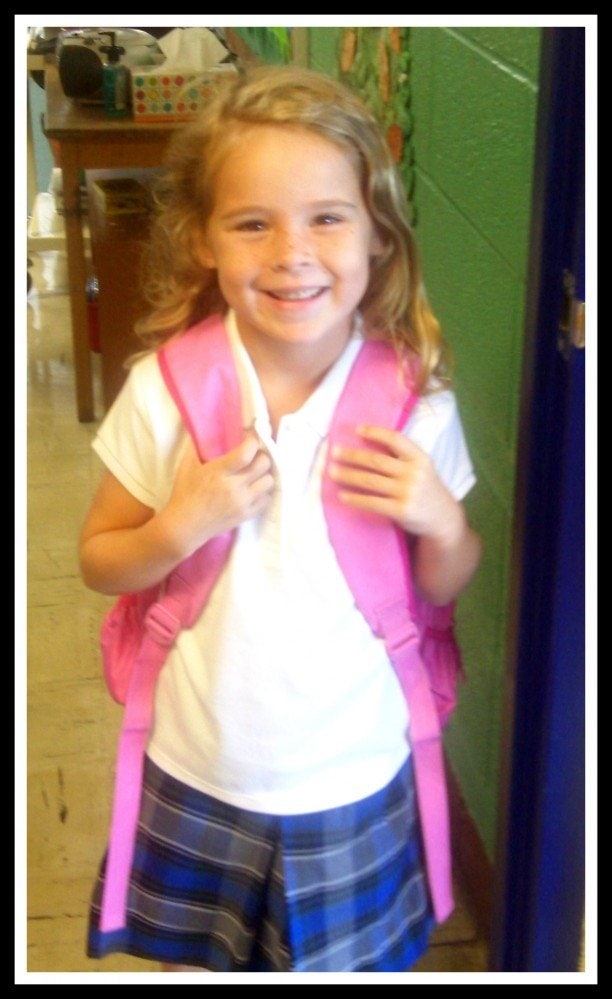 One moment my small girl was carrying a pink backpack, proudly bringing home art and showing off A's on class work completed easily. In a flash she was hunkering down at our kitchen island, brow furrowed as she began to wade through first Math, then English, then Science and Social Studies.
Now, she has earned (and needs) a space of her own…as many tweens do. We have found creating the perfect study space for Delaney is what helps her to thrive as she learns. Not only is she learning to manage her time, but she is required to develop study habits she will need as she pushes deeper in to school and life.
Create the Perfect Study Space for Your Tween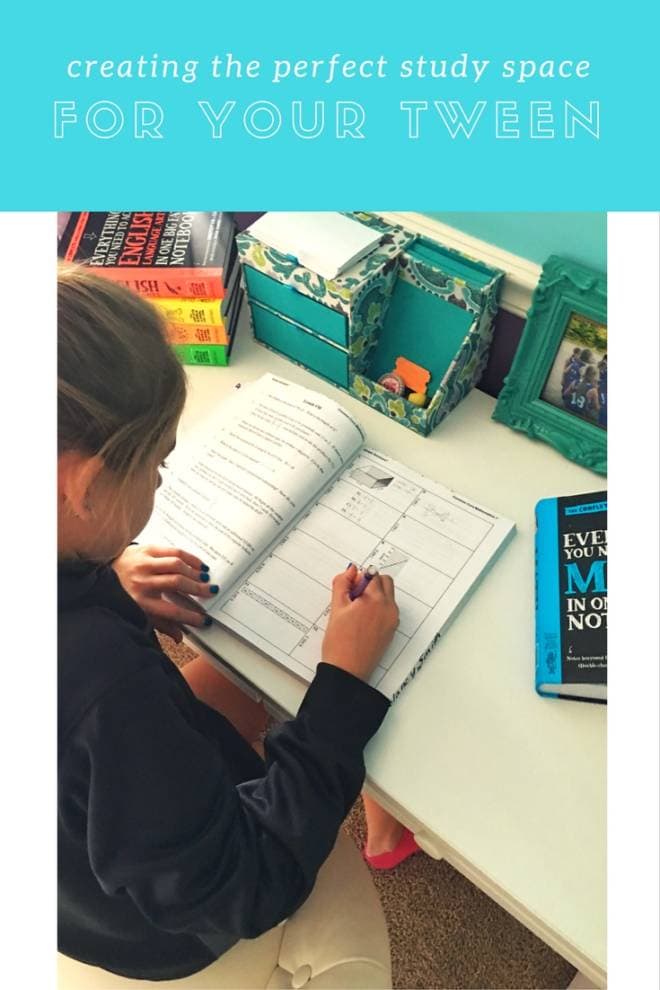 Space of her own – We have put a desk in Delaney's room – it is perfectly sized for her, but I realize that may not always be an option. Setting aside a corner of mom or dad's desk, a section of the dining room table, even a small portable tray is ideal for concentration. This allows your student to organize their thoughts and the work they must do each night.
Seek Comfort – The practical is important. There must be enough light for my girl to see and she can't find herself distracted by an uncomfortable chair. At this age, I know ANY distraction will be enough to throw her off track.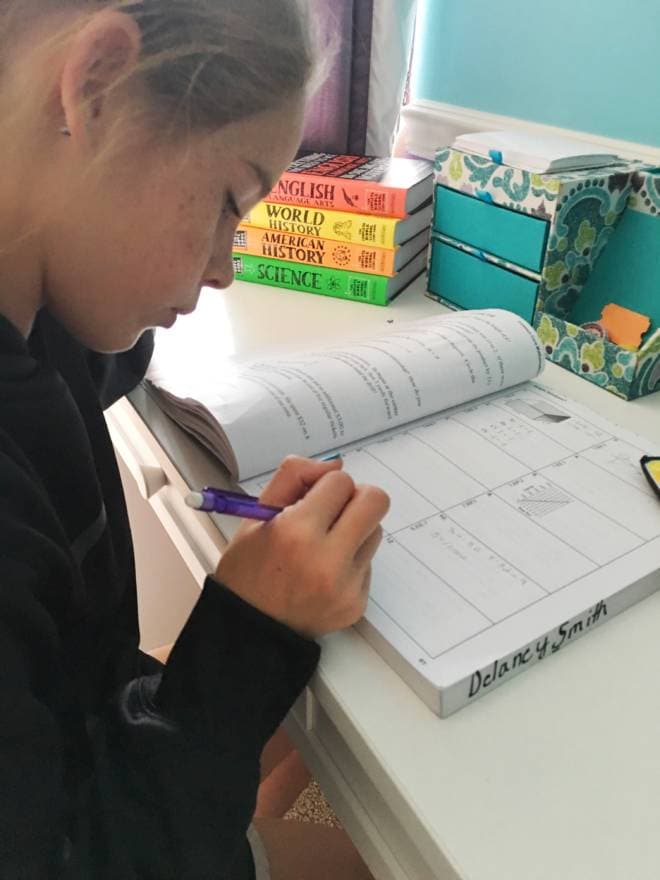 Aim for Silence – The very first thing we knew Delaney would need is a place that allowed for silence. As her work load has increased, as concepts have become more complicated, her need for quiet has as well. She needs to be able to prioritize the work she brings home, so the days of doing math while I make dinner or her younger brother shares about his day are long gone.
Provide Empowering Tools – Part of moving Delaney in to her own space is entrusting her with the responsibility to seek out the answers when there is something she doesn't know – regardless of the subject – rather than running right to her father or I for help. The Big Fat Notebooks Series is an invaluable tool for just that. Tackling all of your main subjects – Math, English Language Arts, Science, American History and World History, each book is broken down in to easy-to-digest concepts. They include brightly colored drawings when appropriate, highlight important ideas and create memorable shortcuts.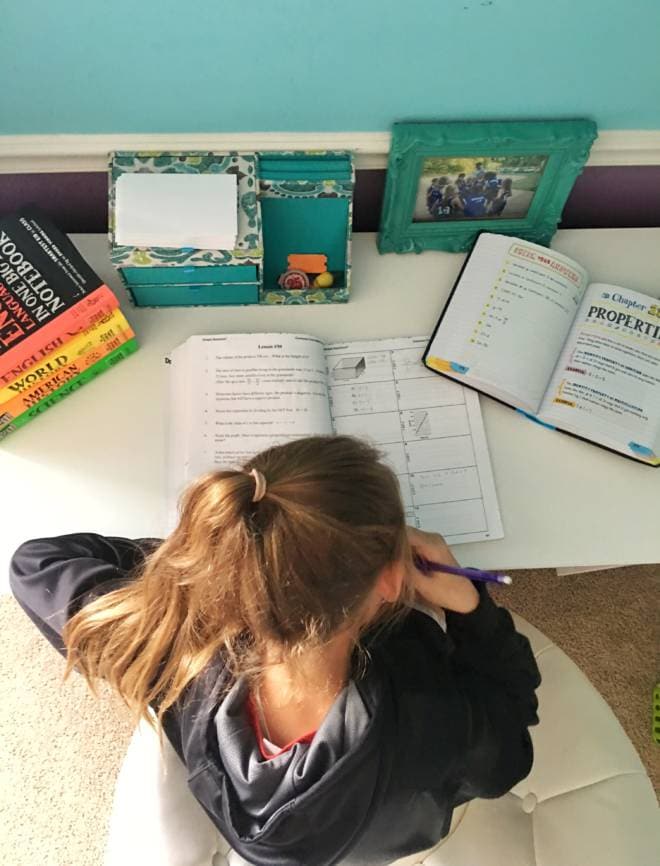 Here is a bit about each book from the Big Fat Notebooks website:
Everything You Need to Ace American History . . . covers Native Americans to the war in Iraq. There are units on Colonial America; the Revolutionary War and the founding of a new nation; Jefferson and the expansion west; the Civil War and Reconstruction; and all of the notable events of the 20th century—World Wars, the Depression, the Civil Rights movement, and much more.
Everything You Need to Ace World History . . . kicks off with the Paleolithic Era and transports the reader to ancient civilizations—from Africa and beyond; the middle ages across the world; the Renaissance; the age of exploration and colonialism, revolutions, and the modern world and the wars and movements that shaped it.
Everything You Need to Ace Science . . . takes readers from scientific investigation and the engineering design process to the Periodic Table; forces and motion; forms of energy; outer space and the solar system; to earth sciences, biology, body systems, ecology, and more.
Everything You Need to Ace Math. . . covers everything to get a student over any math hump: fractions, decimals, and how to multiply and divide them; ratios, proportions, and percentages; geometry; statistics and probability; expressions and equations; and the coordinate plane and functions.
Everything You Need to Ace English Language Arts . . . takes students from grammar to reading comprehension to writing with ease, including parts of speech, active and passive verbs, Greek and Latin roots and affixes; nuances in word meanings; textual analysis, authorship, structure, and other skills for reading fiction and nonfiction; and writing arguments, informative texts, and narratives.

Additionally, the Big Fat Notebooks Series has created printouts that Delaney (and your child) can keep handy (maybe hung over their desk??) as a reminder. My favorite is this one  – for the best way to take great notes – a skill Delaney is definitely working on mastering as her tests prove to be more challenging than ever before.
Here's the best part – you can purchase the entire #BigFatNotebooks series (or your child's favorite individual book) at any of your favorite book sellers like Barnes and Noble, Amazon, Workman Publishing or Indiebound.
To learn more about #BigFatNotebooks check them out all over the place!
#BigFatNotebooks Official Blog
Workman Blog
Facebook
Twitter
Instagram
Pinterest
I can't wait to hear what you think.
Disclosure: Thank you to Workman Publishing and #BigFatNotebooks for partnering with me on this project. As always, all thoughts and opinions are mine and mine alone.