You know what I did this past weekend?  I learned a lot.  I laughed a lot.  It was Bliss.
Pun intended.  It has taken me the better part of the past few days to process.  Which is why I am late to the 'Blissdom Wrap Up' game.
I was in Nashville at the Blissdom Conference….put on by  Ali – MrsFussypants and Barbara Jones of One2One Network.
If you read my site last week, you know I was nervous.  Nervous in that wow-I'm-about-to-walk-into-a-room-full-of-women-and-what-if-I'm-transported-to-an-episode-of-Mean-Girls kind of nervous.  You know what I mean, right? I hoped it wouldn't be bad.  I mean, how could it be?  I was going to be surrounded by people who 'get me', right?  Most are moms, we're all close in age, and we do the same thing – blog.  Some more 'successfully' than others, but some aren't blogging to be successful in a monetary way, but in a peaceful, centered way.
My goal, as a relative new kid on the block, was to sop up the information I expected to be falling from bloggers mouths like a mouse on a cheese hunt.  I also hoped to make some friends.  Both missions accomplished.
I met and learned from some of the best and some of my personal favorites: Velveteen Mind, MomAdvice, SecretAgentMama, Rocks in my Dryer.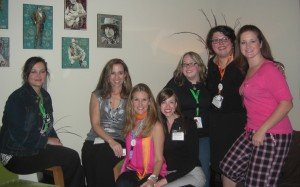 But I also made amazing new friends: JustPureLovely is just that: Just. Pure. Lovely. We arrived within seconds of each other, and she made sure I was never lonely.
SugarJones made me laugh non-stop. Amber told me a beautiful story I will never forget.  Josh and Rebecca from MomFaves felt like family. And Carissa and Jyl from MomItForward reminded me what it is like to 'be on the same page' as someone else.
It would be impossible for me to recount for you every wonderful person I met, every amazing opportunity to 'share my voice' I have discovered, or everything I learned.
But, for me, the mom who spends the better part of her waking hours surrounded by small people (and by small, I mean 3 feet and under) who love me unconditionally, yet, don't quite 'get me',  it was truly pure heaven to be in the midst of strong, intelligent, hard working and KIND women. (And men – thanks to Josh from MomFaves and John from WalMart – he is an expert: working with the ElevenMoms)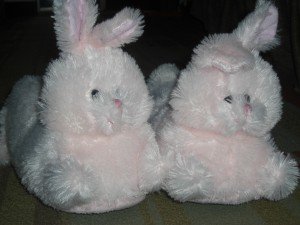 As a final thought, I must address the KINDNESS I felt.  Seriously…I have not had that many people be so truly NICE to me since I was pregnant.  I must have appeared vulnerable.  Was it the bunny slippers?  Was it my dancing to MamaMia ?  That's it, isn't it?  You felt sorry for me and my lack of dancing abilities.  At least I didn't make you listen to me karaoke.  That alone may have brought the elevators to a standstill.
I'm including a few of my favorite pictures/memories below. They include Chris Mann (seriously – his voice could make a girl melt), the darling Ender and Nathan from Yanni Voices and the  Fabulous and hilarious Jen Lancaster.  (Yes!!  That is a picture of Jen and I!) If you haven't read her books, get there.   And, of course, some fabulous Bloggers. (I Should be Folding Laundry, A Southern Fairy Tale, Real Life Sarah, CoolMom Guide, Bargain Briana, ClassyMommy, Katja, and Pensieve Robin are in some of these pictures, but there were so many more!) Thank you, new friends, for making my first serious venture into the bloggy world so very memorable and smile-filled.