Week 5 of the Capital One Mascot Challenge has come to an end…. Here is the recap:
And ohhh…that's right – there are STILL some champion bloggers you need to meet….  Who do you still need to know?  A few amazing women-mascot-champions – Absolutely!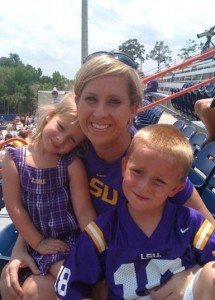 Karen Jones for Mike the Tiger and LSU
Why did you apply to represent LSU for this blogger challenge? First and foremost, I applied because I love LSU football, and everything that goes with it, especially Mike the Tiger.  I am one of those people who truly LOVES her alma mater.  Having moved from Baton Rouge to Orlando in March, my love for all things LSU has intensified tremendously.   Absence makes the heart grow fonder, and I thought that maybe I could channel all of these homesick feelings I have into some positive energy to help Mike (THE BEST mascot in all of college sports) win!
Share one memorable experience about your time at your University/time at a game/watching a game? Now this question makes me smile!!  My top 2 games of all time were both in Tiger Stadium against Florida….1997 and 2007.  I was lucky enough to be there for both of them.  2007….Man, what a great game.  A perfect 5 for 5 on fourth down conversions, and amazing come-from-behind win.  And I'll never forget when they announced that USC had been upset by Stanford.  The crowd went NUTS!!!!  It gives me chills just thinking about it!!!  And 1997…..the first time LSU ever beat a #1 ranked team.  I was a student then….and that night, without a doubt, was the highlight of my college career.  I'll never forget rushing back to the Gameday stage, and chanting with the rest of the crowd what we thought of Lee Corso (who had donned the Gator head earlier that day).  Troy Twillie's interception in the end zone against Auburn in '95 was pretty great, too, as was my trip to Seattle for the season opener last year.  Good times, indeed
Any unique ways you plan to get votes for your mascot? I've got an all out media blitz planned!!!!  Ok….truthfully, just well crafted facebook statuses and blog posts….but that's media, right??  I know a lot of people, and those people know a lot of people.  My plan is that every vote can be traced back to me in 6 degrees or less.  I AM the 'Kevin Bacon' of the Mascot Challenge!!!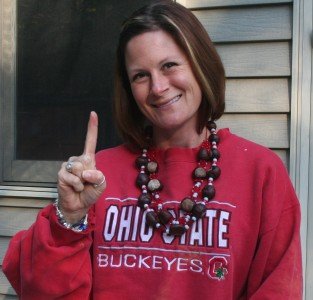 Kat Tierney for Ohio State University and Buckeye
Why did you apply to represent OSU for this blogger challenge? That's easy – I LOVE the Buckeyes! As a born and raised Ohio girl, there is nothing that courses stronger through my veins than a love for Ohio State football. Since I was a small child I have loved everything Scarlet and Gray. When I heard about this opportunity, I couldn't think of a better way to show my love of Ohio State football then through the Mascot Challenge. Go Brutus!
Share one memorable experience about your time at OSU or watching an OSU game? One memorable moment for me was when Ohio State added Jim Tressel as their head coach. Growing up in Youngstown I got to watch him take the Youngstown State football team to four division championship titles. But my most memorable moment was when the Buckeyes won the Nation Championship game in 2002. What a game!!
How do you show your school spirit? My favorite way to show school spirit is by wearing my buckeye necklaces. We of the Buckeye Nation are nutty about our buckeyes. As a child I had Buckeye trees in my yard so my mother would make buckeye necklaces for the family. Now as an adult and living in another state, I carry on the love for my team with my family. We have a 'Buckeye Fairy' that come at Christmas delivering fan wear for good boys and girls.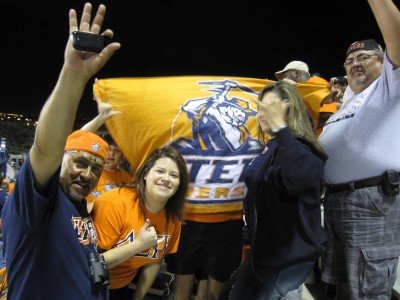 Jackie Romero for UTEP and Paydirt Pete
Why did you apply to represent UTEP for this blogger challenge? I wanted to show that an average UTEP student and Miner fan can indeed have an impact on the outcome of this competition.  They don't call us Miner Maniacs for no reason.  We have a diehard need to win and we bleed Orange.  What better way to showcase that than by entering in my own challenge that will help Pete win.
Share one memorable experience about your time at at UTEP game. I think that the most recent memory is last football season when we beat Houston who was ranked #12 nationally at the time and were favored to win by double digits,  The atmosphere was electrifying.  At halftime, it was tied and we has domething more than hope.  It was the reality that we could actually win,  The third quarter was somthing out of a Disney movie.  David held Goliath to only a field goal and David scored 20 points.  After the 60 minutes of sheer energy and willpower, we had won.  We had slayed Goliath and we were ready to celebrate.  I remember storming the field, hugging my friends, hugging the football players, jumping, dancing,  It is something that can't ever be duplicated.  Well, so I thought until it was time for the basketball season to start 🙂
How do you show your school spirit? Owning as many orange shirts as possible and by practicing my PICKS UP! a minimum of an hour a day.  I also enjoy fan interaction.  I like to feed off of other fan's spirit.  I like knowing that I'm not the only Miner Maniac willing to do anything to show off their school spirit

Erin Blank for Western Kentucky University and Big Red
Why did you apply to represent WKU for this blogger challenge? I've been a mascot fan, and a mascot, for over 30 years.  Over the past three years I got to train and follow the high school career of a mascot who just became WKU's Big Red.  In a way I'm his "spiritual mascot mom".
Share one memorable experience about your time at a WKU game or watching a WKU game. I can remember Big Red from the 70's.  He's always been a favorite of mine because he's unique.  And looking at all the buff, muscular mascots in this year's challenge, only Big Red fits my boy type – fluffy and more to love!!!
Any Unique ways you plan to get votes for your mascot? I plan to involve the Online Mascot Nation to come to Big Red's aid and take down the Goliaths that roam the Capital One Mascot World.  Life! More Life! is WKU's motto and no one has more life in him that Big Red!