It is a Showdown.  It began with 16.  And now there are just two left standing.
And the Winner of the Capital One Mascot Challenge will be announced on January 1st – at the Capital One Bowl Game in Orlando, Florida.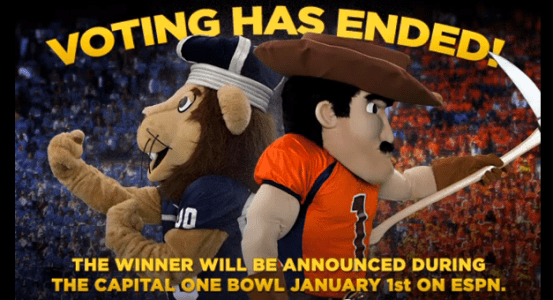 And I will be standing RIGHT THERE when the announcement is made. And by right there, I mean, in Orlando,  directly in front of Utep's Paydirt Pete and Old Dominion's Big Blue as they wait for the final announcement.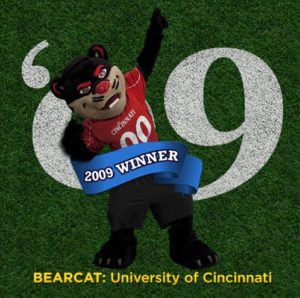 For those of you playing along at home – this is the 9th year of the Capital One National Mascot Challenge – last year it was this guy you see here on the left – the Bearcat from Cincinnati – who claimed the title.  And he came extremely close again this year….  only losing out to Paydirt Pete in this last round.  The other mascot who made it to the Final Four was The Duck from The University of Oregon.
Each year, the Mascot hopefuls are chosen from the mascot entries received from all eligible NCAA, FBS and FCS schools.  A panel of judges uses the following criteria to come up with the competing 16 mascots.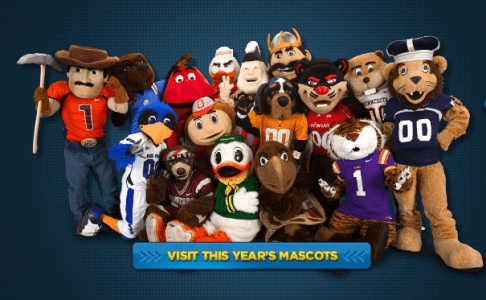 From there, well, it was up to…..  YOU.  You voted, you texted, you posted about it on Twitter and Facebook, you called your friends and reminded them to vote for their favorite mascot. And this year – the additional twist – we got the girls involved.
I know, I know….  when you do the math, you don't instantly think
girls + college football = super fan.
But, this is where you are wrong.  I'm not the only female college football junkie out there.  We found women who were willing to represent their schools and their mascots – and most of these women lead the charge in voting for their mascots.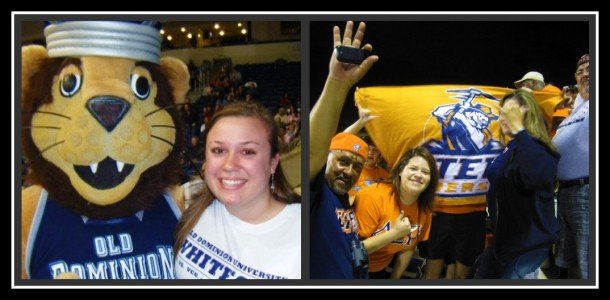 And these are the two women left standing – Lindsay from Old Dominion and Jackie from UTEP.  One of them will be joining me in Orlando – there to see their Mascot win the whole thing.
Each of the 16 Universities  involved in the competition is awarded $5000 for use in scholarships and funding of its school mascot program.  The Capital One National Mascot of the Year will receive an additional $15,000 for its school's Mascot Program.
I'm excited to be heading to Orlando on Friday – and thrilled I will have highlights for you this weekend!
Oh and YES!!  I am excited about the GAME – The Alabama Crimson Tide vs The Michigan State Spartans.  I know who I am rooting for…..  who is your favorite?
And do tell…..  who do you think is going to win the Mascot Challenge….
Paydirt Pete or Big Blue?
Disclosure:  I am working with Capital One on the Mascot Challenge and have been a) writing about it weekly and b) will be covering the Unveiling of the Winner at the Capital One Bowl Game on January One in Orlando, Florida.  However, as always, the thoughts expressed on this site are entirely my own.